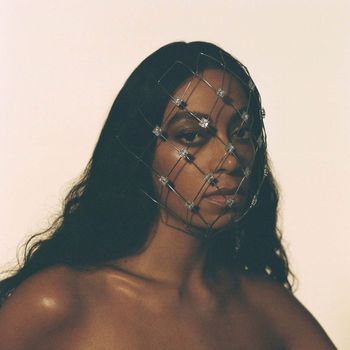 Solange.
Photo: Black Planet
As if willed into existence by our collective despair, Solange surprise-released her fourth album, When I Get Home, last night right at the intersection of Black History Month ending and Women's History Month beginning. Her mind! Like her previous, groundbreaking album A Seat at the Table, Home is a rich tableau of collaboration, black history, and references to her Houston upbringing (the homeward destination implied by the collection's title), but the album takes even more experimental risks with her sound. Among the mix of artists involved are Gucci Mane, Dev Hynes, Earl Sweatshirt, Cassie and … a viral Atlanta public-access sexpert? Let's plunge right on in to the world of When I Get Home.
Backstory
It's not entirely clear how soon after A Seat at the Table Solange broke ground on When I Get Home — she took some time off in 2017 to treat an unspecified autonomic disorder — but exactly one year ago, she revealed in a Billboard cover story that she'd been working on new music. She mentioned writing in Laurel Canyon, Topanga Canyon, and Jamaica, and said she was "following" Joni Mitchell for inspiration, sometimes unknowingly: "It has been really wild. The house that I was just recording in [in] Jamaica, I stayed there for four days. And then the last day, the owner was like, 'You know that mural that's downstairs in the spare bedroom that the engineer booth is in? Joni Mitchell painted that."
Later in the year, Solange did another interview for the New York Times' T magazine, where it was reported that her fourth album would "likely arrive into the world fully formed at some mysterious and unexpected moment, like a meteor cratering into the culture" sometime that fall. "But she will not be rushed," the piece warned. The album would be "still very much in progress until the very end," and it remained untitled at the time of publication. "I like to be able to tell the story in 13 different ways, then I like to edit," she said. Though it was unfinished, Solange knew how it would sound, noting that jazz would be at its core — though not exclusively. She said electronic and hip-hop drum and bass elements would also be present with the intention to make it "bang and make your trunk rattle."
Once again citing Joni as an influence (for "lessons in balancing a career as a musician with the demands of visual creation"), she named other muses: director Busby Berkeley, dancer and choreographer Diane Madden, and Vegas theater, for inspiration for her new live shows; Missy Elliott, for visuals; and Aaliyah, Sun Ra, Rotary Connection, and Stevie Wonder's Journey Through the Secret Life of Plants, for sonic cues. The Times wrote, "The record will be warm, she says, fluid and more sensual than her last one."
Release
Like A Seat at the Table, Solange gave us little time to prepare for When I Get Home, mostly because sharing her art makes her antsy; drawing out the process would only make it worse. ("I have this fear living in my body about releasing work," she told the Times. "I don't know any artist that doesn't feel that before they hit the send button.") Instead, Solange reemerged on — of all places — BlackPlanet, bringing back from the presumed dead one of the original social-media platforms (predating even Myspace) that was created specifically by and for black people. She launched her own page with lyric excerpts and a dossier of new images, both still and moving, that appear to be pieces of a larger visual project.
They — along with the album's cover, another striking portrait of Solange — were shot by Max Hirschberger and Alex Marks, creative directed by Cary Fagan, and styled by Kyle Luu and Mecca James-Williams. Images included a pole dancer (Instagram's @neyon_tree) and scenes from a ranch, with horses and dancers styled in modern cowboy looks. Solange had referenced the latter inspiration in an earlier interview as something she'd recently taken an interest in. "Hundreds and hundreds of people every weekend are getting on horses and trail-riding from Texas to Louisiana," she told Billboard. "It's a part of black history you don't hear about."
She later teased what appears to be a music video on her Instagram, instructing fans to dial the number 281-330-8004 for more clues. It's the exact same number Mike Jones used in his song "Back Then" ("Mike jones 4 life!" she added in the caption.) She then shared the album's full 19-song track list, with multiple songs named for geographic locales within Houston. Per her mother, Tina Lawson, it's a map of Solange's life: "Binz" (the street where she grew up); "Almeda" (the street where she'd get a shrimp po'boy at There's No Place Like Nola — or Nolas, for short); "Exit on Scott" (the street where she'd eat fried chicken and beans at Frenchy's); "Beltway" (take it to get seafood at Pappadeaux); and "S McGregor" (for a "trip down memory lane" on the street where Debbie Allen and Phylicia Rashad's father lived and "we jogged on the bayou").
Later that same day, Solange officially announced that When I Get Home would arrive at midnight. "I'm bringing home w me everywhere I go yalll and I ain't running from shit no more," she tweeted.
Collaborators
Though Solange undoubtedly sits at the head of her table, there are others who got a chair. When I Get Home is her most experimental work yet, the result of massive group effort between more than a dozen artists who've been in Solange's orbit for some time. The album features guest verses from Gucci Mane ("My Skin My Logo," on which Solange also tries her hand at rapping) and Playboi Carti ("Almeda"); Cassie and Abra are the lone featured women, with vocals on "Way to the Show" and "Sound of Rain," respectively. The rest of the album includes repeat production and vocal contributions from her circle of close friends: Dev Hynes, Tyler the Creator, Earl Sweatshirt, The-Dream, Pharrell, French artist Chassol (with whom she's toured), Panda Bear (a.k.a. Animal Collective's Noah Lennox), Sampha, and Jamire Williams.
Atlanta producer Metro Boomin is also brought into the mix, with production on "Stay Flo" and vocals on "Almeda." Gio Escobar, the de facto leader of the "post-genre" New York group Standing on the Corner and a close collaborator of Earl Sweatshirt, has multiple production and composition credits, lending his group's freewheeling, sample-heavy sound as the album's connective tissue. The Internet's Steve Lacy also contributed production, which Solange hinted at when she previously told the Times that the two had been "jamming" together. "He's like, 'OK, I got these chords.' 'Hey, papa, let's go!'" she said.
Samples
While A Seat at the Table was narrated by New Orleans legend Master P and Solange's personal legends, her parents, this new album doesn't have a narrator in that sense. But it is chopped up by interludes and snippets that involve Houston's finest, specifically focusing on Solange's heroes of the Third Ward, where she grew up. Most of them are samples, but even rap titan Scarface makes an original one-line special appearance for the interlude "Not Screwed!"
"S Mcgregor"
This first interlude samples a clip from the 1987 TV movie Superstars & Their Moms, where Houston's own Phylicia Rashad and Debbie Allen recite a poem called "On Status" written by their mother Vivian Ayers-Allen, accompanied by piano: "And now my heart knows no delight. I boarded a train, kissed all goodbye." The song's title is a reference to S MacGregor Way in Houston, where the sisters grew up.
"Can I Hold the Mic"
The intro to this interlude is a sample of an old YouTube video of Atlanta rappers Diamond and Princess (from Crime Mob, of "Knuck If You Buck" fame) fake-interviewing each other in the back of a car. It leads into a spoken-word essay from Solange on the layers of her identity.
"Nothing Without Intention"
The third interlude comes courtesy of a beauty video from YouTuber Goddess Lulu Belle on the history of the cologne Florida Water and its spiritual properties as it pertains to cleansing. "It's used to break up negative energy and disperse it," she says. "Get it out." She further clarifies: "Do nothing without intention because, without intention, it's just plain old cologne." Solange brought a bottle of Florida Water as part of her ensemble at last year's Met Gala; it's also referenced earlier on the album on "Almeda": "Black faith still can't be washed away / Not even in that Florida Water."
"We Deal With the Freak'n" and "Binz"
The album's intermission "Freak'n" features a sample from the viral pussy whisperer Alexyss K. Tylor and her Atlanta public-access show Vagina Power. In the segment, "Sperm Power 2," Tylor, in a defense of her graphic work, preaches empowerment versus degradation: "I'm trying to get women to understand the dynamic power and spiritual energy. Do you realize how magnificent you are? … We are not only sexual beings. We are the walking embodiment of god's consciousness." In Solange's version, her words are set to a sample of Rotary Connection's "Turn Me On"; she previously referenced the band as one of her deep influences for this album. Both Tylor and Rotary Connection are sampled again on "Binz" — using a very brief snippet from her Halloween show mixed with "Didn't Want to Have to Do It" in the outro.
"Beltway"
This song relies heavily on the Family Circle's "I Hope You Really Love Me" — its title serves as the inspiration for Solange's repeated lyric, "Don't you love me."
"Exit on Scott"
The second-to-last interlude features a reading of "Poem to Ann #2" from Houston writer Pat Parker: "If it were possible to place you in my brain and let you roam around, in and out my thought waves, you would never have to ask, 'Why do you love me?'" (The previous track's Family Circle sample is extended into it.)