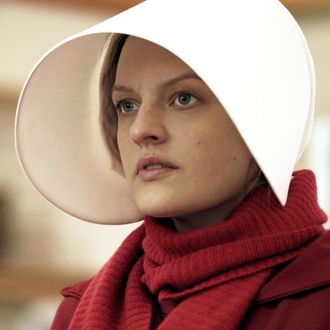 Dystopian despair — for free!
Photo: George Kraychyk/Hulu
In its quest to totally monopolize the streaming market and put its competitors to shame, Spotify has announced a new bribe bundle in which subscribers to its premium tier will now get Hulu for free. Nada. Zilch. A previous iteration of this deal was first rolled out for students in 2017, then expanded last year where people could pay $3 more for Spotify premium ($12.99) and get Hulu's ad-supported plan with it (the student bundle, at $4.99, also offered Showtime). Under the new bundle, that deal has been discounted: Spotify Premium subscribers can now pay the usual $9.99 rate and get Hulu (with ads) for free; the deal can be added to existing subscribers' accounts, new users will get a 30-day free trial, and those already paying for the old $12.99 bundle will be auto-migrated to the new discounted fee, according to a press release. (Note that the new bundle prohibits adding networks like Showtime or HBO.)
How much does this actually save you cord-cutters? Well, recently Hulu slashed its basic, ad-supported tier to $5.99 and Spotify premium has always been $9.99, so to pay for both separately would cost you about $16 versus $10 for this nifty two-for-one special. Okay, cute, but what's the fine print? Aside from not getting to watch Shameless or Game of Thrones or getting this option if you're on the family plan, not much. The evident thinking for Spotify here is that it seemingly sacrifices revenue for subscriber growth, key bragging rights in the never-ending streaming wars.
In addition to partnering with Hulu, Spotify recently acquired Gimlet, one of the most popular podcast publishers in the business, in an attempt to attract even more ears. It now wants your eyes, too, and the timing couldn't be sneakier: Apple, Spotify's main nemesis, is gearing up to launch its own video subscription service (and scooping up all the A-list Hollywood talent to lure you in). Spotify and Apple Music are not exactly neck and neck in terms of paid subscribers (Apple is newer and doesn't have a free tier, so Spotify has the advantage), but Apple's video offering could make for a big boost. So rather than pivoting to video itself with originals (though that was once seriously considered), Spotify has simply scooped up an already established video-streaming power player in hopes that Hulu's prestige will rub off on Spotify. And it's already betting that it'll be a big hit: The announcement of the new bundle is sure to note that it's available until June 10 "or while supplies last."