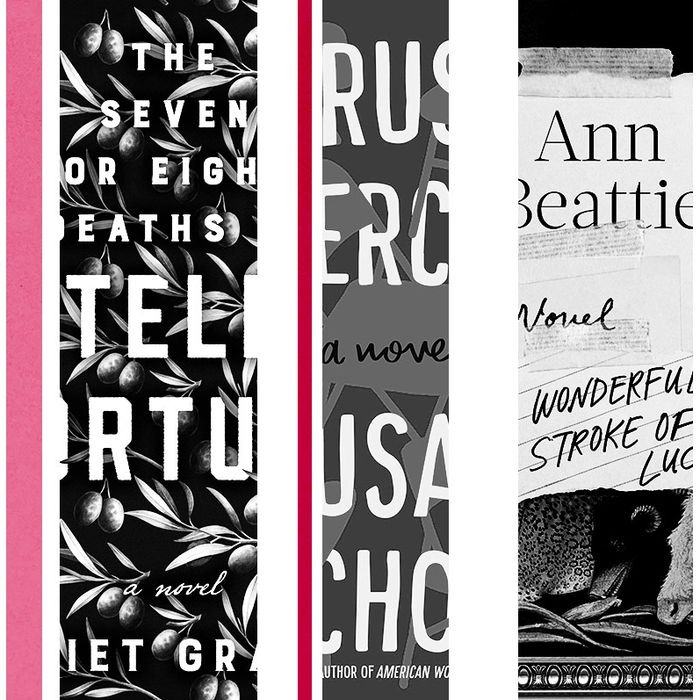 Photo: Maya Robinson/Vulture
The first sign of spring isn't the crocus; it's readers emerging from their fireside burrows in search of more sociable reading nooks. What spring fare will we be spying on picnic blankets and chatting up park-bench neighbors about? There will be the complicated #MeToo fictions of Susan Choi and Ann Beattie; another novel from the Irish sensation Sally Rooney; Julia Phillips's captivating and exotic Disappearing Earth; and a new micro-generation of quasi-dystopias warning us that winter (or maybe eternal summer) is coming. Below are our 10 most-anticipated books of the season, followed by another 20 spring picks — not remotely a comprehensive list, but plenty to get you through Memorial Day and beyond.
Trust Exercise, by Susan Choi (Henry Holt, April 2)
In a post-factual age, can we (and should we) still fall for traditional narratives? Choi's masterful fifth novel, perhaps the best this year so far, begins as an enthralling tale of teenage romance and then turns into a meticulously plotted interrogation of the state of the novel itself. Yet for all the twists, Choi somehow maintains an electric plot, following a set of frenemies, a long-parted couple, and multiple men lurking in the gray zones of sexual consent. Read it once for pleasure, and then again to turn up all the brilliant Easter eggs. —H.K.
A Wonderful Stroke of Luck, by Ann Beattie (Viking, April 2)
Given a week on a deserted island with a shelf of boarding-school novels, I'd start off with A Separate Peace, plow through Prep for the tenth time, and then end with A Wonderful Stroke of Luck, Beattie's foray into the #MeToo movement, which asks how deeply we internalize the lessons of charismatic, if vaguely nefarious, teachers. Read it back-to-back with Trust Exercise for a master class in how two stylists cast similarly themed stories in wildly different ways. —H.K.
The Parisian, by Isabella Hammad (Grove Press, April 9)
Midhat Kamal, the eldest son of a well-to-do Palestinian merchant, is sent to Montpellier, France, on the eve of World War I to study medicine. Instead, he falls in love with his host's daughter and then ends up shuttling back home just as colonial forces are plotting to break the region to bits. Reminiscent of Michael Ondaatje's The English Patient and Sebastian Faulks's Birdsong, this 27-year-old author's epic debut novel surpasses both in its scope. You heard it here first: Isabella Hammad is the new Téa Obreht. —H.K.
Normal People, by Sally Rooney (Hogarth, April 16)
Normal People may appear to be a seemingly straightforward novel about an on-again-off-again romance, the kind to tear through in one delicious afternoon, but Sally Rooney's writing is so layered, her outlook on both technology and human relationships so perceptive, that it reads like a revelation. While the young Irish author's first novel, Conversations With Friends, generated a good deal of buzz, expect her follow-up to unleash a full-blown frenzy. —M.K.
Miracle Creek, by Angie Kim (Sarah Crichton Books, April 16)
A hyperbaric chamber explodes in the Virginia woods, killing a mother and a small child who had turned to oxygen therapy as a last-ditch treatment for autism. Who lit the cigarette that sparked the flames? Like a Law & Order episode tossed into an immigrant's bildungsroman, Miracle Creek has the heart of a Celeste Ng novel and the pacing of a thriller. —H.K.
Light From Other Stars, by Erika Swyler (Bloomsbury, May 7)
Nedda Papas is an 11-year-old wannabe astronaut whose world is forever changed by the 1986 Challenger space-shuttle disaster. The daughter of scientists, Nedda has vast technical know-how and empathy in equal measure; both qualities help to guide readers as she recounts the aftermath of the explosion. A tender and ambitious journey through space and time, The Light From Other Stars contains stunning twists and turns along the way from Nedda's childhood to her later life aboard a spacecraft on a mission bound for Mars. —M.K.
Exhalation, by Ted Chiang (Knopf, May 7)
Sci-fi fans may have been raving about him for years, but Ted Chiang first captured the imaginations of a wider audience when the title story of his debut collection, Stories of Your Life, was adapted into the 2016 film Arrival. Exhalation is Chiang's second compilation of speculative fiction, featuring meditations on time travel and artificial intelligence, free will and regret. Each of his devastating stories mines little pieces of humanity from unexpected points of view. —M.K.
The Seven or Eight Deaths of Stella Fortuna, by Juliet Grames (Ecco, May 7)
In the 1970s my great-uncle visited our family's ancestral village in Calabria, Italy. Few houses had electricity, water was drawn from a well, and goats wandered inside and out. Grames has based her engrossing first novel on a similar Calabrian village and her grandmother's life story. While the subject matter isn't always easy (miscarriage, abuse, and pedophilia, and seven or eight near deaths), the Fortunas are so lively and sharply drawn that you'll eagerly follow their journey from pre–World War II Italy to early aughts Connecticut. —H.K.
The Farm, by Joanne Ramos (Random House, May 7)
In an ever-growing field of borderline-dystopian novels, this one hits home hard — a thrilling read about the myth of meritocracy, the way some people get ahead in life before they're even born. Set in a spalike facility with a Big Brother vibe, the novel conjures a not so far-fetched America in which the ultrarich can outsource pregnancies to surrogates who are heavily compensated to treat their bodies as incubators of the next-gen one percent. —M.K.
Disappearing Earth, by Julia Phillips (Knopf, May 14)
Many novels claim that "the city is the main character," but in Julia Phillips's entrancing debut, it's really true. Set on Kamchatka, a Far East Russian peninsula facing Alaska from across the Pacific, Disappearing Earth is a story as lush and varied as its landscape: all volcanoes and forests, beaches and tundra. Over the span of a year during which two young girls go missing, each chapter introduces new characters touched by the vanishing, all with their own haunting stories to tell. —M.K.
20 More Spring Books to Watch Out For
Women Talking, by Miriam Toews (Bloomsbury, April 2)
Lost and Wanted, by Nell Freudenberger (Knopf, April 2)
Outside Looking In, by T.C. Boyle (Ecco, April 9)
Naamah, by Sarah Blake (Riverhead, April 9)
Working, by Robert Caro (Knopf, April 9)
White, by Bret Easton Ellis (Knopf, April 16)
Feast Your Eyes, by Myla Goldberg (Scribner, April 16)
Machines Like Me, by Ian McEwan (Random House, April 23)
The Besieged City, by Clarice Lispector (New Directions, April 30)
Furious Hours: Murder, Fraud, and the Last Trial of Harper Lee, by Casey Cep (Knopf, May 7)
China Dream, by Ma Jian (Counterpoint, May 7)
The Flight Portfolio, by Julie Orringer (Knopf, May 7)
Lanny, by Max Porter (Graywolf, May 14)
Orange World and Other Stories, by Karen Russell (Knopf, May 14)
Patsy, by Nicole Dennis-Benn (Liveright, June 4)
City of Girls, by Elizabeth Gilbert (Riverhead, June 4)
Mostly Dead Things, by Kristen Arnett (Tin House, June 4)
On Earth We're Briefly Gorgeous, by Ocean Vuong (Penguin Press, June 4)
This Storm, by James Ellroy (Knopf, June 4)
Fall; Or, Dodge in Hell, by Neal Stephenson (William Morrow, June 4)