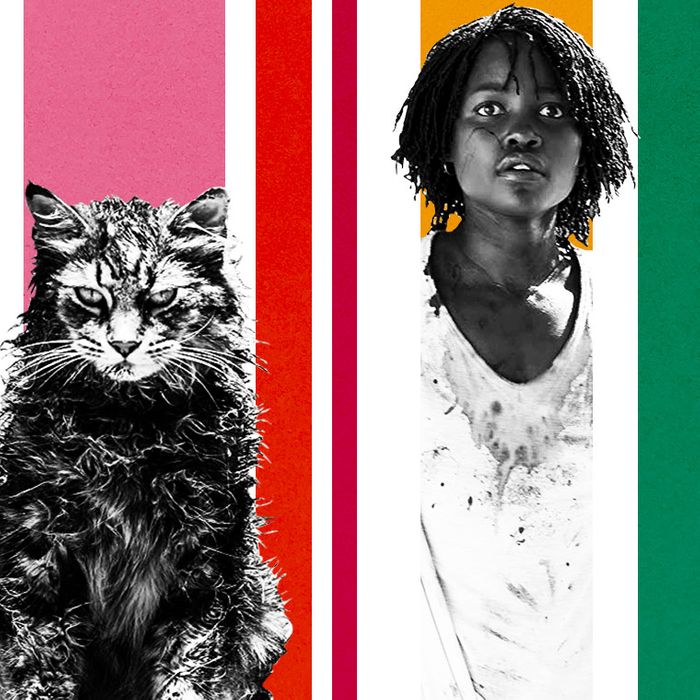 Photo: Maya Robinson/Vulture and Photos by Paramount Pictures, Universal Pictures and Sony Pictures
It's been a quieter winter on the horror front than we have become accustomed to over the past few years, but as the circle of life dictates, things are looking to thaw out in the spring. Jordan Peele's highly anticipated film Us opens in theaters this weekend, along with the super-queer French pseudo-slasher, Knife+Heart. (Tip: Definitely go see both.) Following along after those is the newest interpretation of Stephen King's iconic Pet Sematary, New Line's latest haunted tale with The Curse of La Llorona, and the Blumhouse offering starring an insane Octavia Spencer called Ma. But sprinkled in between there are the psychosexual revenge thrills of The Perfection (hot competitive cellists!), the sci-fi-tinged isolation horror of Starfish, and the oppressively German witch vibes of Hagazussa. Here is your preview of the spring in genre.
Now Playing
Knife+Heart
Directed by Yann Gonzalez and written together with Cristiano Mangione, Knife+Heart will surely end the year as one of 2019's most delicious offerings. It's a kind-of slasher set in Paris in 1979, and it revolves around a small collective of men and women making porn. Vanessa Paradis plays Anne Parèze, the producer whose in love with her editor (Kate Moran), and who is juggling heartbreak with the brutal murders of her actors at the hands of a leather-clad psychopath. It's extremely stylish and brutal and French and gay — truly a gift.
Starfish
It's the end of the world, and Aubrey Parker (Virginia Gardner) knows it, because she's alone in the apartment of her dead best friend with a cassette that reads "This Mixtape Will Save the World." After a mysterious signal goes out and seemingly every other person on Earth vanishes, Aubrey has to decipher the secrets of said signal if she wants to have any chance at saving humanity. This is the debut feature from writer and director A.T. White, who is being heralded as a promising new voice in the genre.
Us
The second feature from writer and director Jordan Peele stars Lupita Nyong'o and Winston Duke as a comfortable middle-class mom and dad taking their kids on vacation to sunny Santa Cruz. But from the start, Nyong'o's character, Adelaide, has the jitters. A traumatic event that changed her forever took place on that famed beach decades earlier, and now that she's returning, strange coincidences start tipping her off to danger. And boy is she right! Peele's follow-up to Get Out has more pure horror elements than his Oscar-winning debut, and it is powered by stunning dual performances from Nyong'o.
Upcoming
The Haunting of Sharon Tate (April 5)
There's a whole lot of Manson content coming down the pike right now. In The Haunting of Sharon Tate, Hilary Duff stars as the titular actress who was slain by the Manson Family when she was eight months pregnant. This imagining of the story from director Daniel Farrands has Tate experiencing premonitions about her own death before it happens.
Pet Sematary (April 5)
Starry Eyes directors Kevin Kölsh and Dennis Widmyer took on the daunting task of adapting Stephen King's Pet Sematary, which has the added challenge of following up Mary Lambert's cult classic 1989 movie. But the film debuted recently at SXSW, and early reviews are calling it a terrifying take on King's tale. For those who don't know: The Creed family moves from Boston to rural Maine, and in the woods behind their house they find a creepy burial ground. After tragedy hits the family, the father (Jason Clarke) consults with a local man (John Lithgow) about his grief, and learns the true power of the cemetery in the forest.
The Wind (April 5)
There aren't enough horror movies set on the old frontier, but director Emma Tammi and screenwriter Teresa Sutherland take advantage of how lonely and maddening old West homesteading can be with The Wind. It's a simple film that focuses on one woman as she battles paranoia and isolation in the middle of nowhere, and makes audiences wonder, along with their protagonist, if demons and monsters really do haunt the plains — or if we're confronting the far more frightening prospect of our own minds turning on us.
The Silence (April 10, Netflix)
If you think we're describing A Quiet Place when we talk about The Silence, rest assured that we are not. But the plot does have some similar elements! In a world where monsters hunt people down by sound, a deaf girl (Kiernan Shipka) and her family seek shelter in a seemingly safe community, but it turns out that community is actually a sinister cult that looks to exploit Shipka's character for her heightened remaining senses. John R. Leonetti directs, with a cast that features Stanley Tucci and Miranda Otto alongside Shipka.
The Curse of La Llorona (April 19)
The latest movie from the New Line and Atomic Monster partnership is The Curse of La Llorona, which is drawn from the Latin American folktale about a weeping ghost woman who mourns the loss of her children, who she murdered. In the movie, a social worker (Linda Cardellini) and her two children are thrown into danger when they become targets of the vengeful ghost. Atomic Monster is James Wan's production banner, and he's the architect of the ever-expanding Conjuring universe at New Line. La Llorona is not advertised as a spinoff movie, but don't be surprised if there's a twist connection.
Hagazussa (April 19)
In a way, Hagazussa asks, "What if The Witch, but more German and with more haunting despair?" The movie takes place in the Austrian Alps sometime in the 15th century, and follows an orphan girl who is persecuted by the nearby townsfolk because they think she's all wrapped in dark magic and witchcraft. (You know, because she's a young woman!) But you know what? The girl Albrun (played by Celina Peter as a child and Aleksandra Cwen as an adult) is kind of a witch, and she's about to rain hell down on the lives of those who torment her. That's the thing about harassing a witch because she can do scary things … you have harassed a witch who will most definitely do scary things!
Body at Brighton Rock (April 26)
Filmmaker Roxanne Benjamin has been producing and writing horror films for years, and she's even helmed a few vignettes in anthology films like Southbound and XX. But Brighton Rock is her long-awaited feature debut, and it follows a fresh-faced young park ranger who happens upon a dead body deep in the forest, and must keep the crime scene secure until help arrives. Alone and afraid, she must confront the age-old question: What's more frightening in the middle of nowhere? Large animals that could maul you to ribbons, or wandering human men?
The Intruder (May 3)
What if you just bought a new house, but the guy who used to own it just stuck around and kept bothering you and doing maintenance on the property and leering at you and being generally obsessive and scary? That's the premise of The Intruder, which stars Meagan Good and Michael Ealy as a handsome couple who have just bought a dream home in Napa Valley, but the previous occupant, Dennis Quaid, is still deeply attached to the place and is going to make their life a waking nightmare. Liven up your spring with some home-invasion thrills.
The Night Shifter (May 23, Shudder)
This Brazilian film was one of last year's festival gems. An unhappy morgue worker named Stênio (Daniel de Oliveira) spends his nights embalming bodies and, because he has a little secret, speaking with the dead. Corpses share their stories with Stênio, but when he gets information from one of them about his cheating wife, he takes action that unleashes a curse on his whole family. Director Dennison Ramalho delivers plenty of well-styled and very effective tension in The Night Shifter.
The Perfection (May 24, Netflix)
The less you know about The Perfection before you see it, the better. So, this is all we'll give you for now: Allison Williams plays a cello prodigy who was forced to leave her academy when a family tragedy struck. Ten years later, she emerges from her well of sadness to track down her old teacher, but when she does, she finds him with the cellist (Logan Browning) who took her spot at the conservatory all those years ago. And thus begins an extremely, um, interesting relationship between Williams and Browning that is at turns erotic, violent, insane, highly stylized, disturbing, and often powered by evocative orchestral music. Start your Perfection countdown right now.
Brightburn (May 24)
Brightburn takes the premise of Superman, an alien boy crashes into Earth and is raised by a kindly human mom, but makes the hypothetical hero a born villain instead. The movie is produced by James Gunn — who is mashing up his horror roots and superhero expertise — and written by his brother, Brian Gunn, and cousin, Mark Gunn. It also stars his longtime friend and collaborator Elizabeth Banks in the Martha Kent–type role. She tries to raise her found son right and protect him from harm, but she may not be able to stop his transformation from a Clark Kent kind of kid into more of a young Zod.
Ma (May 31)
The last time writer and director Tate Taylor and Octavia Spencer made a movie together Spencer won an Oscar for Best Supporting Actress for The Help. This time around, she is turning heel, playing a small-town woman who goes by Ma and opens up her home to some local teens for them to party as hard as they want. The thing is, they must stay in the basement. They cannot go upstairs. Well, Ma starts getting extremely attached to the kids, and eventually they break her No. 1 rule, pressing her to unveil a whole new horrifying side of her personality.