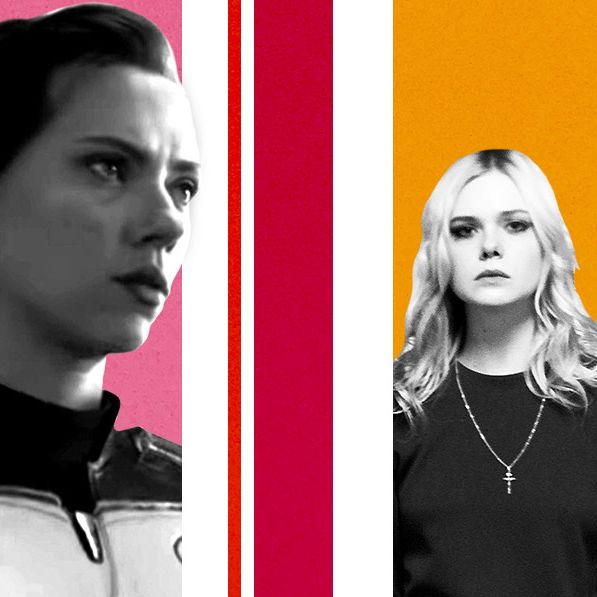 Photo: Maya Robinson/Vulture and Photo by Marvel, Bleecker Street, NEON and A24
What is there to do in spring other than tepidly slip on your Tevas and make sure you leave the house with a light jacket? Spring movies, of course! From March till May, the spring movie slate has some promising offerings: Jordan Peele returns with Us, a horror movie about a family stalked by their doubles; Charles Melton and Yara Shahidi are falling in love; Taraji P. Henson and Sam Rockwell are at war; and Ryan Reynolds is voicing a Pokémon. Also, the Avengers will either defeat Thanos or remain in their own Leftovers nightmare. In between March Madness and picking up allergy meds, here's what to keep on your radar.
Us (March 22)
This one's a no-brainer: Us will be the movie of the spring. Lupita Nyong'o does the best work of her career as Adelaide Wilson, a woman fighting to save her husband and two kids from a (maybe demonic?) family that appears identical to them. These doubles show up one night during the Wilsons' vacation, standing at the end of their driveway wearing red jumpsuits. Each is terrifying, but it's the battle between Nyong'o's Adelaide and her double that proves unnerving in a new and different way. Jordan Peele's Get Out follow-up might not be as finely tuned, but it's a deeply satisfying horror thriller.
The Beach Bum (March 29)
No matter how good The Beach Bum is (or isn't), Harmony Korine has already delivered an embarrassment of zany riches: Zac Efron's panini press beard. Matthew McConaughey's emails. Jonah Hill and some kind of plantation-groomed southern accent. The movie follows McConaughey as the cross-faded poet-philosopher Moondog. He has a rich Miami wife (played by Isla Fisher), and spends much of his days on the deck of a boat named "Well Hung." The way Korine sees it, Moondog's talent is the "hassle" of his life — he'd much rather laze around or live it up, which all sounds like a welcome return to form for McConaughey.
The Best of Enemies (April 5)
One day Sam Rockwell will go back to playing nice, cool weirdos who aren't overtly racist. Today is not that day. In The Best of Enemies, directed by Hunger Games producer Robin Bissell, Rockwell faces off with Taraji P. Henson in Durham, North Carolina, in 1971. When a fire destroys the city's black primary school, Ann Atwater (Henson) pushes for school integration. That doesn't sit well with C.P. Ellis (Rockwell), who happens to be the Exalted Cyclops of the Ku Klux Klan. Wes Bentley and Anne Heche co-star, and a Missy Elliott remix shows up quite unexpectedly in the trailer.
Teen Spirit (April 5)
A Star Is Born had Ally, with music by Lady Gaga. Vox Lux had Celeste, with music by Sia. Teen Spirit has Violet, with music by Robyn. In Max Minghella's directorial debut, Elle Fanning plays a teen who enters into a glittering international singing competition. (The buzzwords Cinderella and underdog have been floating around.) What's more fun than watching a movie about a pop starlet just trying to sing, wear sequins, and make it? Minghella wrote the script, after developing it with Jamie Bell, who's also executive producing.
Little Woods (April 19)
Tessa Thompson and Lily James give resonant, understated performances in Little Woods, a quiet drama about two sisters living in a deserted fracking town in North Dakota. Ollie (Thompson) used to run pills across the Canadian border, but has course-corrected to making cash legally. When her sister, single mom Deb (James), gets pregnant again by her loser ex, the women try to figure out how to afford an abortion and make payments on their dead mother's house that faces foreclosure. The women could easily be overpowered by the massive landscape, but director Nia DaCosta keeps it grounded in their steadfast devotion to one another. Little Woods, which premiered at Tribeca last year, is DaCosta's first feature. Next, she's directing the Jordan Peele–produced "spiritual sequel" to Candyman.
Avengers: Endgame (April 26)
At the end of Infinity War, a bunch of our favorite good guys — including Black Panther, Star-Lord, and the just-trying-to-finish-his-math-homework-on-time Spider-Man — were killed, or at least snapped away into oblivion. When Marvel Cinematic Universe Phase Three concludes with Endgame, who will return? Thanos — who, it should be said, is not hot — is running the table on the good guys. The leftover Avengers are looking very glum on earth, Tony Stark is somewhere in space, and Bradley Cooper hasn't revived the Jackson Maine voice but at least he's giving the Rocket Raccoon voice another go. (We'll take what we can get!) What's gonna happen before the next 20 Marvel movies? Who knows, but Thanos is probably about to eat Captain Marvel's dust.
March 22
The Dirt (Netflix)
Dragged Across Concrete
Us
Trading Paint
Out of Blue
Hotel Mumbai
The Beach Bum
March 29
Diane
Dumbo
The Highwaymen (Netflix)
Wounds
Slut in a Good Way
A Vigilante
April 5
Peterloo
The Best of Enemies
The Public
Shazam!
Teen Spirit
Pet Sematary
The Haunting of Sharon Tate
High Life
April 10
The Man Who Killed Don Quixote (one night)
April 12
Missing Link
Wild Nights With Emily
Dogman
Hellboy
Her Smell
Little
After
April 17
Penguins
April 19
Fast Color
Hail Satan
Under the Silver Lake
Someone Great
Little Woods
Curse of La Llorona
April 26
The White Crow
Otherhood
J.T. LeRoy
Avengers: Endgame
May 3
Non-Fiction
UglyDolls
The Intruder
Dead Trigger
May 10
The Biggest Little Farm
Poms
Wine Country (Netflix)
Detective Pikachu
Tolkien
The Hustle
All Is True
Charlie Says
May 17
John Wick: Chapter 3
The Sun Is Also a Star
May 24
Ad Astra
Aladdin
Avengement
Booksmart
Brightburn