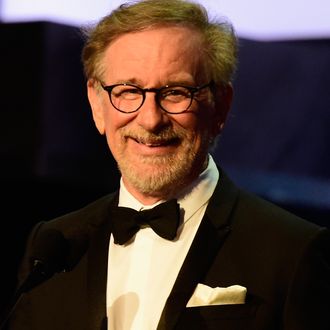 Steven Spielberg.
Photo: Frazer Harrison/Getty Images for Turner
The success of Alfonso Cuarón's Roma at this year's Oscars has royally pissed off Steven Spielberg, so much so he's reportedly doubling down on banning streaming films from awards contention once and for all. Per Indiewire, a Spielberg vs. Netflix battle will be reaching its peak at next week's Board of Governors meeting at the Academy of Motion Picture Arts and Sciences, where the director — who's a board member of the directing branch — is planning to "propose rule changes" that would specifically prevent Netflix, and other streaming outlets such as Amazon and Hulu, from qualifying for Oscars contention. Spielberg had previously discussed his disgust at Netflix campaigning for Oscars, equating its film slate to mere television movies.
"Once you commit to a television format, you're a TV movie. You certainly, if it's a good show, deserve an Emmy, but not an Oscar," he said at the time. "I don't believe films that are just given token qualifications in a couple of theaters for less than a week should qualify for the Academy Award nomination." By diversifying and expanding its original film slate, Netflix has received a handful of Oscars nominations over the past two years, which include Roma, Joel and Ethan Coen's The Ballad of Buster Scruggs, Dee Rees' Mudbound, and Ava DuVernay's 13th. Netflix even scored a win for Best Documentary last year with Icarus, which revolved around Russia's Olympic doping scandal. Please keep Spielberg in your thoughts at this time.
Update: On Sunday, Netflix seemingly tweeted a response to Spielberg, or at least, a response to a Spielberg-ian attitude towards streaming films.