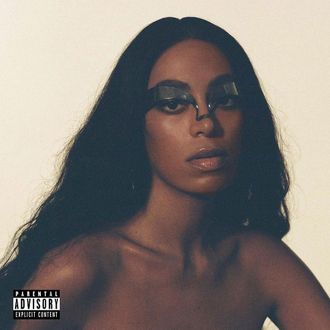 Solange.
Photo: Courtesy of Columbia Records.
Here to save Black History Month from the demons formed against it, Solange has emerged from wherever she's taken refuge just in the nick of time. Her fourth album, When I Get Home, has arrived mere days after she gave any inclination that it even existed and is streaming now on all services. It features contributions from Pharrell, Dev Hynes, Sampha, Gucci Mane, Earl Sweatshirt, Cassie, Tyler the Creator, Playboi Carti, The-Dream, Panda Bear, and more. It also samples Houston legends Debbie Allen, Phylicia Rashad, Pat Parker, and Scarface.
Solange first hinted that something was coming earlier in the week when she created her own BlackPlanet page featuring a dossier of images seemingly tied to the project, then later teased a visual and a phone number — inspired by Mike Jones's "Back Then" — where fans could find more clues. She also shared its 19-song tracklist (packed with references to her Houston hometown), which like her groundbreaking last album A Seat at the Table, includes multiple interludes and an intermission, for when you'll inevitably need to catch your breath. She then tweeted prior to its release, "I'm bringing home w me everywhere I go yalll and I ain't running from shit no more. Your love lifts me up so high."
Solange previously said of the project that it'll be "jazz to the core," but also contain elements of electronic and hip-hop drum and bass because she intends on it "making your trunk rattle." She also gave fans the heads-up then that the album would be a complete surprise, saying it'd be "in progress until the very end." At last, the time has come! Go forth and nourish your souls!
Update, 5:00 p.m. ET: Solange has pulled a Knowles and also announced a companion film for her new album will drop on Apple Music tonight at 7 p.m. ET. If these sisters never rest, neither can we!