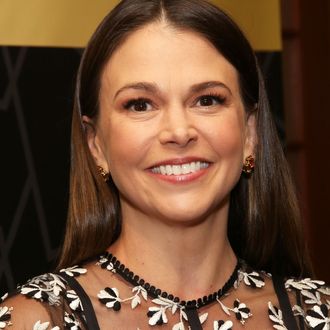 Make! Marian! Tap dance!
Photo: Walter McBride/Getty Images
After a few weeks of intense speculation in the musical theater corners of the interent, Hugh Jackman's Music Man revival has announced who will be playing the love interest and librarian Marian. Though recently she's been taunting the world by barely singing on Younger, Sutton Foster is coming back to Broadway. Foster will star next to Jackman in the 2020 revival of Meredith Wilson's classic musical, which is set to open on October 22 of that year. Foster, outside of her TV work, is best known for her brassy roles in Thoroughly Modern Millie and Anything Goes, both of which won her Tony awards for Lead Actress in a Musical. (Really, it'd be a waste if her take on the uptight Marian Paroo didn't somehow involve tap dancing.) The Music Man will be directed by Jerry Zaks with choreography by Warren Carlyle. It hasn't announced the rest of its cast, but we say commit to the Younger bit and cast Hilary Duff as Winthrop.