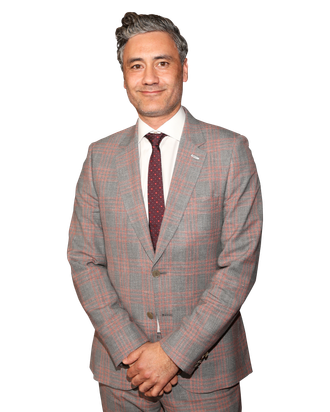 Photo: Jesse Grant/Getty Images for Disney
If you saw Taika Waititi's early films when they first came out — Boy in 2007, or Eagle vs Shark in 2010 — you might have had the feeling of being initiated into a small club, weird and wonderful and wholly unforgettable. Waititi's signature style of dry-yet-warm humor was born in his homeland of New Zealand, incubated among a small creative community that included collaborators like Jemaine Clement and Bret McKenzie of Flight of the Conchords, and has since graced the boulevards of Hollywood and the cinematic world at large.
While the club has grown a lot bigger, Waititi's foray into Hollywood's big-name universes at Disney, Marvel, and Apple hasn't made him lose touch with his roots. In 2005, What We Do in the Shadows: Interviews With Some Vampires was his first directing collaboration with Clement, a short film that didn't go very far (or, at least, as far as his two other shorts, Tama Tu and Two Cars, One Night, the latter of which was nominated for a best short live action Oscar in 2005). Nearly a decade later, the two made the feature-film version of Shadows, a mockumentary about three vampire roommates living in New Zealand's capital. They both wrote, directed, and acted in it, and when it premiered at Sundance, a handful of execs tried to get them to make it as a TV series. The timing wasn't right back then — "The idea of us doing it was just a lot of work. We don't like work," Waititi says — but now, Shadows is finally coming to television with a brand-new cast.
Ahead of the FX comedy's premiere on March 27, Vulture caught up with Waititi to talk about the technicalities of filming vampires, why he thinks that the British have "better comedy" than Americans, and whether his original Shadows vampire might eventually show up in a crossover episode.
You guys never really wanted to do What We Do in the Shadows as a TV show. Yet, here you are.
We didn't mind the idea of it existing, but the idea of us doing it was just a lot of work. We don't like work. For a while after we did the film, we were just like, Ugh. Also, we didn't want to be in it. It's fun to play a vampire once or twice, but then having to play that character again and again in a TV version, I think would be too much for us. We decided to trick other actors into doing that. Really, it worked out better because it's still in the same universe as the film. Our characters still exist and they're still in New Zealand. There's an opportunity for a crossover. If we ever felt like we wanted to play those characters again, we could.
You executive-produced the series and directed the first episode, but you didn't write it with Jemaine. What was the reason for that?
I don't know if you've heard about this little film called Thor: Ragnarok by Marvel Cinematic Universe …
Never heard of it.
Well, that little thing got in the way. [Laughs.] Back when the Shadows pilot got ordered, as soon as that happened, I got Thor. I couldn't see any way that I could be totally involved in the show and the film, so I made Jemaine do it.
Was he mad at you?
Yes, he still brings it up. I was the one who convinced him to do this TV show and then I just left.
Was there a reason behind hiring all British actors as the leads?
They were just better than everyone else, and they just happen to be all British. And that's also a country that happens to have better comedy than the U.S. If you made this TV show exclusively in America by Americans, there would be no color in it. It'd be wacky and over-the-top and I don't think there would be as much sadness in it. The film had a real melancholy feel to it — we wanted to show the human side to these monsters. In America it's like, "Joke, joke, joke, joke. Oh wait, there's something that's sad — kill that. Joke, joke, joke, joke, joke." It'd be loud and there'd be a shit-ton of vampire jokes. It's just a different style. Plus, the characters were from Europe and the actors were as well, and it's still pretty hard for Americans to do European accents.
The vampires live in a big old house on Staten Island. Any particular reason for choosing that city?
Staten Island feels like New Zealand. You'd assume that vampires would all go to Manhattan or London — some cool metropolis where everything's happening. But I think they wanted to hide away. They don't really want to be in the scene and also don't want to be seen, so they go to places that are kind of quiet where they can hide away and, you know, be in the shadows.
You've introduced a unique set of characters in this series: the energy vampire played by Mark Proksch, and the emotional vampire played by Vanessa Bayer. How did you settle on those two vamps as the new kids in town?
You know when you're at a party and you're talking with friends and you're like, Oh God, that dude is such an energy vampire, keep him away from me? It's that guy, the one that just keeps on talking and there's no way out.
How do the vampires show up on camera? Avid vampiric fans will be curious to know.
They can show up on film and they can show up in photos. With a lot of old cameras, the mirrors were only there to line up the shot. So, the mirror is not the thing catching the image. The mirror is just the thing that the cameraman looks through. So really, when you're framing up on your vampire, the issue really is, Are they even in the frame? That was the old issue that cameramen and vampires had. They'd just point the camera in the general direction and hope the vampires turned up in frame. There was a bit more drawn-out process back in the old days. It was real hit and miss, shooting and hoping you'd catch something and I'm going to keep answering your question as if this is all real …
Oh no, I'm ready to move on.
I mean, it is scientifically true. Nowadays, we don't have that problem with capturing vampires because it's all digital. I think people need to know how hard it used to be for documentarians.
I can imagine.
The advent of digital technology has made it so much easier for us to capture the mythical creatures of the night.
Can I ask you another question now?
Oh, sure.
It was recently announced that Destin Daniel Cretton was picked for the next MCU project, Shang Chi. Were you also up for that gig?
[Snorts.] No! [Laughs.] I don't know why I said that with such potency. Let me re-answer that. [Calmly.] No, I wasn't.
I'm guessing you can't say much about The Mandalorian, but will we be seeing the signature Taika flare in the episode you're directing?
You'll be seeing a little bit of that, but not a lot. I'm doing the final episode. For six months, they've been setting up the tone and the characters. If I came in with my style full-on, it'd pretty much ruin the whole thing. There are a few moments where it's very distinctly me, though.
Speaking of secretive companies, you just keep going deeper and deeper into the cave. Marvel, LucasFilm, and now Apple. Soon you're just not going to be able to do press at all …
I'll always do press, my friend. Always.
Well, we're glad for that. Is it weird getting deeply embedded into these companies?
Oh yeah, there are more and more NDA forms to fill out. They just don't stop. And if I'm doing a secret show, why don't they keep it secret? I essentially run that set. I don't want to be burdened with the responsibility. Like, what if I divulged something in a really innocent interview? I'll just say this one thing, though: Everybody dies at the end.
When you were making your indies, was there always a feeling of, Gah, I gotta get to Hollywood?
No. When I would come over for festivals, it was more like, I got to get home! But now that I'm here, I'm really loving it. And I feel like the way that I did it was perfect for me. If it was a big dream of mine, I'd have felt constantly disappointed, but because it never was, I'm always quite happy to just keep going.
It sounds like you're happy riding this wave.
I get home from time to time. I love it there, but there is more work for me here and there is a broader range of projects that I couldn't have done if I stayed there. I couldn't have gone from Thor to Mandalorian to Jo Jo and Shadows to Time Bandit. It would have taken so much longer.
You'll be playing Hitler in Jo Jo Rabbit, right?
That's right. He's an imaginary Hitler, which meant I didn't have to do much acting.
When you were premiering Shadows at Sundance in 2014, I asked you and Jemaine this question: If you had $100 million and no restrictions, what would you make? Jemaine answered, "One-hundred films like What We Do in the Shadows," and you agreed. Does that still ring true?
No, I'd make half of a big film.
Jemaine also told me that when he was 10, he formed a neighborhood gang called The Vampires that wore plastic fangs and rode around town on their bikes saying, "I vant to suck your blahd." Is that a true story?
Yes, that's a true story. Though, one thing I'll tell you about Jemaine: He does lie a lot. One of us never lies and the other one never tells the truth. So, which one is it this time? I mean, I could be lying right now …