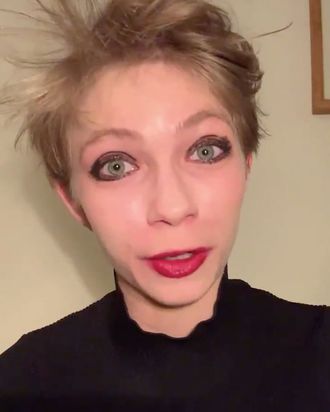 Tavi Gevinson.
Photo: Tavi Gevinson Twitter
This week, Tavi Gevinson took to Twitter to give us not one, but two, ghoulishly accurate parody videos of the most toxic blonde women in America: blood-machine grifter Elizabeth Holmes and confirmed demon Ivanka Trump. At last night's Metrograph Anniversary Party, we asked Gevinson to tell us the story behind her chilling works of modern art.
At first, Gevinson protested. "It's too much. This has gone on too long. It's time to take them down," she laughed. "I feel so ridiculous talking about it. I enjoy the fleeting, transient nature of Instagram and the incredibly silly nature of making things like that."
But Gevinson agreed to give us the backstory. "I have a lot more space in my brain now and more time because Rookie folded, so now when I have a dumb idea, I can see it through until the joke is truly dead," she said. "So I'm just doing that. I loved that HBO documentary and I liked that ridiculous video Ivanka Trump posted. I found it delightfully sinister." Gevinson explained that while she did write a light script for the videos, most of it ended up being improvised. "When I'm actually talking in [their] voices, things come out that end up sounding better," she said.
And for those looking to re-create Ivanka and Elizabeth's looks at home, Gevinson offered some makeup tips. "I had lipstick down to my chin to make my lower lip look a lot bigger," she said. "That was the biggest detail. And, of course, the crazy eyeliner and mascara."