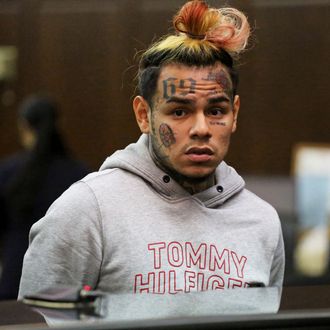 Tekashi 6ix9ine.
Photo: Jefferson Siegel/NY Daily News via Getty Images
Tekashi 6ix9ine's former manager, Kifano "Shotti" Jordan, pleaded guilty on Thursday to two federal weapons counts, officials said. Both Jordan and Tekashi, née Daniel Hernandez, were among those charged last November in a sprawling racketeering case that has brought the rapper's brief-but-controversial career to an abrupt halt and potential end.
The indictment claimed that they were part of a New York City Bloods offshoot, the Nine Trey Gangster Bloods, which allegedly used drugs, murder, and robbery to gain power. In January, Hernandez wound up pleading guilty to nine federal counts and brokered a cooperation deal in an attempt to secure a less severe sentence.
During Jordan's plea proceeding today, he admitted to "using and possessing a firearm in furtherance of a crime of violence" and "discharging a firearm in furtherance of a crime of violence," according to the Manhattan U.S. Attorney's Office. The two charges relate to two incidents last year, an April 3 assault in Manhattan, and a shooting in Brooklyn on April 21, prosecutors said.
"Today, Kifano Jordan admitted in open court to committing multiple acts of violence in furtherance of the Nine Trey enterprise," Manhattan U.S. Attorney Geoffrey S. Berman said in a statement. "This conduct is simply intolerable."
For the first count, there is a mandatory minimum sentence of five years in federal lockup. For the second count, the minimum is ten years behind bars.
Jeffrey Lichtman, one of Jordan's lawyers, told Vulture, "it was a tough case" against his client.
First, Lichtman said, there was the "amount and type of evidence, much of which was on video tape, but also with the amount of gun charges which come with mandatory minimum sentences."
"Had he gone to trial, he would have probably received a mandatory 50-year sentence," Lichtman said. "To be able to get out of it with the 15-year sentence — what the plea agreement calls for — we made the best of a bad situation."
Jordan also has a pending assault case in Manhattan state court, the district attorney's office confirmed.
During Hernandez's plea proceeding, it was revealed that he was providing prosecutors information on "multiple violent" Nine Trey associates. Under Hernandez's plea agreement, he agreed to "truthfully and completely disclose all information of the activities of himself and others to the U.S. Attorney's Office and that he cooperate fully with law enforcement agencies," prosecutors said at the time.
"Mr. Hernandez is going to be happy that the case is going to be wrapping up soon," Dawn Florio, one of his attorneys, told Vulture on Thursday. "We're hoping that a lot of the co-defendants plead guilty so everything can be finished."
Hernandez faces 47 years to life in federal prison, and was also back in court on Thursday.
He made an appearance in Manhattan Federal Court to address potential conflicts of interest involving his legal team — Lance Lazzaro, who represented the "FEFE" rapper, had previously served as Jordan's lawyer.
Hernandez was escorted into Judge Paul Engelmayer's courtroom shortly after 3 p.m., his hands and feet restrained. He sported navy jail blues and all-white, midrise Nikes, as well several colorful braids. He looked more elated than at prior court appearances, smiling widely in conversation with his lawyers.
After asking Hernandez a series of questions about whether he understood the potential conflict, Engelmayer said Lazzaro could resume representing him. Hernandez enthusiastically hugged Lazzaro right after the proceeding.
This post has been updated throughout.