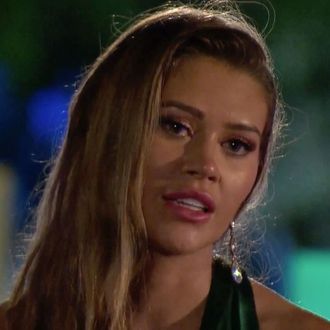 Caelynn Miller-Keyes.
Photo: Bravo
In a season plagued with a solid amount of drama and scandal, Bachelor contestant Caelynn Miller-Keyes still stood out among the group of women when a shocking accusation took shape in an episode last month: She and fellow contestant Cassie Randolph only went on the show to romance Colton Underwood far enough into their "journeys" to ensure one of them would become the next Bachelorette lead. Miller-Keyes and Randolph strongly denied that ideology to Underwood, even though Miller-Keyes was ultimately sent home after this week's hometown episode. However, despite a semi-final status being the usual prerequisite for becoming the Bachelorette, the Miss USA runner-up is now insisting she's not really interested in the role, for a bunch of reasons.
"I think I would be hesitant, just because this process sucked for me," she told Us Weekly. "I mean, it was absolute hell for me. There were several days where I would go to producers and be like, 'I'm leaving, I can't deal with this.' Because it was hard, it was emotional. It was so incredibly hard for me." Miller-Keyes also insisted that becoming the Bachelorette "was the furthest thing from my mind because I was in love with Colton" while filming the show, and she's still "hurt" that Tayshia Adams, someone she considered a friend, was the one who told Underwood the rumor. "There's other girls that I could expect that from, but not Tayshia," she added. We're sure Women Tell All will sort this all out, after Underwood finally jumps that damn fence.