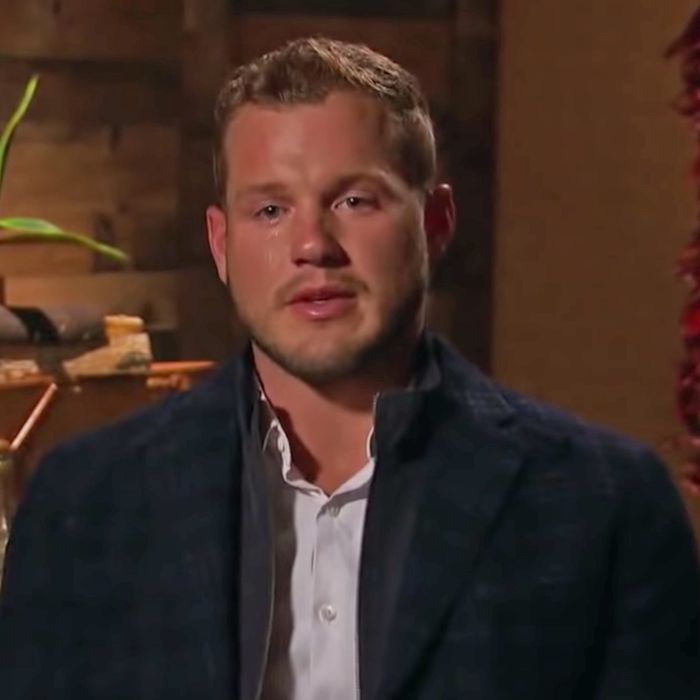 In theory, it seems silly that the most-teased moment of The Bachelor this season involved the dexterity of Colton Underwood — a very strong, NFL-trained man — as he flung himself over an automatic gate in Europe and into a spooky abyss. But, surprise! When the scene finally arrived at the conclusion of Monday's "fantasy suites" episode, it was a bona fide doozy, coming after Underwood's favorite contestant, Cassie Randolph, decided to leave the show when she realized she couldn't in good faith accept his proposal due to the short amount of time they had spent together. (Also, because of her very scattered emotions.) How did we get here — tears, camera punches, muffled tears, and all?
Randolph's "fantasy suite" date came after Underwood's first date with fellow finalist Tayshia Adams, on which the duo did not engage in any horizontal mambo activities. When reunited with Randolph, a pleasant afternoon in coastal Portugal ensued, although the facade was soon broken when Underwood revealed that Randolph's father, during the "hometowns" episode, did not give his paternal blessing for their theoretical marriage. This caught Randolph — a conservative Christian who places stake in these proverbial blessings — off guard, as this was the first time she heard of it. "I'm surprised. I left feeling like my family trusted me to make the right decision. That's not easy to hear," she responded. "I'm so confused right now. Sorry, I'm just soaking it in … I wish you would've told me then."
To cause even more ruckus once the afternoon portion of their date concluded, the show's producers flew Randolph's father to Portugal to confront his daughter at her hotel — love that ABC expense account! — about what he believed was her hasty decision-making. Speaking on behalf of the family, he said they didn't see any legit spark between the two during her hometown visit. "For me to give a blessing after a half-hour conversation isn't something really diligent," he told her. "You seem conflicted … there shouldn't be any hesitation in your mind when you meet somebody that you want to spend the rest of your life with. It's a life-long decision. It's not something you make when you're unsure."
With her father giving the final validation she was, in a way, hoping to hear, Randolph concluded she was going to break up with Underwood at their evening date. Thirty minutes of episode was dedicated to this slow-burn of a departure, which mostly consisted of Underwood (1) begging her to stay, (2) promising her they didn't need to get engaged at the show's conclusion despite Bachelor protocol, and, way more shockingly, (3) saying he loved her and would dump the remaining two contestants immediately to show how much he cared. ("I want to be with you at the end of this, engagement or not," he said.) Their breakup was drawn out and downright repetitive, but here's a part of the transcript so you can get the gist of it:
CASSIE: My dad talked to me about how I was feeling, and how big this whole thing is. He told me about my mom and him, and their kind of love, and how he never had any doubts about it. She never had any doubts about it either. I don't know, I just, I would hate to see you … I don't want to see you leave here without you leaving what you came here for.




COLTON: But if it's not with the person at the end of this I feel the strongest for and the most potential with, then it's not worth it.




CASSIE: I hate that you say that. It's sweet. I want you to have what you want too, you know? I love you so much. But I couldn't, after today, I'm not in love. You know what I mean? I don't know why after today I'm not. I just feel like I'm having doubts about it. I don't know why I'm so confused. I just feel like there's a lot to think about.




COLTON: Can I ask you something? Were you planning on leaving tonight?




CASSIE: Mhmm. Not because I don't care about you so much. Because I don't know if I can get there with you. I wonder if I would've been sure by now. I don't understand. I hate that I don't know. I just wish I knew. I can't, I'm sorry.



Randolph ultimately wasn't swayed by Underwood's numerous pleas of "wanting a future with you" and declarations of love, and through tears, she departed. "I don't care if you're about to leave," he offered as parting words. "I'm not going to stop fighting for you." What happened next was mostly captured through hot mics and producer voice-overs, as Underwood retreated from his hotel room, mumbled, "I'm fucking done," shoved a cameraman to the side, and jumped! That! Fence! Baby!
The preview for next week's finale shows Underwood tearfully hugging Adams and fellow contestant Hannah Godwin good-bye, which suggests he's serious about pursuing Randolph as his winner, immediate engagement or otherwise. We're just glad he makes it out of Portugal okay.