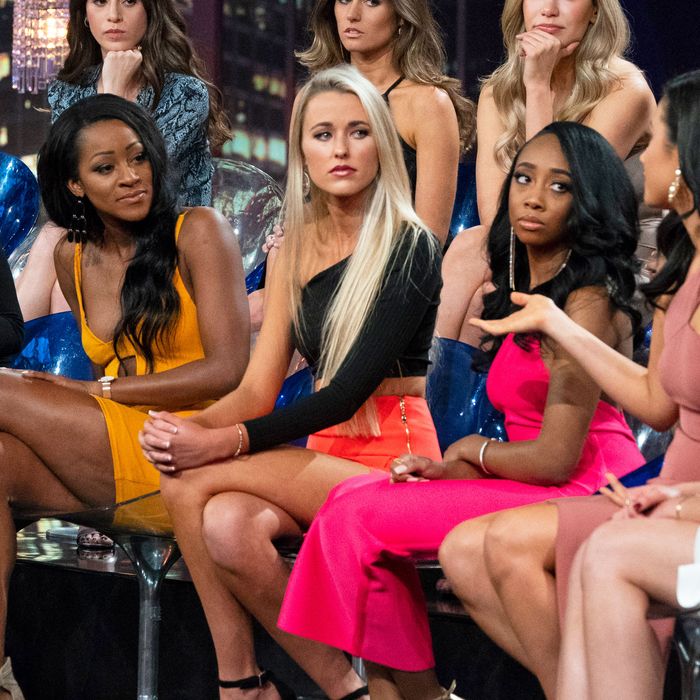 Photo: Eric McCandless/ABC
Perhaps we were too spoiled by the dazzling display of Colton Underwood jumping the fence on Monday's Bachelor episode, because the following evening's customary "Women Tell All" — by all means the hot, drunk cousin of the franchise — was really all talk and not much substance. Sure, there was screaming. There was fighting. Someone even stuck a pacifier in someone else's mouth, a power move that the Los Angeles County District Attorney's Office might legally define as "aggravated assault." But when it came to bombshells, the pickins' were slim, as Chris Harrison once again proved how mediating a large group of dumped women is no small feat. Ignoring all the petty drama, here are the five things you should know.
Katie said Caelynn and Cassie's Bachelorette scheming really did happen
The main point of contention in the second half of the season were hushed claims that Caelynn and Cassie, who became very good friends throughout filming, had a not-so-stealth conversation about their hopes of becoming the Bachelorette — effectively meaning that their time on the show was bogus and they were just looking forward to social-media fame. Katie, Hannah B., and Demi all implied such to Underwood after their eliminations, and Chris Harrison decided to ask Katie who she was referring to with her comment. "I was mainly talking about Caelynn and Cassie. I was close with them. But I saw what they seemed to value at that point in their lives, and it didn't seem to align with what Colton wanted," she responded, before doubling down on what she overheard the duo discussing.
"To set the record straight, the Bachelorette conversation happened on the bus from the Singapore airport to the hotel," she continued. "They were talking about how, 'One of us is winning and one of us is being the Bachelorette after this.' Honestly, it was the word winning that got me. I felt like he wasn't something to be won; it was something to work for."
Caelynn fired back at Katie's claims, saying that they shared a phone call when the show ended, even agreeing to Caelynn's version of the conversation. "Obviously Cassie and I are best friends, and we were worried what was going to happen to our friendship if one of us were to be engaged in the end. Not win, but engaged," Caelynn said. "So I told Cassie, 'If it's me at the end of this, I pray that you're the Bachelorette and you find your person.' Because that's what best friends do. And she said the same, vice versa." Katie had the last word, insisting Caelynn's defense was a load of crap: "I hate this actually. It makes me feel so mad I'm shaking. Because that's the manipulation Hannah B. warned Colton about. I honestly thought we were going to come up here and say, 'You know what, Chris, I'm sorry I said that; it was a stupid thing to say.' You admitted it to me on the phone."
Obviously, Colton talked about his fence jump …
Congratulations are in order to the Algarve region of Portugal, which will now become a sight of reality-show pilgrimages for years to come — all thanks to that damn fence. Underwood was able to tease a little of his raccoon-esque escape plan during a one-on-one interview with Harrison, and, interestingly, admitted that he wished he wreaked a bit more havoc with the production crew during the stunt: "I actually thought I was going to land on the production tent or the snack tent. Like, there was gonna be some audio guy randomly waiting there for me, but there was nobody."
He also expounded a bit on Cassie's brutal rejection, hinting a proposal of any kind didn't happen at the end of his season. "The hardest thing was the feelings not being reciprocated. There was frustration; it was confusing and hard," he said. "Just because you're the Bachelor doesn't make you invincible to people leaving on their own. You're not automatically going to be in a relationship because you're the Bachelor, and that became evident."
… But he refused to talk about his virginity
During the requisite question-and-answer portion of the episode, Sydney asked him, point blank, if he had lost his virginity since his fence-jump fiasco. What ensued was an awkward minute of Underwood dodging any attempts of a simple yes or no answer through innuendos, likely because the franchise wants to wait until the "After the Final Rose" episode to divulge such sexy intel. "Before I answer that, can I clear something up with you? What does 'whack my weeds' really mean?" Plowed any fields? Pushed flowers? Tended the garden? It's snowing a lot in Denver right now, so …" he offered. Interestingly, when Harrison asked the women if they thought Underwood had since slept with someone, about 25 percent of them believed he still hasn't. "You missed a good fantasy suite with me," Demi replied. "That's all I'll have to say."
Colton offered no closure to Caelynn about why he eliminated her
Prior to dodging questions about the status of his virginity, Underwood was also asked by Caelynn — who was eliminated in the "hometowns" episode — when he knew he wanted to end their relationship, because he offered no real explanation after her final rose ceremony. Underwood, who stammered for quite a bit of time, finally mustered up a half-assed response. "That rose ceremony was the hardest out of all of them. It's no secret our relationship was special. The safety that we had with one another with opening up and sharing was something I value and appreciate," he said. "Our break-up, I didn't have anything to say, because I felt terrible. I didn't give you any closure and I don't know there's anything I can say now that will. Yeah." Caelynn was clearly pissed by this nonanswer, only following up with: "I loved him and he didn't love me. It sucks. That's it."
Elyse didn't participate — at all!
Although a sea of first-episode-eliminated contestants showed up despite their lack of remarkability, Elyse — the fan-favorite contestant who dumped Underwood due to his lack of maturity in their relationship — wasn't among the women who returned for one last hoorah. On social media, she said she would've "loved" to have reconnected with Underwood and her pals from the show, but the wedding of one of her best friends prevented her from attending. We missed ya, girl!