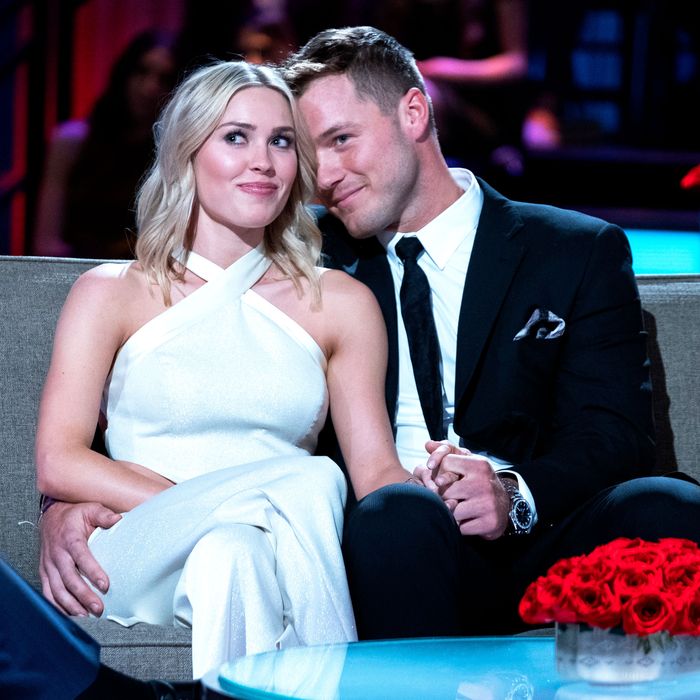 Photo: John Fleenor/ABC via Getty Images
The two-hour finale of Colton Underwood's Bachelor season could've easily been condensed into a 20-minute vignette, but that would've deprived us of autumnal Mallorca foliage, the overuse of the word conversation, and, inexplicably, a serenade from '80s soft-rock icons Air Supply. And who doesn't want to see some autumnal Mallorca foliage? But we won't tease you with the truth any longer: As a continuation of Monday night's episode, Colton and Cassie Randolph quickly reconciled and are now very much in love, with the season ending with the couple in an unprecedented "committed relationship" as opposed to a proper engagement. (Poor Neil Lane.) The duo seems happy, mushy, and clearly besotted, so congrats to them for making that fence jump worth it.
Though Colton and Cassie hesitated to answer Chris Harrison's lingering questions in the live portion of the episode, viewers were still able to get a sense of what the future looks like for these cuties. And perhaps more importantly, learn who the heiress of the Bachelorette franchise will be. Below, let's run down the four biggest takeaways from the finale.
Colton and Cassie have discussed marriage …
Now settled into a committed relationship, the two confirmed that they have fallen deeper in love since their final Bachelor outing in Spain, with the show arranging private meet-ups for them in the months that followed. When asked by Harrison if the topic of marriage has been broached, they both grinned and admitted it indeed has. "It's definitely something we've talked about. Nothing's holding me back right now," Cassie said. "We still have a lot of conversation to have and we still have a lot of room to grow in our relationship. We're enjoying dating right now," Colton added, also joking how he hopes Cassie's father will say yes to his proposal offer next time.
… And Colton moved to L.A. to be closer to Cassie.
See ya never, Denver and your high altitude! Colton has officially become a Los Angeles resident, where he is living "a few miles" away from Cassie. But as of now, the couple has no intention to move in together. "The plan right now is, I moved out here, and we're going to be traveling a lot this next year. We're going to be spending a lot of time together," Colton explained. "That's a big step in a relationship as well, so we've had the conversations, but we're not going to broach anything." Cassie, who sporadically mentioned on the show how she was studying for her master's degree in speech pathology, seemed excited for a future that was devoid of school: "We're still going to be together every single day. I'm so excited."
Colton totally had sex! Congrats, buddy!
As annoying as the show's frequent mentions of Colton's virginity have been, congrats are in order to our proud, messy Bachelor. Because This! Guy! Fucks! To be fair, that's an assumption based on basic social cues and innuendo. Colton never confirmed it himself, so allow this to serve as the closest verification we're likely going to get: "I will say, heading into the fantasy suite, I wasn't thinking of anything other than fighting for our relationship. I know I've been very open and candid about my virginity, but since there are two of us now in this relationship, it's something we're going to keep to ourselves." (Chris Harrison took that "as a yes.")
Colton and Cassie also got to have a fantasy suite do-over in Mallorca, where they shooed the cameramen away and insisted on the producers removing their microphones. "It was great for our relationship. A gentleman never kisses and tells," Colton said in his confessional interview the morning after. "But I could tell you I'm very happy and you can use your imagination."
Hannah "Beast" Brown is the new Bachelorette.
You best prepare yourself for Alabama Hannah, hot mess and all! Hannah Brown, who was eliminated in the seventh week of Underwood's season, was confirmed as the newest lead of The Bachelorette — so you better learn what "roll tide" means, and fast. "It didn't happen for me with my first time around, but I do believe it can happen and I'm really grateful and honored people saw my heart and I can continue to show them that. Hopefully someone will share their heart with me," the reigning Miss Alabama said. "My family has been really supportive with me and is really happy. They've made me who I am, so they trust me and love me and ultimately want me to have love, too. I feel all the emotions. But honestly I'm just really grateful for this opportunity."
Hannah, like Becca Kufrin last year, also got to meet five of her suitors early, even giving one of them a first-impression rose. We're already dreaming of the Demi and Hannah G. friend cameos.