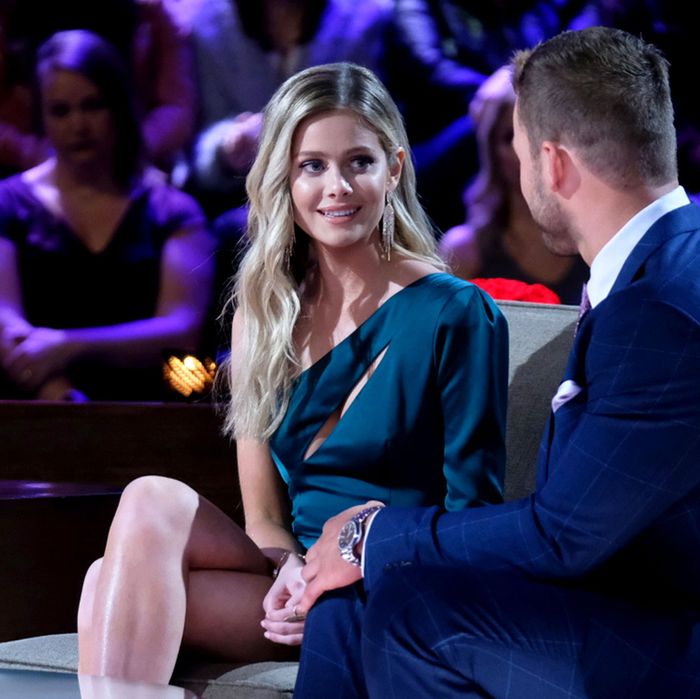 It wasn't easy watching Hannah Godwin get eliminated from The Bachelor. The recipient of Colton Underwood's first-impression rose and an all-around fan favorite, the 23-year-old from Alabama wound up eagerly awaiting a Portuguese fantasy-suite date destined to never happen in Monday night's episode, after Underwood made the unprecedented decision to break up with both of the season's remaining contestants. However, Godwin didn't take Underwood's surprise breakup without seeking clear answers, many of which he had no response to. "I should've known it was too good," she concluded before they split. "I'm so angry right now."
Prior to her heartbreak, Godwin's Bachelor presence this season could perhaps be best described as a genial gal pal to all, frequently going back and forth from sizzling scenes with Underwood to consciously avoiding any and all drama that infiltrated the contestants' inner circle. Earlier today, Vulture hopped on the phone with her to discuss it all.
How's your week going?
Distraction is a good thing — being able to move forward and go in a totally new direction of not being stuck in the past. I'm stoked about that.
I must start by asking: Your Bachelor job description of "content creator" amused me, as I've had a similarly broad career. What exactly was your profession before starting the show?
I love talking about this, because like you said, it's so broad. A lot of people are like, Does this mean you're just an influencer and a model? I put that as my description because it really is broad. I have a background in photography, so sometimes companies reach out to me to take photos or create content for their social campaigns, and I'll design that. But I also do it for myself for social media. Modeling plays a part in creating stuff, too. Being a creator as a whole is my jam. I've been really lucky I've been able to do it for myself and not just having to do it for another company.
Bachelor viewers can be pretty cynical with social media advertising, especially when it comes to all those quick-buck spon-cons involving flat tummy teas and hair gummies. Have you thought about how you'll approach these new opportunities without seeming too gimmicky?
It's as simple as only incorporating brands and products that I actually, truly love. That's where I stay true to myself. I studied marketing and I have my degree in marketing. I know how important it is to keep up brand loyalty. With all of these new eyeballs on me, they all deserve to know how I truly feel about products and things like that. There's definitely a stigma along the lines of, Oh, you've been on the show and you get your followers. I just love being creative in any way I can. I did stuff for other companies without my face being attached to it, just because [it's] something I'm passionate about. I love talking about things I love!
What motivated you to apply for The Bachelor?
All of my friends kept telling me that I had to try out. I was always the single girl at weddings and it was an ongoing joke with my friends, like, She's by herself if anyone wants to dance with her! As much as it was fun to joke about that, it also sucked because it wasn't exactly where I thought I would be at that point in my life. So finally, after a few mimosas one day, I filmed a video. My best friend helped me and we sent something in. From there, I guess they thought I was going to be an interesting fit for the show. Some people find love at a bar at 2 a.m. Some people find love at an airport. Why not see what happens when you don't have your phone with you and actually have the time to get to know somebody without any distractions? In my career, I was also finally in such a good spot of feeling fulfilled. I worked my butt off, but I hadn't really have time to focus on the love side or make love my priority. So why not do something different?
Did you apply hoping it was going to be Colton?
People would ask me a lot during the application process, Who are you thinking about? The top three contenders were obviously Colton, Blake [Horstmann], and Jason [Tartick]. I think I would've had a different kind of relationship with all of them, because they're all so different. I didn't want to set myself up for disappointment if I just latched onto one person. I wasn't disappointed it was Colton by any means, but I was like, Okay, cool, it's gonna be this kind of relationship.
What did you put in your application video?
You know what, I wish I had a wilder story for you. But I was just Plain Jane with it. Simple and to the point!
Now that you've watched the season along with the rest of us, do you think your edit represented you well?
Obviously the edit shows a part of me, but it's not the entire version of me. It showed my more reserved side, which is totally a thing. There were definitely a few moments watching where I was like, Oh my gosh, I can't believe they didn't add that! But it's not The Hannah Show. But my overall feelings towards everything is that I'm very lucky people have taken it well. With the drama and everything, I made my relationship with Colton my one and only priority. I tried to stay in my own lane and not get caught up in distractions when I was working on my relationship.
The smartest move you could possibly make.
I tried to swerve it as much as I could. I think I did okay and I came out with good relationships with a lot of the women on the show, so that was nice, too. I would wake up every morning and be like, What's going to make me happier today, causing drama or making fun memories and focusing on me and Colton? I went with whatever made me happiest and that meant not talking smack.
Who's still in your friend group from the show?
I'm close with a lot of the women. I love Katie, Demi, Heather, Hannah B., and Kirpa. They're all so different, personality-wise, so I have different threads with each of them. It's funny that I'm sitting in a spot where I'm friends with somebody who also dated the same dude that I did, but here I am. We're all still friends!
You all need to crash Hannah's Bachelorette season and interrogate the boys.
I know, that would be so girl power and awesome.
Were you approached about being the Bachelorette?
I can't say, I'm sorry. There were a lot of conversations in the air.
Were there any memorable moments from the season that were filmed but not aired?
I don't think I could pinpoint one exact memory, but it would've been nice for my goofier side to have been shown. I have a much goofier side of rapping and having general awkward moments. That side of me is why I think people like me. Oh, you know what? A clip that was actually never in an episode, but released later, was the moment Colton told me he was falling in love with me in Colorado. The show cut it out and released it after the episode aired. That was a really special moment for both of us.
How do you feel Colton handled your breakup in Portugal? He recycled a lot of what he said with both you and Tayshia.
The one thing I struggled with, in addition to a lot of "what-ifs" and unanswered questions, was when he kept giving me opportunities of hope within the breakup. That was confusing for me. At the end of the day, what is my dream breakup? I don't have a dream breakup! I don't think there's a perfect way to handle it. He was respectful about it, I guess, but still, who wants to be broken up with like that? It was hard for me to have so many unanswered questions, because I knew I wouldn't be able to see him face-to-face again for months. That was difficult for me.
The lingering source of drama this season has been whether or not Caelynn and Cassie openly talked about wanting to become the Bachelorette. It's pretty moot at this point, but was there any truth to that story? Did you overhear anything during your time on the show that made you question if somebody for there for the "right" reasons?
I really tried not to focus on who was there for "right" or "wrong" reasons. I was focusing on myself. But when Katie left and warned Colton, I don't think she was saying it as, Hey, these people are here for the wrong reasons. I think she was basically saying, Hey, make sure you know these people well, because maybe their actions have been different from their words. Was I there for any of these conversations? No. Did I care that much? No.
On The Bachelor's Reddit page, you were deemed the antithesis of a typical reality star because you exuded such genuine behavior and nonconformity. I wanted to know if you agree with that, or if even consider yourself to be a "reality star" at this point?
Any conversation I had on the show — and know this is all new for me, talking about it — I tried to have actual, real conversations. I don't think any of us are better than the other or deserve more than the other. Just being myself has been my coolest trick I've learned from this. I'm not trying to fill any role. Being reasonable and having real conversations and caring about people isn't rocket science. It's such a compliment that people recognize it, for sure. I don't think I'd have to act like I'm a crazy cool reality star because it's just not the case. I did go through a cool experience and I went through it with America. I'm happy people got to see me for me.