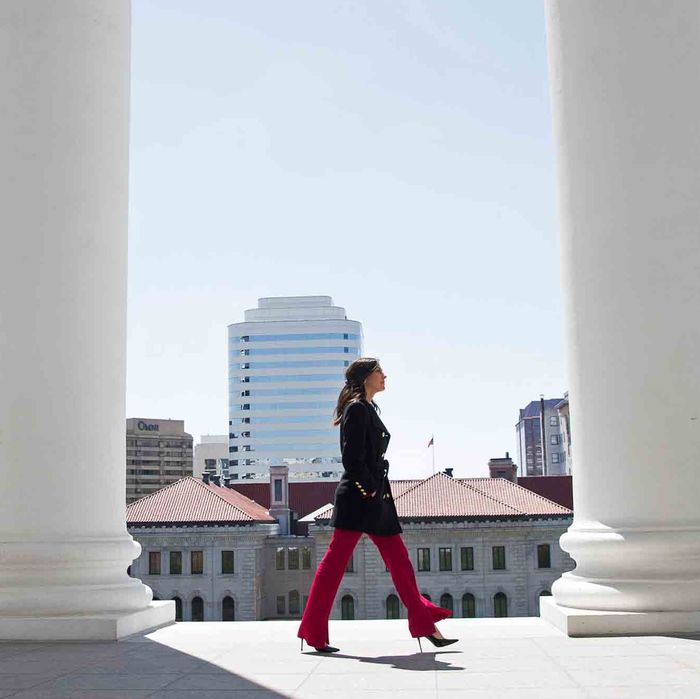 Becca Kufrin in Richmond, Virginia, during her
Bachelorette
season.
Photo: Paul Hebert/ABC
Virginia may be for lovers, but it's also for spending $536,130.38 on reality-TV tourism.
While The Bachelor's leading man Colton Underwood has jet-setted to Singapore, Vietnam, and Portugal prior to his dalliance with a fence this season, past leads on both The Bachelor and The Bachelorette haven't been as lucky. The ABC franchise typically follows a rule of thumb when it comes to travel: The first episodes are rooted in the famous Los Angeles mansion, the next few branch out to American cities, followed by the "hometown" dates, and then, depending on the season, the final contestants might get a round-trip ticket to an international locale in Asia, Europe, or South America. If a contestant gets eliminated late in the game, who's to say all those fresh passport stamps won't be able to mend a broken heart a little quicker?
Still, that U.S.-focused tendency is no accident. The Bachelor franchise has for years negotiated deals with local and state tourism boards to promote Stateside locales, sometimes even commanding six-figure payouts for exposure to the show's massive audience. Because this Bachelor season has been uncharacteristically devoid of American destinations (minus a visit to Underwood's current residence in Denver, Colorado), Vulture decided to investigate: Just how much money do tourism boards spend to lure The Bachelor to film in their backyards?
Through Freedom of Information Act requests, we reached out to every American city featured on the shows in a non-hometowns capacity. Seven of those cities responded with information about the payments they made to snag The Bachelor or The Bachelorette: Richmond, Fort Lauderdale, Hilton Head, Deadwood, Sante Fe, Park City, and South Lake Tahoe. (The remaining cities either didn't respond to our FOIA requests or claimed that NDAs prevented them from disclosing any contracts. Neither ABC nor production company Warner Bros. Television responded to requests for comment.) The results are varied — some cities had to fork over a lot more cash than other tourist hot spots — but all together, they provide a rare look into the inner workings of reality television. Any press is good press, right?
Richmond, Virginia: $536,130.38
The Bachelorette's 14th season found Becca Kufrin and her suitors traveling to Richmond, Virginia, with dates involving activities at the Edgar Allan Poe Museum, the Virginia State Capitol, other snoozy sights around Downtown Richmond, and the Chesapeake Bay. (The snooziness multiplies when you realize, compared to previous Bachelorette seasons, that Kufrin got the short end of the stick when it came to travel.) The Virginia Tourism Authority paid just over $536,000 to be featured on the show — $300,000 for "sponsor costs" and $236,130.38 to "help defray the costs of rooms, meals, production space, internet, and parking," according to the contract — along with specific stipulations of what had to appear in the episode: a shot of the city's "LOVE" sign, and a verbal mention of the state's "Virginia is for lovers" slogan. The Tourism Authority also stipulated that they could create a "Bachelorette-inspired or romance-inspired itinerary" for the city, on its website, after the episode aired to promote future tourism. (And it did!)
"The partnership with The Bachelorette was very beneficial, as it gave us an opportunity to increase brand awareness for 'Virginia is for Lovers' and reach millions of consumers who perhaps had never considered a vacation in Virginia before," a spokesperson for the state's Tourism Authority told Vulture. "As media has become increasingly fragmented over the past decade, there are very few other opportunities that could have garnered this kind of exposure for our destination."
Fort Lauderdale, Florida: $313,000
Arie Luyendyk Jr. took over a dozen of his Bachelor contestants to Fort Lauderdale, Florida, during the 22nd season, and despite the city's beachy confines, only two of the three dates actually took place outside: a houseboat and Jet Ski adventure on the Atlantic, and a hydro-boat outing around the Everglades. (The third, if you're curious, was at a bowling alley.) The Greater Fort Lauderdale Convention & Visitors Bureau ponied up $313,000 to be featured on the show — $248,000 for sponsor costs, and $65,000 for "the cost of crew meals during production" — but the deal didn't include any specific stipulations about what landmarks or scenery had to be televised. Like Richmond though, a "Bachelor-inspired or romance-inspired itinerary" was requested for the city's website after the episode aired.
Hilton Head, South Carolina ($75,000)
Stopping for the week in Hilton Head, South Carolina, during The Bachelorette's 13th season, Rachel Lindsay got to do a few outdoor activities with her suitors around the island, which included a blimp ride and picnic, a booze cruise and spelling bee, and clam shucking in a river. The South Carolina Department of Parks, Recreation & Tourism paid $75,000 for the show to film there, which was frequently described as a "special broadcast opportunity" in the grant application jointly written by the Hilton Head Island-Bluffton Chamber of Commerce. "The goal of the special broadcast opportunity is to achieve more brand awareness," the application, in part, read. "The objective will focus on garnering key experiences throughout the locations to achieve this goal."
Deadwood, South Dakota: $50,000
Chris Soules got to travel with his lucky ladies to Deadwood, South Dakota, in The Bachelor's 19th season, a trip that personified the town's Old West aesthetic: The dates mostly consisted of low-key horseback rides, cookouts, and hikes. The Deadwood Chamber of Commerce & Visitors Bureau paid a flat $50,000 fee "plus some expenses" for the show to film there, but there were no stipulations about what landmarks, exteriors, or interiors had to be featured for viewers to see. Three local hotels also hosted the show's cast and crew free of charge.
Santa Fe, New Mexico: $50,000
Prior to settling down in Deadwood, Soules and his Bachelor contestants also explored the rustic terrain of Santa Fe, New Mexico, by means of white-water rafting in the Rio Grande, hot-air-balloon rides, and outdoor meditation. A payment of $50,000 from Tourism Santa Fe and New Mexico Tourism was given "to assist with production costs," an amount that was voted on and approved during a July 2014 City Council meeting. Documents from the City Council meeting also stated that the tourism boards were willing to pay up to $100,000 total to entice the show to film in the city.
Park City, Utah: $25,000
Before Kufrin and her Bachelorette gents finally got to venture outside the U.S., they made a pit stop in Park City, Utah, perhaps best known as the host of the annual Sundance Film Festival. The Utah Office of Tourism paid $25,000 to entice the show to film there, with Kufrin's dates including boutique shopping on the city's main street, bobsledding at the Utah Olympic Park, and snowmobiling. "Our primary interest in partnering with The Bachelorette was to show the beauty of the Park City area and the great travel opportunities for visitors," a state tourism spokesperson told Vulture.
South Lake Tahoe, Nevada: $20,000
Luyendyk Jr. and his group of ladytestants also swung by South Lake Tahoe, Nevada, in his Bachelor season, where their outdoor-centric activities included parasailing, a survival-skills class, and horseback riding in the foothills. The Nevada Division of Tourism and the Lake Tahoe Visitors Authority teamed up to pay $20,000 for the show to film in the lake's surrounding region, with the contract using very specific language to stipulate that no "iconic" or "identifying" lake shots from the California side of the lake be featured in the episode. Call it a bit of regional rivalry: "There is one location at Lake Tahoe on the California side of the lake that is quite identifiable as being in California, and we did not want that shown," a spokesperson for the Nevada Division of Tourism explained.