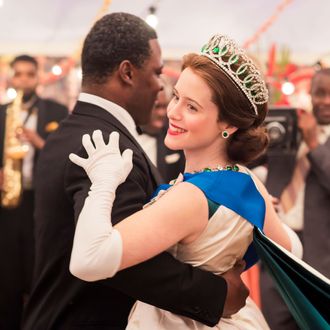 Photo: Alex Bailey / Netflix
With Netflix's continued refusal to provide viewership figures for its slate of shows and films — minus the select few times the company has self-reported numbers for a handful of titles — the BBC is stepping in to say it has some glitzy data to share, and they want you to know the Reign of the 'Flix isn't as powerful as you might think. Per The Guardian, BBC General Director Tony Hall used his time at a London media conference this week to mock the viewership numbers of one of Netflix's most prominent (and expensive) shows, The Crown, and how allegedly only 7 million people in Britain have watched it in the past year and a half, compared to the BBC's much-smaller-budgeted programs such as Bodyguard and Luther. Specifically, Hall claims Bodyguard was watched by 17 million people in one month — data that was sourced from a "nationally representative survey" commissioned by the corporation last year. Netflix declined comment when asked by The Guardian about these numbers.
Hall said he's coming after Netflix now because of his desire for the BBC to robustly expand its online programming, so it can have a chance at competing with online streaming giants. "The landscape in which we operate has changed beyond all recognition over the past decade," he explained. "But our regulation has stayed largely the same." Last month, it was revealed the the BBC and ITV would be launching a "best-of" streaming service together in the U.K., called BritBox. Given that those networks contain some of the best British programming from the past few decades, we have a feeling the BBC's online presence is only just beginning.