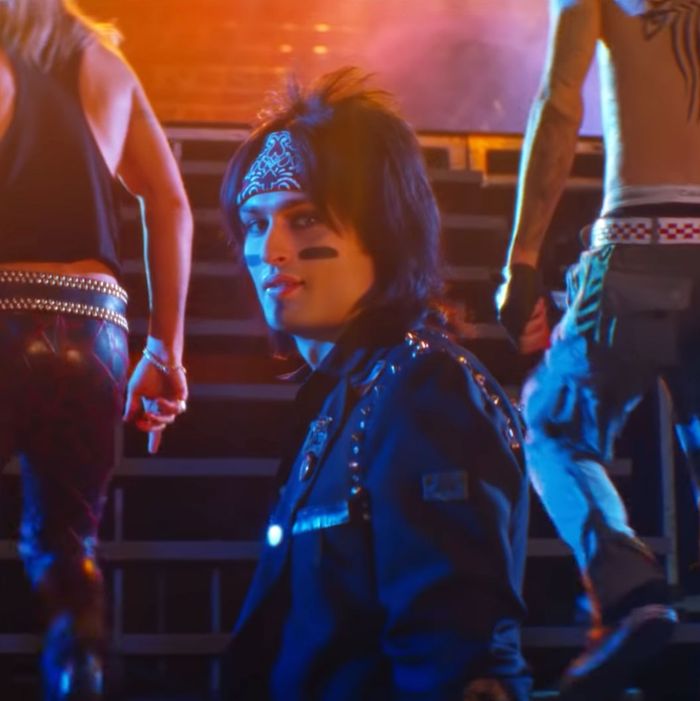 There's no getting around it, so you may as well go in prepared: The Dirt opens with female ejaculation, captured in glorious freeze-frame. Is that a first for Netflix? (What else awaits me when the inevitable "because you watched The Dirt" menu pops up on my home screen?) The "six foot geyser," as described in the 2001 book co-authored by '80s glam metal band Mötley Crüe and pickup-artist-to-be Neil Strauss, is the the final button on a rowdy, roving-camera party scene that also opens the book, in which, among other achievements, drummer Tommy Lee (Colson Baker, a.k.a. sudden Netflix company player Machine Gun Kelly) gives oral sex to a groupie to explosive effect. The director, Jackass impresario Jeff Tremaine, is more or less the leading living auteur of grotesque and/or sublime stunts of the body, and the mood is bright and sunny and stupid, a parody of a parody of a music biopic. The squirt, however crude and shocking, somehow manages to feel a little transcendent.
Not much of the rest of the film does, though to its credit, "transcendent" is not exactly what it's going for. Perhaps the greatest gift to The Dirt, a long-in-the-works project that dates back to 2006, is Bohemian Rhapsody. All the weight that Bryan Singer's Queen biopic was saddled with — a slew of megahits that threatened to dwarf the movie itself, the mandate to recreate one of the greatest live performance of all time, its director — is absent here. Mötley Crüe was a big band in its time, with big hits and a proportional cultural impact. But nobody — certainly not the band, nor adapting screenwriters Amanda Adelson and Rich Wilkes — are trying to make any kind of "greatest band of all time, legends, gods, cultural titans" argument. The Dirt's mission is not to convince you of its subjects' genius, but rather to immerse you in the sex, drugs, and hair metal lifestyle they exemplified, and ideally provide some diversion along the way.
Without any kind of highbrow legacy to maintain, then, the film happily jumps into the mud wrestling pit (literally, at one point) to present a series of greatest hits — not of the band's catalog, though it features throughout — but of their absurd, hard-R hijinks, particularly in the early years of their success. The film covers the band's history through the '80s and early '90s, from abused runaway Nikki Sixx (Douglas Booth, mostly just a pout) first meeting Lee in a diner in L.A., to the band's first almost-disastrous show, to sold-out world tours. The four band members take turns narrating their recollections of each event in corny excess, allowing each to actually have a bit of a character arc, however broad. It's all skin-deep, but you get at least a cursory sense of how these guys played off each other, particularly Booth's Sixx and Baker's Lee.
After the whirlwind of their halcyon days, which arguably peaks with them meeting Ozzy Osbourne (Tony Cavalero) at a hotel and watching him drink their piss off the pool deck (again, another first for Netflix?) the film turns to its obligatory journey through the Dark Side of Fame — Sixx's slide into heroin addiction and his famous near-deadly overdose, lead singer Vince Neil's (Daniel Webber) vehicular manslaughter charge after a drunk driving accident, the beginning of Lee's history of domestic abuse.
Inevitably, in a movie that seems to exist only to entertain, the question arises of whether or not any of this is actually fun, particularly from the vantage point of an era much more attuned to the dark side of industries dominated by badly-behaved men. It's hard to describe the tone of The Dirt, which is not exactly glorifying but also not particularly contrite. It's got a Movieland sheen to it — check out the perfectly calibrated mood lighting in Sixx's heroin closet — that allows one to feel it as something less real, but of course, all of this and worse actually happened. But Tremaine's lens on all these moments, for all its goofiness is, for the most part, steadfastly agnostic.
Depending on the situation, that can either feel fresh or shockingly tone-deaf. When Lee punches his girlfriend in the face on a tour bus, for example, it's a moment of shock that cuts through the perpetual druggy haze of touring — particularly for Lee himself, who has been up until that point portrayed as a mere affable horndog who falls in love every ten seconds. The mere juxtaposition of these two sides of a man is interesting, but the film never revisits the rest of Lee's problematic record (the film doesn't cover his marriage to Pamela Anderson, though it's foreshadowed.) Likewise, when the film decides to call it a day, it's with more of a shrug than a triumphant bow —"All I can say is, we fuckin' made it, dude!" Baker laughs over the final slow-motion shot. It's hard to argue with that. Its own pointlessness may keep The Dirt from feeling like an actual affront to humanity, but that doesn't make it very good, either.