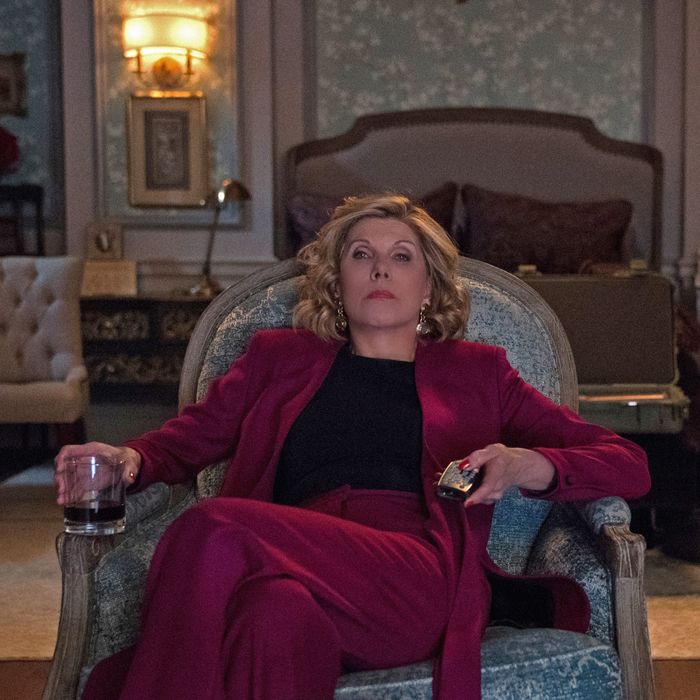 Photo: Elizabeth Fisher/CBS
The thing I have come to appreciate most about The Good Fight is its tone. Or I should say, its many tones: giddy and bombastic, sly and stentorian, with sudden swerves of sweetness and rage and grim intensity. When The Good Wife spinoff debuted for its first season, I thought of its almost manic skipping from one tone to another as a flaw in its design, a signal that the show was not fully baked yet and that it couldn't quite decide what it wanted to be. Now in season three, which debuts March 14 on CBS All Access, the show's flexible, seemingly effortless dodges between the silly and the serious feel true to the experience of being alive today, truer than I would've thought possible. For a show as intensely rooted in the Political Now as any fictional show could possibly be, that's an impressive feat.
Praising The Good Fight's endless tonal shifts as its best quality feels a little weird, since the show has no shortage of other things to recommend it. There's any number of great performances, including Christine Baranski's Diane Lockhart, Audra McDonald's Liz Reddick, and specifically in this third season, Michael Sheen's utterly deranged guest turn as the scenery-chewing, substance-abusing, Roy Cohn–worshipping lawyer Roland Blum. There's showrunners Robert and Michelle King's signature jam-packed plotting style. There's The Good Fight's by now familiar comfort in being unapologetically wonky, which in season three has settled into a running series of explanatory Schoolhouse Rock–style animated videos featuring music by Jonathan Coulton, videos that interrupt the main action of the episode to give you a little info dump on, say, Russian troll farms, or how NDAs work. Even the episode titles are a delight: "The One Where Diane Joints the Resistance," "The One With Lucca Becoming a Meme."
Or maybe those episode titles do not amuse you. Maybe they inspire only exhaustion. Maybe they trigger the endless inescapable hamster wheel of anxious burned-out futility often associated with words and phrases like "fake news," "pizzagate," "Susan Sarandon," "pee tape," and "Donald Trump Jr." If that's the case, The Good Fight is probably not for you; it is too tied to the news cycle to ever offer relief from Trump Fatigue. But The Good Fight is sympathetic to that experience, too. As she did in the first two seasons, Diane Lockhart continues to bounce from fury to collapse to surreal dissociation and back again, while also battling with her colleagues over interoffice ruptures, meeting with clients, spearheading a secretive resistance cell, and, fantastically, throwing axes at a target. Exhaustion is par for the course. But Diane is past her LSD micro-dosing days. She is plugged in again. She is armed for battle, and The Good Fight expects its viewers to have set aside their own ennui and be ready to saddle up.
This season could be a scolding or a call to arms. At one point a woman literally stands in front of a blackboard and explains some very granular electoral math with the aim of convincing Diane that it's important to get a pop star to denounce the alt-right. With Diane in full resistance mode, the show could slide into simplicity. But The Good Fight is not interested in agitprop for its own sake. The show is too invested in strange complexities to fall easily into becoming any one thing, even though the topline description of its stories feel like mimicry in a ripped-from-the-headlines Law & Order: SVU sort of way. There is a #MeToo plot, and a story about racial disparities in the workplace, and one about Lucca (Cush Jumbo), now a new mother, debating how much she can now lean in. Those stories are treated seriously, and the show isn't out to do a fast satirical hit on recognizable themes. Diane's rage is a meaningful, weighty thing, and so is Liz Reddick's grief and Lucca Quinn's ambivalence. (Rose Leslie's Maia Rindell is retconned into a cool character by way of a good pair of sunglasses; that story feels much less serious in the grand scheme of things, but to be fair, they are good sunglasses.)
Ultimately, The Good Fight is a political fantasia on the themes of right now, a glorious heady mishmash of everything all at once. Its refusal to collapse into any one thing is its strength: It wants to be a romp and a farce and a jeremiad and an educational cartoon and a furious screed and a pastiche of an All the President's Men–style thriller all at once.
Because being everything all at once is never wholly possible, there are times in the first four episodes of the season where the show does slip. The actual substance of whatever case Maia and Michael Sheen's Roland Blum are partnering on is an indistinguishable muddle, mostly an excuse for Sheen to roar and scream and grunt, "You don't take these with water!" in his best Al Pacino impression while shoving a morphine suppository up his ass. Time also moves in a baffling headlong sprint that left me feeling pretty unmoored as the story flew by. Lucca is fighting for a job, and then receives a job, and then is many weeks into a job without much sense of how this fits relative to anything else going on. (Her infant also fails to age in appropriately matching leaps, but … details.)
But the experience of watching The Good Fight isn't really about following every plot turn. It's about holding on tightly as it swoops through seven different emotional registers and then twists around to start again. That formal design is exactly what makes the show feel so reflective of the world right now. No one can follow everything at once. Dipping in and out of apocalyptic news stories feels like an exercise in seeing absurdities piled on top of horrors, and every vitally important, paradigm-shifting story of the day is almost instantly replaced by a new explosive discovery. More than any specific political truth, that sense is what The Good Fight captures so well. That, plus Audra McDonald singing, Michael Sheen wearing a waistcoat and smashing a glass wall, and Christine Baranski releasing her aggression by hurling axes at a target with deadly accuracy.