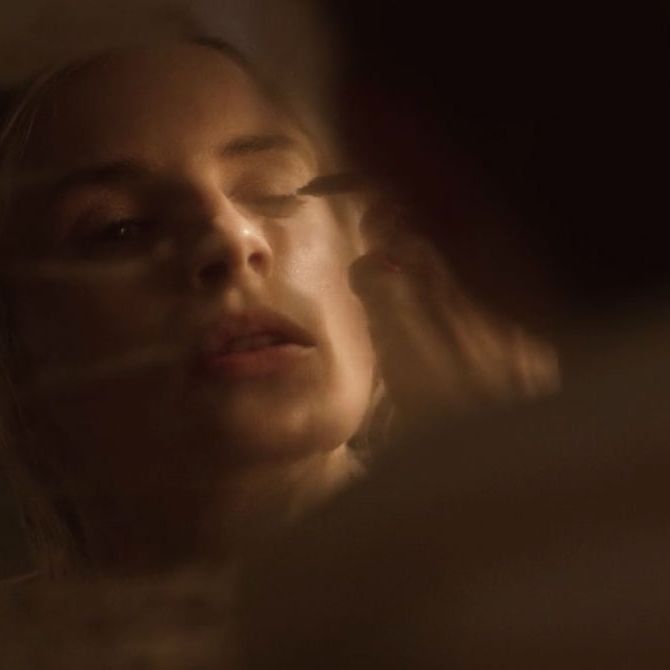 The most surprising part of The OA: Part II is not, in fact, the psychic octopus who asks the OA's permission before wrapping his tentacles around her neck and temporarily murdering her. It's the fact that Prairie Johnson, a.k.a. Nina Azarova, a.k.a. the OA (all played with gusto by Brit Marling) is serving some Extremely Good Looks.
You'll recall that in season one, the OA wore the same outfit for seven straight years: a sundress and cardigan and long-sleeve T-shirt, worn every possible way.
When she escaped from captivity, she exclusively wore Zenon: Girl of the 21st Century athleisure and/or a gigantic sweatshirt with a wolf on it.
Our literal angel was too busy being gaslit by everyone she'd ever met while also learning to travel between dimensions to wear a stitch of makeup or even contemplate tinting her eyebrows. And when her hair wasn't in a long braid, it looked like, hmm … this:
But in season two, with her Prairie Johnson consciousness transferred into the body of Russian heiress Nina (PLEASE keep up!!), the OA undergoes a serious, rom-com–esque makeover. Now she's got haute couture, fancy underwear, smooth locks, expertly applied mascara, and a wardrobe entirely devoid of sweatpants. This total transformation is so well-done that even Marling's co-creator Zal Batmanglij was stunned. "As a director, I was shocked when I met this other person," he told The Atlantic. "I did feel like I was in the presence of someone physically different."
To get the story behind Marling's metamorphoses, Vulture hopped on the phone with The OA's costume designer, Meghan Kasperlik, as well as Marling's personal stylist, Megan Gray, two women who collaborated on the series and have the same name and may or may not be the same person in different dimensions.
Nina's Seafaring Introduction
When we first meet Nina Azarova, she's standing on the deck of a ferry, yelling at her man on her cell phone — aspirational in every sense. Her outfit is strikingly different than what we're used to seeing on Marling in The OA: a dark green peacoat, a red silk blouse, slim-fit green pants, pointy-toed black heels, dark burgundy nail polish, and lightly tinted sunglasses. The entire outfit is about as high-key as Prairie's looks were low-key: The coat is a custom collaboration with Sies Marjan, while the blouse is Paule Ka. Nina's pants are custom-made — a high-waisted, loose, slim bell-bottom made in-house by Kasperlik that Gray says Marling has worn over and over in various fabrics and colors over the course of the show. (This particular pair is silk.) The heels are Jimmy Choo and the glasses, designed by Mika, were chosen because, as Gray says, "It was important to us to find something that you could see through, but also create an illusion of blocking her face."
Gray says that during her initial conversations with Marling, they made a list of women "past and present" whom they wanted to evoke via Nina's aesthetic. "We talked about Frida Kahlo. We talked about women of a certain social status, and aristocrats, and artists — all different kinds of women with this universal thread of strength," she says. "When you walked around in Nina Azarova's world, we wanted her choices in fashion to be similar to her choices in furniture and art, to have this very worldly feel. It's mysterious, it's attainable, it's desirable, it's classic. There's a level of chic and sophistication in there, as well."
Gray and Kasperlik both stressed how every style choice was a collaboration between the two of them, Marling, and Batmanglij, who were fixated on the idea that everything — even Nina's nails — "tell a story." ("Zal is actually really super into fashion," adds Kasperlik. "It's remarkable. He's like, 'This collection from runway 2015, I like this Erdem dress,' or, 'I like this Louis Vuitton.' I was so surprised.")
Though Gray doesn't recall the brand, Nina's nails ended up a specific shade of burgundy because they indicated something darker about her character. "We really dove deep and took an immense amount of time for each thing," she sayd. "We ended up going with a dark burgundy for her nails because we liked that there was a darkness to it. It was the darkest thing about Nina, and a real blood-red. I think there's something symbolic about that."
The Red Dress
For an episodes-long stretch, the OA wears Nina's stunning red velvet dress with a deep thigh-high slit and long ruched sleeves, plus a blue spaceship made of crystals that cinches the dress at the waist. The dress goes through all manner of horrors: It's fondled by a horny octopus, it's submerged in a mercury gas-ridden underground spring, it's splattered with mud, and eventually, dragged through a San Francisco park in broad daylight.
The dress, which the OA casually pulls from Nina's closet on her first trip to the SYZYGY club where she performs with that psychic octopus, looks like haute couture because it is. "The moment we put this dress on from Gucci, Brit felt it, Zal felt it, and we all took a moment," says Gray. "When she first walks out of that room toward Karim, this dress really has to hit every single box. I know people will remember this dress."
The spaceship embroidery isn't a coincidence, because nothing on this show is a coincidence. (Again, please keep up.) "Personally, I wasn't going in thinking about that when we saw it," says Gray. "But decoding it [now], I do think that there is a little bit of the DNA of the idea of a traveler happening through this dress."
Gray and Kasperlik immediately ordered eight identical versions of the dress, which Kasperlik then went about distressing to various degrees. "We were dunking it in water, and then we were aging it with a kind of movie mud and ratchets. I was like, Oh my gosh, I'm destroying this beautiful dress." says Kasperlik. "And then once I got onto the set, I saw the lighting and knew we needed to make the mud a little heavier, because you couldn't see it in certain dark sequences. But at the same time, you want to make sure that it's not too distracting and taking away from the performance. You don't want to look at a huge slab of mud across someone's chest."
"I believe we only have two that are perfectly clean at this point," adds Gray. "They're archived."
The Underwear Drawer
In Part II's first episode, the OA is committed to a mental hospital, but is first allowed to stop at Nina's home and "pick up some sweatpants." Upon entering Nina's Fern Gully–themed penthouse, the OA and her mysterious nurse/friend/handler instantly realize that there is absolutely no way that Nina owns sweatpants — something made obvious by the fact that her underwear drawer is full of expensive lingerie arranged in neat, truly psychopathic rows.
"Her character wouldn't have what we would consider sweatpants," confirms Gray. "Her loungewear would be something that's more comfortable in … a different way." To create this Patrick Bateman–esque underwear drawer, Gray and Kasperlik reached out to brands like Vixen Paris and La Perla.
"I do believe that you can tell a lot about a person when you open their drawer and see how something is organized, and what's in there," says Gray. "For Nina, everything was about touch and presentation. And it was important to us, too, to have a sense of comedic relief, this perfectly put-together drawer of underwear that no one in their right mind probably has. It was fun to create something with a little lightness and humor."
Kasperlik and Gray weren't just tasked with building out Nina's underwear drawer. Though we never see her full closet onscreen, Gray says they built out an entire wardrobe, working with designers like Pringle of Scotland, Wicks and Paris, Louis Vuitton, Hermès, Sies Marjan, and Celine; plus rifling through racks of vintage McQueen. "Every single drawer was immaculate and perfect. We had a lot of amazing pieces that we called for that," Gray says with a sigh. "It was a really good closet. I was really sad when they took it down."
The Black and Gold Bath Dress
In the second-to-last episode of Part II, the OA returns to SYZYGY, then dunks herself into a bathtub to shake loose her suppressed Russian consciousness, all while wearing my personal favorite outfit: a long-sleeve black dress with a ribbed bodice, gold wool knit skirt, and a gold knit wave across the chest. I am not exaggerating when I say that I considered buying this dress, and would have, were it not sold out across the world.
Kasperlik and Gray say they found the Alexander McQueen by Sara Burton dress online, like me, then ordered it immediately, unlike me. "McQueen has always been very cinematic to both Meghan and myself, as well as Zal," says Gray. "His designs were on our mood board from the beginning."
The two also agree it was one of the most significant outfits of the season. "In this outfit, we see OA/Nina embody her true self," says Gray. "It's sensual yet mysterious. You can feel the power of the OA in SYZYGY while she's wearing this dress. She's there for a purpose."
Gray confirms that, much like the spaceship on the red dress, the wave on The OA's chest isn't there by accident. "Water — like in life itself — has a pivotal role in The OA," she says. "If you pay attention, you'll find water all around you in the series. In this season, we find it in Hap's lab, Nina surrounded by water on the ferry, in SYZYGY, and even at the mansion." But Gray won't go so far as to reveal what the water means. "What it exactly symbolizes can be left up to interpretation," she says. "The answers lie in the minds of Brit and Zal."
Did the symbolic water in the OA's dramatic bath scene ruin the dress, much like it ruined the Gucci? Gray says that thanks to the crocheting, the dress survived the aquatic trauma. "The fabric was perfect for this type of water work," she explains. "The black knit fabric hid that the dress was wet, and the gold metallic thread illuminates in the water. It wasn't ruined after the scene — a little stretched out, but still wearable."
The White Suit
In the final episode, The OA shows up at Treasure Island in spot-on First Wives Club drag, which she then wears as she's dragged to a new dimension with Hap and, eventually, collapses onto a slab of concrete in the middle of a film set. Unfortunately, this perfect white suit is unavailable for purchase because Kasperlik designed and made it herself.
Kasperlik says her biggest challenge with this suit was making sure Marling didn't "look like a bridesmaid or a mother of the bride." The two looked at a number of suiting options, and Marling selected specific things she liked from each — the sleeves from one, the shoulders from another — for her customized version made from wool crepe. The pants are of a similar design to those Marling wears on the ferry. "She has to wear this through so many scenes, so I wanted the line to be really simple, to look flawless on camera," says Kasperlik.
As for the bold choice of shade? "A lot of times, in stunt sequences, designers will put characters in black, because it's easier. But OA stands for 'Original Angel,' so I thought it'd be a nice echo of the character," says Kasperlik.
The Hair and Makeup
The OA's hair looks uncannily flawless throughout the season, even when she's crawling in tunnels and committed to a 14-day hold inside a corrupt mental institution. Same goes for her makeup: Where Prairie's eyelashes and eyebrows were once a pale blonde, her skin ghost-white, Nina's got tint for days, great natural-red lipsticks, and smooth pink blushes. Gray confirms that Marling and Batmanglij put a lot of thought into what a psychic Russian heiress's hair and makeup routine might look like.
"You're almost questioning, Is she getting her hair done every day, or is someone like her just waking up on her silk pillowcase and it looks like this?'" laughs Gray. "[Ma] Kalaadevi [Ananda] and Laura [Caponera], who did hair and makeup, really were able to portray this hair that was perfectly placed, and really worked well with the simplicity of the clothes. It was very simple and chic and just right, just enough."
Gray says it was important to Batmanglij and Marling that Nina feel beautiful and exotic, but also attainable. "You want her hair, but it also doesn't feel like she has a glam team sitting outside," she explains. "You don't feel separated from her, even though she's a character who has everything."
On certain occasions, the hair and makeup team amped up the glamour to match the couture. "With the Gucci dress, there was a little bit more of a blush moment on the tops of her cheeks, more eyelashes," says Gray. "We really dove deep and took an immense amount of time for each outfit, and hair and makeup did the same thing."
The Easter-Egg Pajama Top
The first time the OA glimpses Homer in Part II, he visits her padded cell and introduces himself as her doctor. The shot might look a little familiar to you; if it does, congrats, you're as freaky about this show as I am. The scene is a direct recreation of the very last shot of Part I wherein the OA, in a mysterious white room and a white top, looks up hopefully at an unidentified figure. "Homer?" she whispers, her voice wavering.
Everything about this scene was completely recreated for its Part II repetition. Kasperlik confirms that even the white pajama top the OA wears in Part II is the same one she wore at the end of Part I — much to Kasperlik's chagrin. "I told Zal, 'I really want to change this up,'" she says of the nondescript top, which we only caught a quick peek of in season one. "But Zal very much wanted it to be exactly like the last part."
Before we finish chatting, I ask Gray and Kasperlik if they know anything about The OA: Part III that we, the viewing public with messy underwear drawers and flyaways, don't. "To really know everything that's in their head? I think it's not possible," says Gray. "I believe that they're creating even more of a story, even just sitting across from each other during the premiere. I'm sure their brains are going a mile a minute. They're such an insane raw talent and storytellers, I think they take inspiration from everything they're around."
Grey does admit that she "definitely knows stuff about season three," but says even she's dying to know more. "If I could lock them in a room and just pick their brain for hours, I would," she laughs. "Or a closet."