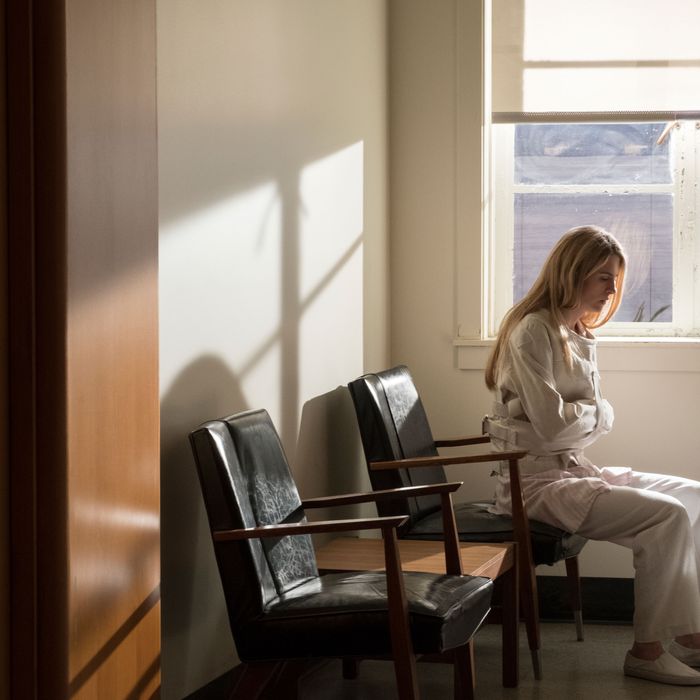 Photo: Nicola Goode/Netflix
Hello to Jason Isaacs. The BBC's favorite celebrity meme is back as The OA's chief villain, Hap — although in this Bizarro Bay Area universe he's not called that anymore. But we're going to keep calling him Hap, because it's punchy and it seems to suit him.
Like Prairie, Hap and his other captives did indeed cross the trans-dimensional plane, and seeing these characters outside of a dank cellar is briefly liberating … at least until we realize they're probably going to be stuck in a dank psychology ward for the majority of the season. Before that happens, the scene in which Hap drags his prisoners to an empty field, injects them all with death serum, and forces them to perform the dance movements to teleport is one of the most visually arresting things this show has ever done.
Is Hap a good villain? Not especially; he seems to exist mostly because the show needs him to. The man doesn't have much in the way of a master plan, and his guiding philosophy alternates between pure survivalist selfishness and a Josef Mengele–like desire to torture people in the name of "science." But Isaacs elevates the role with his full leering attention, best evidenced by his laughter after the group gets zapped to the Bay as chaos unfolds around them. The man has true glee at realizing he's once again dodged accountability by inhabiting the body of another respected medical professional. OA is powerless against her captor because he's able to brand her as clinically insane, which is some H.P. Lovecraft–style trickery that also factored into the oddball 2017 film A Cure for Wellness (starring, surprise, Jason Isaacs).
Hap is more interesting, in this way, than his captives, who are still largely defined by their shared trauma and little else. It's not a good sign that, once reunited on Treasure Island, our dancers have to tearfully remind the audience they've never physically touched each other before in order to elicit sympathy. But there are two things I appreciate about this reincarnated team: first, that Homer's alternate-reality amnesia adds a dramatic wrinkle to their escape plans; and second, that The OA had the guts to turn real-life rock star Sharon Van Etten into a mute.
Once again, newcomer Kareem's storyline shows more promise, as the gumshoe narrows his leads on his teen charge's disappearance. His scene with Dr. Rhodes (Liz Carr) has all the hallmarks of a great paperback mystery, with the two taking turns divulging their respective backstories. The trail leads back to the dream-space from whence The OA was birthed, as the girls rounded up by the sleazy tech firm are feeding their dreams into a giant data center that's conjuring a shared image of their subconscious. Led to their predicament by their own treasure hunt, the kids wind up unwittingly setting off a much larger one.
As if all of this wasn't enough plot, hold onto your straightjackets, because the episode's final moments plunge us back into the original, season-one dimension. This would be the nondescript, suburban-sprawl "Michigan" where OA's acolytes all live, awaiting further instruction from their prophet. Given how thin the plot is already stretched, maybe hoping for more screen-time for, say, Buck (the target of the final, interminably long tracking shot) is hoping for too much. But the real question is what more we have to learn from this realm that will feel rewarding, and not just like killing time or fan service. As always, The OA is on a long, sprawling journey that will end in either deliverance or more madness. The Prophet of the Valley can't see our way out of this one.
Stray Thoughts
• Buck's dead-name is "Michelle." Sound familiar?
• Isaacs has crossed the dimensional plane before, in the short-lived cult series Awake, where he played a detective who lives between two different realities.
• The sinister-tech-opolis stuff in the second dimension is playing with interesting ideas about the real-life hidden infrastructures that have given Silicon Valley outsized power in our world (and it's in keeping with the tech industry's current debate over antitrust legislation). But it's also flirting with a benign payoff if these guys just use their trans-dimensional predictive powers to invest in ridesharing.
• Episode two of The OA: Part II is 70 minutes long. There's a long haul ahead. Let's tone down the pomposity a bit, shall we, guys?