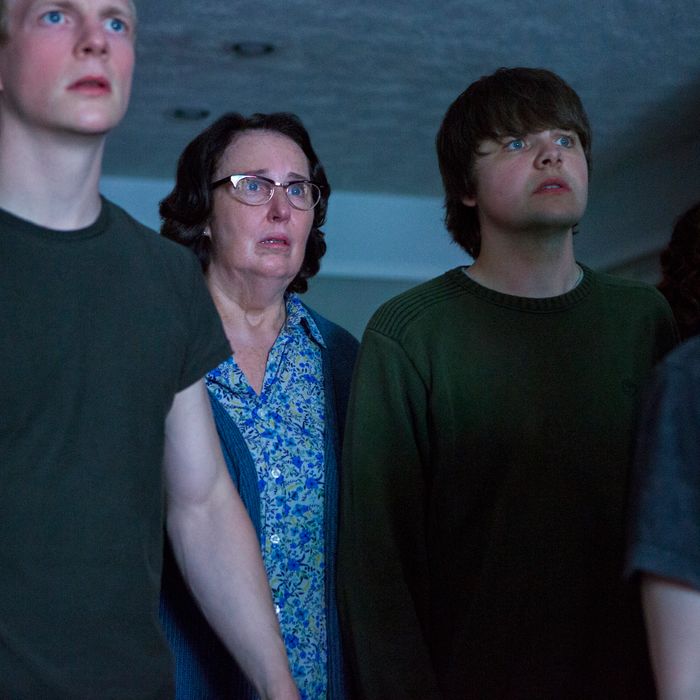 Photo: Scott Patrick Green/Netflix/Scott Patrick Green/Netflix
Back in Michigan, OA's abandoned disciples are faced with a dilemma familiar to many a supernatural story. Should they "accept" the visible reality of their friend's death, or cling to hope that she possessed some supernatural abilities? Of course, we already know where OA wound up, but with this many dangling plot threads in this many dimensions, sometimes it's necessary to play a bit of narrative catch-up.
Still, did we need The OA to explicitly tell us those books under Prairie's bed had nothing to do with her? Out of all the silly nonsense the first-season finale puked up, French's shocking discovery of the Iliad ("by Homer!") and conclusion that it was the basis for Prairie's invention of her own "Homer" was by far the most head-snapping. Series co-writers Brit Marling and Zal Batmanglij are always walking a line between dream-logic for its own sake and a compulsive need to explain everything, but trying to split the difference like this is a little embarrassing.
Anyway, dum-dum patchwork aside, "Magic Mirror" displays a fluid, engrossing quality befitting the episode's director, Andrew Haigh. If you haven't yet seen Haigh's feature-length films, including 45 Years and last year's criminally overlooked Lean on Pete, seek them out: He's an expert at visualizing, rather than verbalizing, the complex internal dilemmas of his characters. Which, in this case, sometimes puts Haigh's technique at odds with the script. A few exquisitely staged shots of these characters gazing down an empty road do more to communicate their state of mind than all their discussions about tracking down a mirror from Goodwill.
Here, following Prairie's funeral in her home dimension, the castaways who survived last season's school shooting (no, I'm still not over that particular bit of narrative nausea) are left grappling with what to do next. Buck (Ian Alexander) is supposed to be moving in two days, but a trans-dimensional Skype call from Rachel convinces him "the movements" really work, and it also gives the seething, grieving bro Steve (Patrick Gibson) the only cause he needs to dive headlong into a quest to reunite the group and use the movements to teleport out of their crappy dimension. Except by the time they reconvene, Buck's mom has already ditched the mirror, so the crew (with Phyllis Smith's fragile schoolteacher BBA) road-trip to Gary, Indiana, and then all the way to Nebraska, to visit a spirit medium.
It's nice to see the dance crew taking some action for themselves after an entire season of them perfecting their listening skills, even if it's hard to really connect with their internal dynamics. French's doubt of the interdimensional stuff isn't strong enough for us to buy why he wouldn't alert his sleeping companions to the suspicious mirror activity, but the scene between him and his online Gary hookup that leads to the Nebraska medium is a sweet, unguarded moment. (Also a nice touch to have him be greeted with a wall of threatening hunting gear, only to go on to have a touching, heartfelt encounter.)
For a minute, when the group first arrives with a broken mirror at the house of a psychic who thinks they're trying to get in touch with the dead, the show flirts with making their entire journey a wild goose chase of grief. Certainly French is skeptical enough at this point, where executing the moves with the required "perfect feeling" seems like an impossibility for him. But then the walls shake, the TV flips on, and we're in full-on Videodrome/Poltergeist territory, updated for the satellite era. Amid the noise of the channel surfing, Rachel (or maybe OA herself) gets through a message, but tells BBA it's only safe for her to go.
What's the significance of that? If nothing else, only sending the adult across the threshold will force all the teens to at least temporarily confront their own demons back in their own sucky universe. It seems likely we'll be splitting the narrative between dimensions for at least a little bit longer, and in each case having to face the fact that reality doesn't quite add up.
Stray Notes
• "Just because I'm in your pants doesn't mean I'm the keeper of your pants" is … a new one. Maybe we should all agree we never heard that.
• Prairie's adopted parents have been a near-total afterthought for the entire run of this series.
• Unless I'm missing something or there was some sort of subconscious messaging involved, I'm not sure how Buck could tell Rachel was the one in his mirror, given that he only knows OA's description of her.
• What this show calls "Michigan" is quite clearly West Michigan, based on its proximity to Grand Rapids and Gary, as well as the general vibe of the mostly white, religious folk who inhabit it. That may only matter to fellow Mitten-dwellers like myself, but the state is not uniform, folks.