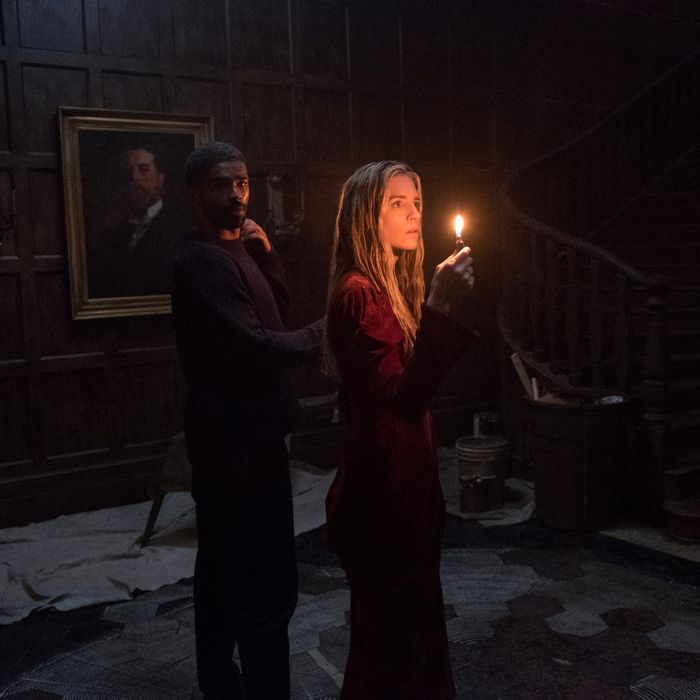 The OA
The Medium & The Engineer
Photo: Nicola Goode/Netflix
You don't acclimate to The OA's universe. You just show up and allow yourself to be shepherded along into whatever new fantastic image the show throws at you. Not content to rest on their laurels, the creative team has now shooed us from last episode's handsy, telepathic octopus into a medieval body-parts store, a puzzle dungeon, a Twin Peaks–esque hall of Black Lodge mirrors, and a whispering forest filled with screaming children. It's an onslaught of dreams that have no place for logic or common sense, trapped within an episodic slow-reveal format that demands both of those things.
We have reentered the house Nina didn't know she owned, which Homer comes to learn was actually owned by a spiritual medium and an engineer, and is … haunted, or something. Honestly, the constant spilling of backstory is a bit overwhelming. OA is like other Brit Marling characters in that she's so ethereal and single-minded she's mostly defined by others' relationships to her, so learning more about her true identity (of which there are now at least four, if I'm tracking correctly) doesn't do much when it's merely filtered through her and not anybody else.
Having said that, the scene in which the trees break her fall and impart to her the importance of building a "canopy" of friends and supporters is actually kind of sweet, albeit totally devoid of context. Together with the episode cold open showing a questing Homer in ancient times, attempting to recreate the body of a woman he's never touched, it signals yet another genre shift for The OA, from teen-angst sci-fi to fairy tale.
While OA and Kareem are playing Maniac Mansion, Hap finds love. It's a touching development for the unrepentant psychopath to meet Elodie, someone who knows nothing about his penchant for kidnapping and torture, only about his interdimensional travel. Of course, old habits die hard, so the good doctor still tucks away a possibly lethal syringe as he considers whether to possess his bedroom companion before she can leave. But all sinister plans are abandoned when Hap sees Elodie's preferred way to fly: via five portable boxes with robot arms which can perform the movements in place of human beings. If he'd known about this way before, maybe he wouldn't have had to maim and murder so many people?
Adding new, sympathetic wrinkles to Hap was the right choice. The sudden shift to kindness (or at least a mask of kindness) crystalizes his inner demons for us and makes the prospect of spending the rest of the series with him a bit less of a slog, although his revelation that he may actually be in love with OA is a little too creepy for comfort. Perhaps he may reform before Homer can come to his senses, as the med student seems to be about to do now that he knows about "Dr. Percy's" secret stash of Pierre Ruskin tapes. But Hap's already dug himself in too deep to come back to the land of the sane.
In the meantime, we're still waiting on BBA's arrival, and for Kareem to stop running and put all the pieces together. At any rate, it's clear that everyone's fate, in every dimension, has become closely dependent on everyone else's. But hauling everything back in place in three episodes' time is going to feel like herding trans-dimensional cats.
Stray Thoughts:
• We haven't seen much of Ruskin so far. He's taken on a Wizard of Oz quality as the man behind the curtain, potentially responsible for interdimensional greed, locking Nina up when she became a threat, and/or working in cahoots with Hap/Percy. His relationship to the house is starting to unravel, too.
• Are these little wind-up dolls capable of performing the movements "with perfect feeling," as OA instructed the others to do in season one? Do motorized metal gadgets even have feelings? Feels like a cheat.
• Most obnoxious character so far might just be Scott (Will Brill), whose only function seems to be reiterating OA's mystical thoughts in an exaggerated mountain-man drawl.