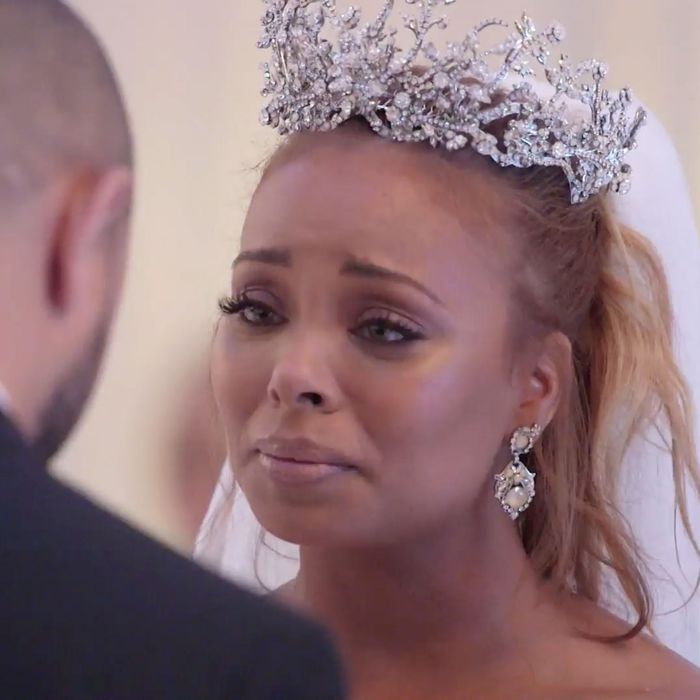 Was this a good episode of The Real Housewives of Atlanta? I don't know. Is the story of what happened at the Bye Wig party fully clear? Well, I don't know that either. Did I cry like a little girl watching Eva's wedding? YOU BET YOUR ASS I DID.
Listen, anyone who knows me can tell you that I am an easy cry and that weddings are my kryptonite. Just the thought of a wedding is enough to get my tears flowing. I've had friends ask me to not sit in the front row at their weddings because my tears would be intrusive. I can't help it! I LOVE weddings. And Eva's wedding was no exception. I understand rationally that this wedding is financially ruining her, but the gowns. The vows. Lil Marley waving her hand when they mentioned her during the vows. C'mon, let me have this one, y'all. Let's get to it.
This entire episode is consumed by two things: Eva's wedding and the ongoing aftermath of the Bye Wig party. I'm folding in NeNe's emotional strife because both of these events are making her situation at home totally worse. Marlo is clearly doing the producers' bidding by making NeNe sit down with Kandi and Porsha in the basement of some event space during the wedding to hash out something that no one wants to hash out.
I mean the real thing is that NeNe should have taken this season off. There would be no replacing her and the season would have definitely suffered as a result, but it needed to happen. And looking at the other women they have been bringing around as "Friends of the Show" this season (Tanya, Yovanna), Bravo clearly didn't have any options. But something should have been done. Someone help NeNe.
The episode starts with NeNe at Swagg Boutique setting out some new stock when Shamari comes over to apologize for puking her brains out everywhere. She says she was college freshman wasted. Oh no, Shamari, you were worse. You were "high school student in a European country where the drinking age is 16" wasted. According to Shamari, the fact that every time she goes out without her kids she gets drunk to the point of puking doesn't mean she's a wino. She's just a mother of two. She brings NeNe another bottle of St. Germain. That is not the bottle I expected her to say got her incredibly fucked up. St. Germain feels like what you'd drink when riding on an old-timey carousel. NeNe fills her in about the closet dust-up and says that she felt that Porsha and Kandi were disrespecting her home. NeNe says that Gregg isn't feeling up to the wedding so can she be Shamari's date? Shamari says that Ronnie won't be coming since he's touring. Oh no, we're about to get "spring break at an all-inclusive resort right after a break-up"-level drunk Shamari.
It's time for Eva's wedding day. She's decided to rent a house for all the wedding prep. This woman is hemorrhaging money. It's like they presented her with two options for this wedding: "Even the Slightest Bit Reasonable" and "Bitch, Have You Lost Your Mind?," and we all know which one she chose. Eva is surrounded by her family and her about 28 bridesmaids. Her daughter is getting a pedicure and it's adorable. Eva says that she's looking forward to Michael being hers. Interesting emphasis there.
Eva gives her mom a pre-wedding present and I logged my first cry of the episode. "Today a bride, Tomorrow a wife, Always your daughter and friend for life," was embroidered on a handkerchief she gave her mom. I'm gonna steal that for whenever I get married. Eva explains that her father had a stroke and has aphasia and her mother is his caregiver. Did I cry again during a little montage about her relationship with her dad? YUP.
Everyone is getting ready for the wedding and the dress code is "floor length." Most of the women translate that into "something Naomi Campbell wore in the '90s on a date with an Egyptian millionaire." Shamari FaceTimes with Tanya to ask her if she can get a ride because NeNe isn't going to the wedding anymore. Tanya tells Shamari that they're doing shots in the limo. TANYA. Do you have some kind of vomiting fetish? Kandi and Todd get ready at home and Kandi reveals that the wedding and the food costs $1,000 PER PERSON. HOW. IS. THAT. POSSIBLE. Eva is not that rich (or that famous). How did Michael not put his foot down? He can't be this rich! That food better be amazing and I should get to take a chandelier home. That's the only way to justify that cost.
Kandi and Todd drive Cynthia and Mike Hill to the wedding and Kandi says that she heard NeNe on the phone talking about her and Porsha after they left the Bye Wig party. To make matters more complicated and stupid, Marlo told NeNe about her lunch with Porsha and Kandi and NeNe wants answers. Everyone involved should just let this bullshit go. Who cares this much? Everyone needs to apologize and let it go.
It's time for the wedding. It's beautiful. It's amazing. Bravo tried to trick us with that clip of Eva saying, "I'm gonna need a second." She wasn't running from the altar, she was just overwhelmed with emotion. I think if she ran away at the altar, the city of Atlanta would have thrown Michael into debtor's prison. Some highlights: Porsha saying the bridesmaids were walking down the aisle alone because they were serving, Dennis weeping, and Cynthia saying she was busy imagining the wedding was hers and Mike's.
During the ceremony, Bravo gives us a glimpse into NeNe's head. We get clips of her wedding as she's watching Eva's wedding and the overall effect is IRONY. NeNe bolts out of her seat before the recessional. She wants to leave but Marlo convinces her to stay to give her toast. Oh boy, this toast is about to be a delight.
Meanwhile, Shamari is doing shots with Tanya. She decides that the best thing to do is go ask NeNe about something she's posting on Twitter and asking if Gregg's illness is causing issues in her marriage. Shamari. You are drunk and now is not the time. NeNe starts to cry and Shamari does a dance to distract from her line of questioning.
NeNe reveals to Cynthia that Gregg was talking about a separation before she left for the wedding. NeNe also says that Gregg makes her take the heat for things that he's done and lets everyone point the finger at her. What could she be possibly talking about? I need to know.
Marlo comes to see Porsha and Kandi and UGH, this was exhausting. They're all talking past each other and Marlo doesn't give a shit about anyone because she's going to grab NeNe to talk about this at Eva's wedding while NeNe is trying not to burst into tears. Marlo, I need you to step down.
Eva arrives in her reception dress, which is a slightly smaller ballgown, and poses for some photos in the service stairs.
Kandi and Porsha say that Marlo basically messed up the delivery of their concerns with NeNe and she would have been better to let them deal with it in their own time. I can't say I disagree. Porsha says that NeNe wasn't right and NeNe says you can't tell someone how to act in their own home. Okay. Hold on. Sure, you can if someone is acting like a monster and rips the T-shirts of the crew. Porsha can't dictate NeNe's reasoning for why she acted the way she did but the effect was NeNe putting her hands on the crew. Porsha also remarks that NeNe said she would never get caught on camera throwing hands. Well, well, well …
NeNe keeps saying that she has things going on that no one knows about and that's true. That couldn't be more true but that also can't be an excuse to treat other people badly. Porsha and Kandi just agree to let it go in order not to upset NeNe anymore. It's time for her toast.
Was anyone else thinking about when Carrie had to write that poem at the wedding of Miranda's interior decorator and she cried because Big was ignoring her? It's basically that moment. NeNe couldn't have written a more basic wedding toast and delivers it like she's reading an eye exam. To the happy couple!
Shamari is FUCKED UP. She didn't eat anything before the wedding and also weighs as much as a backpack. Shamari shouts at Eva's mom: "YOU GAVE BIRTH TO EVA OUT OF YOUR VAGINA." Ma'am. Kandi ends up being the Shamari guide through the wedding and keeps asking her to calm down.
After NeNe's toast, Bravo uses the same footage of her walking out, and that's a wrap on the nuptials of Mr. and Mrs. Michael and Eva Marcelle-Pigford-Sterling.