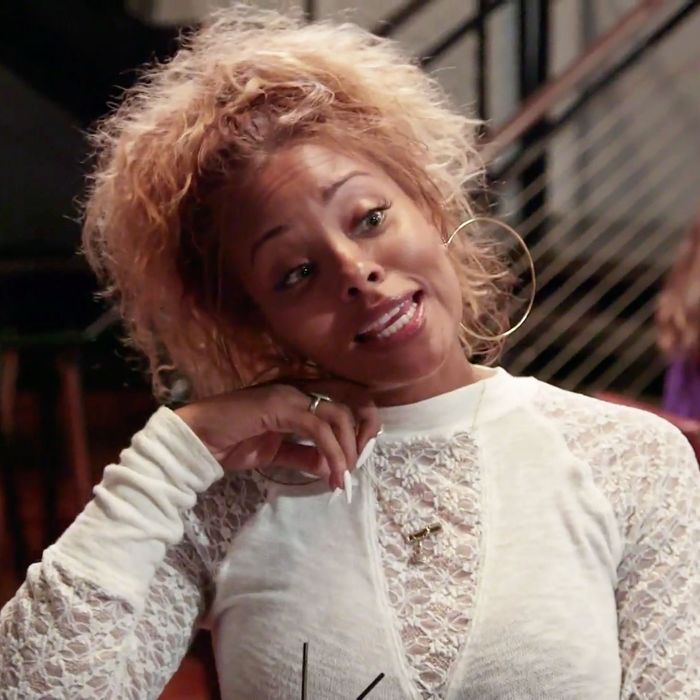 Have we looked at how the planets were arranged during the filming of this season? Anything and everything that could go wrong seems to have gone wrong. Health? MESSED UP. Money? MESSED UP. A wedding planner believing she can get through the day without being choked? MESSED UP. The chaos and madness of this season just will not stop, and we must acknowledge that the majority of the drama this season has revolved around NeNe and Eva. There has been the occasional vomit from Shamari, but Porsha, Kandi, and Cynthia set their crystals in the moonlight and managed to avoid the brunt of Atlanta in Retrograde.
Everyone is coming down from Eva's wedding celebrations. Eva is coming back from her honeymoon, where she banged her way around the Greek isles. Porsha is doing a private yoga session with her baby bump. Cynthia is throwing axes with Mike Hill. Is this a thing? I feel like everyone I know is going with their co-workers or boyfriends to an axe-throwing spot. The only one I know of is in the basement of a movie theater, so it doesn't look super legit. Someone go throw an axe and report back. Shamari is hanging out with Ron in a salt room, presumably to detox after the wedding. Shamari says she wants Ronnie's career to have longevity, so he has to tour. I wouldn't be expecting too much of that longevity, so she needs to really let Ronnie tour.
The first bit of chaos in the episode is NeNe, Tanya, and Marlo doing damage to Eva's reputation via intel from one of her bridesmaids. When NeNe arrives at Marlo's house, Marlo has a little snack spread along with some absurdly long-stemmed martini glasses. NeNe shares a little more about her situation with Gregg, and my God, this woman needs a break. Someone get Gregg a home nurse so NeNe can go sip another impossibly long martini with her friends (who have no idea how to help her). Tanya arrives with all the energy that Tanya brings.
Also … is Tanya Canadian? This episode she was hitting that "soor-ry" really hard. Her being Canadian would make a lot of sense. She's corny in the exact way I imagine all Canadians to be.
Once Tanya arrives, Marlo just starts listing all of Eva's flaws and mistakes. She's got bad credit. She's renting a house and has to leave immediately. Her car is about to be repossessed. She bought the car with government assistance. (That is the one claim that seems to be supported by the least evidence.) Marlo has concluded that Eva is a fraud.
Marlo. Why? If someone's finances are fucked up and you feel some kinda way about it, you can laugh privately and move on with your life. Spreading rumors about someone's finances seems like the least fun kind of rumor. If you're gonna spread a rumor, at least make it fun, like Eva is secretly a witch or has nine children in Belgium. All of this obsession with each other's houses and money is really gross and weird. Marlo suggests sending a pizza to Eva's house. Are the writers moonlighting across franchises?
They call one of Eva's bridesmaids, who is VERY EAGER to rant about Eva. Never trust someone who screams about their issues with someone. If they haven't prepared an objective PowerPoint about their enemies' flaws, they aren't to be trusted. The ladies all agree that NeNe should be the one to talk to Eva about this. We all know this isn't going to happen, right?
Kandi is hanging out with her family and they're celebrating the opening of the second OLG. Kandi has an even bigger announcement: Kandi and Todd are going to have twins with the surrogate. Riley decides that it's her imperative to tell her mother that she doesn't spend enough time with Ace so they shouldn't have another kid. I'm sorry — WHAT. Riley basically says, "I told you so." Mama Joyce's argument is that they should have more kids in case one of their kids dies. This is taking a very dark turn. Can't we just be happy about a baby? Everyone loves a baby!
Speaking of an adorable baby, Porsha is finishing plans for her gender-reveal party. Dennis really wants a boy because he is a man on television. After checking out the plans for the different carnival snacks, Porsha and Dennis sit down to talk about their living situation. Dennis is just the quietest, least charismatic man. Porsha tells him that he can't be living a bachelor life anymore. He's going to be a dad with a bald head, driving a minivan with two kids and a fine-ass wife. Get into it, Dennis!
Eva sits down with Kandi for lunch and Eva starts explaining the fact that they're renting a house and they have to move in two days. Eva also says that her bridesmaid tried to choke her wedding planner and has been a maniac since the wedding. Kandi is like, "That is … a lot." Kandi is the voice of the audience. Eva reveals that she has to move frequently because Marley's "donor" was abusive and she has a restraining order against him.
I'm not one of the people who doesn't believe Eva. I also can't decide if her reaction is too much or not enough, because she doesn't want to talk about the history of this restraining order. WHICH IS TOTALLY FINE. Do I also think that a woman who overspent on her wedding by, like, thousands, might have the most extreme reaction to a problem? Sure.
NeNe sits down with Gregg and talks to him about his behavior since his illness. NeNe tells him that she felt their marriage was lost and her life changed too. Gregg gives the worst possible apology and says, "I'm sorry if I was mean." She told you that you were, Gregg. Own up to it. There's progress somewhere when Gregg says he prayed on it and he got the message that he should maybe get chemo. Thank goodness, science.
It's time for the soft opening and the ladies arrive for a night of food and snacks (except for Porsha, who sent flowers). Shamari is fucking wasted. Tanya decides to take Eva aside and tell her about their phone call. TANYA. Which producer convinced you to do this? Eva is PISSED. She knows that it was this bridesmaid who choked her wedding planner. She also says that Shanita takes the tiniest bit of truth and spins it into a rumor. Oh, so there is some truth? Never mind.
Eva goes back in for her purse and gets in her car and drives away. Oh no. NeNe arrives and Tanya tells her what she did and NeNe is PISSED. NeNe gets on the phone and tries to get Eva to come back to the party. Eva comes back with Michael and says that she will only talk off camera. Bravo production said, "Fuck that." They film from a distance as Michael says that they have multiple homes under aliases because of this past relationship. Also, the FBI was involved. This is … a lot.
Eva heads back inside and says that she has this friend who is trying to mess with her and this past relationship is the reason for her house problems. Marlo turns to Kandi and says it sounds like an excuse. Marlo. WHY?!?!? Marlo tries to give some completely unhelpful advice to Eva, and next week is the season finale. Hopefully some planets will turn direct and everyone will settle down.