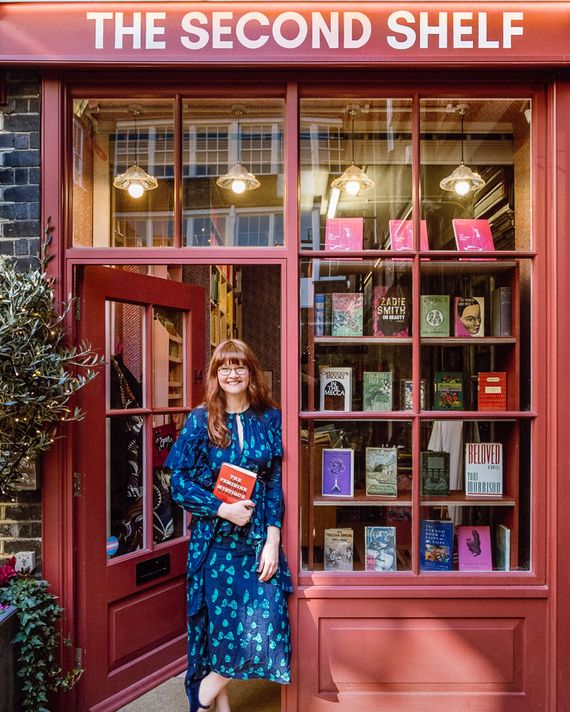 It was a bit of a battle for A.N. Devers to convince her landlord to let her introduce so much pink into the Second Shelf, the "accidental," internet-famous brick-and-mortar bookstore she opened last November in London's retail-centric Soho. Hidden down the sort of narrow passage you only find in ancient cities, and tucked away into a paved, vaguely Victorian courtyard, there's a Narnia-esque magic when you find it, as if the archway you stepped through may have only existed in the moment right before you crossed over.
The store isn't pink, she explains, to pander to some outdated idea about femininity. "To be honest," says Devers — the 42-year-old writer, editor, and dealer of rare books by women — as we sit very, very closely on a striped settee, the only seating in the miniscule space, "I'm not the girliest girl. I don't wear a lot of pink … It's not my favorite color." She sees it as "a radical choice," considering the old-boys'-club aesthetic that reigns at so many antiquarian book shops. Devers wants shoppers to feel comfortable, to "pull very expensive books off the shelf without worrying about it." And, she admits, laughing, she also just loves how punk it feels to transform a stereotypically refined space into a modern vision of what a rare-books shop can be.
In just under a year, Devers has become the face of a movement to reevaluate and revalue rare books written by women. She's the new patron saint of more than just collectors, though: Her relentless devotion to honoring female writers and their fans has turned her and her shop into digital and analogue destinations. The fashion writer Cathy Horyn recently stopped by and ended up inviting Devers to the Dries Van Noten runway show in Paris. Roxane Gay swung by in the winter. Shoppers excitedly tweet out photos of their purchases and the shop front itself, delighted to have interacted with a space that savvily marries their passions — feminism and literature. The Second Shelf is part shrine, part unofficial clubhouse for the female literary set.
In real life, the Second Shelf is cluttered in the way a rare-books shop ought to be, with a small corner dedicated to Devers' Smeg electric kettle (also pink), which she immediately fires up when I arrive, and antique barrister bookshelves holding literary curiosities like Sylvia Plath's cherry-red wallet — it includes the silver dollar she always carried for luck — and a Victorian lady's elaborate musical composition book. The shop's exterior is a muted red, which Devers describes as a "compromise." The interior feels like the inside of an actual novel, with marbled endpaper wrapping every wall in dignified excitement. The landlord, she explains, "tried to keep me from having pink floors," but through sheer force of will she won them over; mauve tiles match the painted shelves and complement the fuchsia covers of the the Second Shelf's quarterly magazine-cum-catalogue.
The bookshop was never in Devers's plans. Three years ago, she moved from New York to London after two decades in various careers: She was an archaeologist, the publicity manager for the Brooklyn Children's Museum, a writer, and, yes, at one point, a bookstore clerk at Minneapolis's now-shuttered Ruminator Books. "There is a [rare books] fair somewhere in England almost every weekend," she explains, so when her preoccupation with collecting and selling kicked in, it made sense to base herself across the Atlantic. In an essay she wrote for The Guardian last May, Devers explains that on one of her initial visits to a book fair, she slid a rare edition of a Joan Didion novel off the shelf: The bargain price of $25 was pencilled on the inside cover. Next to it, a Cormac McCarthy novel commanded $600. She wondered how that could be. Didion is an American icon: Her essays revolutionized the form, and she's famous enough to have leapt the barricades of literary stardom right into a Gap ad and a Céline ad. McCarthy, too, is regularly called up as one of the great innovators of American fiction. But is his work worth 24 times Didion's?
Correcting that yawning gap between the perceived value of rare books by men versus women propelled Devers to wade into the industry's business end. In 2016 Deborah Davis, the founder of London-based Love Rare Books, invited Devers to sell a few of her pieces at a fair. The sellers, Devers says, were about "80 to 90 percent male," and women sellers were "very cordoned off … They either sold children's books or a smattering of what's considered 'creative' or 'design' books." She's very quick to tell me there are, in fact, a good portion of women in the industry, that they've been chugging along for years, and that women like the dealer Elizabeth Crawford — who has specialized in women's books since 1984 — have been instrumental in helping Devers get started. "I was quite naïve," she says. "I didn't know … before I moved to London that there were women-focused book dealers." And she insists repeatedly while we talk that she doesn't see herself as a pioneer in the industry. "I'm not the only person trying to make change in the rare-book world for women at all." She goes on, "But I saw our current social-media opportunity of putting myself out there as a way to make the business happen."
It worked. Visitors show up at the shop after glimpsing it on Instagram. A viral tweet in January brought the shop so much attention that she credits it with keeping her financially afloat. Devers has gamely — and very smartly — utilized every outlet available to her, and hasn't aimed her attention toward the rare-book world itself. Instead, she's capitalized on what women want — merch that boasts female empowerment, like the "Bookwomen" tote bags she sells in the shop; a rich and deep reverence for women-created art; and, most importantly, for their literary passions to be taken seriously.
Nearly every book in the Second Shelf — a name Devers borrowed with enthusiastic permission from Meg Wolitzer, who wrote a New York Times essay under that title bemoaning the second-class treatment of women's literature — is a first edition, and nearly all are by women writers. The expected greats are there — a covetable £600 dust-jacketed version of Virginia Woolf's The Common Reader, complete with Vanessa Bell's swirling cover design — along with newer works like Rachel Cusk's "Faye" trilogy, which are usually priced around £20 to £40, depending on their condition and whether or not they're signed. Devers says they "[fly] off of our shelves." There's also a £20,000 three-volume set of Jane Austen's Sense and Sensibility that belonged to the legendary novelist's dear friend Martha Lloyd, "one of the few people privy to Jane's secret desire to write." Penguin paperbacks, with their graphic orange-and-black covers, are priced to sell for six quid apiece.
Two dark-haired women — they could be sisters — come to the door while we're chatting. It's Sunday, and the shop is closed, but Devers welcomes them in. They blow in with a gust of cold air and immediately gasp and giggle with delight. "We are so glad we found you," one proclaims, "because we thought we wouldn't!" They move slowly through the room, leaning into the shelves and sliding books forward, pointing out the names of writers they admire. They don't buy anything, but Devers warmly sends them off with a reminder that the books "make beautiful presents." Both women nod rapidly and promise they'll be back.
As a small-time collector myself, I admit some sticker shock when I flicked open that copy of Woolf's The Common Reader; the subsequent mental conversion from pounds to dollars put it well out of my range. Then again, Woolf is one of the biggest names in the industry, and an intact dust jacket immediately ratchets up the price of any first edition. Devers makes the case — quite convincingly — that such books aren't overpriced, they're finally properly priced.
"The backhanded compliment I get [from male sellers] is, 'You found your niche,'" she says with a shake of the head and a cocked eye. "And then I say, 'Women are not a niche, but yes, I have.'" But instead of niche, Devers has actively sought diversity in every form. Work by women of various eras, races, styles, formats, notoriety, genres, identities, and politics fill the shelves. She walks me through the room, pointing out titles and authors. At a charity shop in London she found a novel by Miriam Tlali, the first black South African woman to publish in that country. "I bought as many copies as I could of that book and all of those have sold. And then I bought 15 copies or something like that of her book of short stories. And we're down to having I think one in the store." There's a hefty copy of Pauline Kael's Hooked, one of her many volumes of film criticism. Just above is some Siri Hustvedt, down the shelf is a selection of R. Prawer Jhabvala, and below is a brand-new copy of Min Jin Lee's Pachinko from 2017. She can't keep Toni Morrison in stock.
The brick-and-mortar shop only came into existence after the space's landlords made an appealing offer to Devers: greatly discounted rent. Initially, the Second Shelf was imagined as an online retailer, with the quarterly as accompaniment. A Kickstarter launched in May 2018, and reached its goal in 20 days. Eventually, over 600 backers pledged more than £32,000 to the venture, raising over 50 percent more than Devers had hoped for. More than anything, Devers needed buzz: "I thought that if I only ever had 20 books [and] if I just kept selling them, no one would ever get the message … The only way that I was going to launch this business in a way that would make it sustainable for me and not cost me a fortune was to make a bit of a splash with it."
The digital shop is forthcoming — Devers hopes to launch it next week. It's clear while I'm visiting that the Second Shelf is a hustle far more rigorous than it looks from the outside. When she announced the venture's launch, Devers also explained in a series of tweets that she'd had a hysterectomy right before coming to London, and that she'd also been laid up in bed with a series of medical ailments. A large portion of her forthcoming book, Train, was stolen from her car while she was dropping her son off at school just two days after the store opened. It hasn't been recovered. Devers runs the store, buys all of its stock at book fairs around England, edits the quarterly, is working to facilitate relationships with libraries and collectors, and researches just about everything that comes through the door.
She fervently emphasizes the large cast of women who work behind the scenes. "A lot of the Kickstarter money," she says, "went into the pockets of women illustrators, women photographers, women designers. I hired all women. There was one male who did a recording, that was it." Everyone is paid. The cast of women brought onboard to advise the venture is a murderers' row of female authors: Lauren Groff, Elizabeth McCracken, Cheryl Strayed, and Jesmyn Ward, and the critics Laurie Muchnick, Rachel Syme, and Sarah Weinman. She brought on the British critic Lucy Scholes to manage the quarterly; Scholes also commissioned the majority of the pieces in the upcoming issue (available for preorder now), which is devoted to female illustrators like Pamela Colman Smith, who famously designed the Rider-Waite tarot, and feminist magical realist Angela Carter of The Bloody Chamber fame.
Devers walks me out into the gloam, and as we stand in the tiny cobbled courtyard, she explains what shops will eventually fill each storefront. We spin clockwise — there's a café, an independent jeweler. Laughing, she tells me that the shop directly next to the Second Shelf has gone from red to blue, just as her storefront went from blue to red. It will be a "gentleman's general store."
"Well," she says with a wry smile, "I guess we're a perfect match."