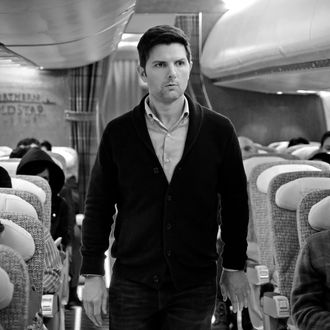 Not the Lo-Cal Calzone Zone.
Photo: Robert Falconer/CBS
You're pretty much guaranteed — nay, promised — a journey of sight, sound, and mind when you turn on The Twilight Zone, a sci-fi show that will haunt you with even more social parables when its newest iteration premieres on CBS All Access. While most of the episodes were created from scratch by Jordan Peele and his writers room, some familiarity still lingers, thanks to a postmodern remake of the seminal episode "Terror at 20,000 Feet" (Adam Scott as William Shatner, baby!) and an opening sequence that's, well, see for yourself below.
But one particular homage to Rod Serling's original Zone was considered and ultimately eschewed by the revival's creative team, owing to it being less of a dimension in imagination and more of a dimension in imitation: the black-and-white color scheme.
"We did consider doing the whole series black-and-white, because we were so obsessed with the original show," executive producer Simon Kinberg told Vulture. "But we decided we wanted to do something to honor the essence and sensibility and style of the original without going so overboard that we were doing a karaoke version of the original. The black-and-white felt like it was a step too far. It wasn't honoring it, but a carbon copy of it." All episodes of the new series were thus shot in full color — as you'll see on April 1 — ushering the show's stylized new era into 2019 and beyond. Your next stop, The Twilight Zone!