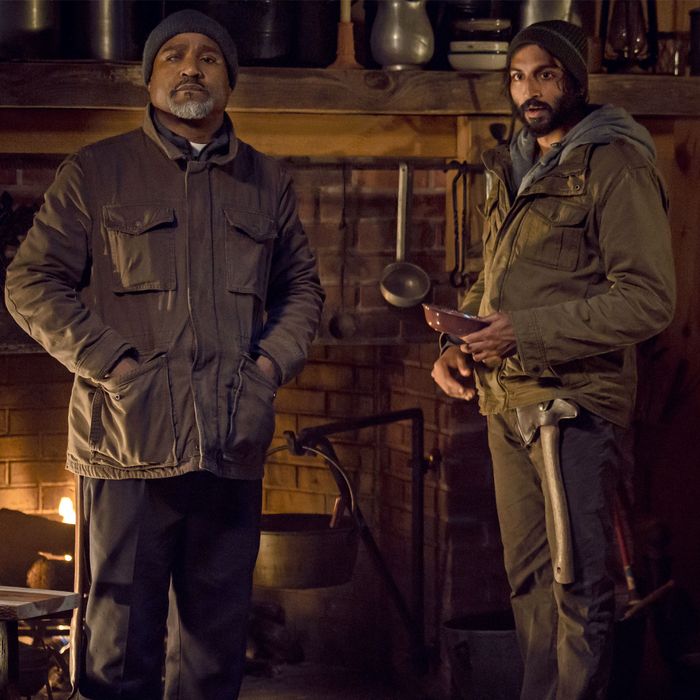 Sometimes it feels like The Walking Dead's characters and audience could use a reprieve after a particularly brutal, draining episode. This is one of those times. Kudos to TWD for not only delivering what we needed, but also for doing so in a way that's unlike anything we've seen on this show — specifically, with a wicked blizzard. While the Whisperers are mostly MIA and Alpha's massacre casts a long, dark shadow, the survivors simultaneously come together and split apart. It all adds up to a very Game of Thrones ending to the season, with the big shocker coming in the penultimate episode rather than the finale, and danger arriving in the form of a crap-ton of white walkers.
It's not quite clear how things got so ugly so fast at the Kingdom, but the neighborhood really looks like shit, as Judith would say: Pipes have burst, stone has crumbled, roofs are blackened and tattered. No one's taking it harder than Zeke and Carol, of course; Carol's always been a bit of mope, but poor Zeke is curled up in bed and is resigned to leave his home behind. What's a king without a kingdom? And what's this couple without their son? (To be fair to Carol, she's now lost four kids — Sophia, adopted daughters Mika and psycho Lizzie, and Henry. The fact that she's not in a stress-induced coma is a miracle.)
Alpha hinted at what the future would bring with her "sweater weather" comment at the Faire, but the storm that rolls in turns the otherwise easy trek to Hilltop into a life-or-death adventure. Making matters worse, everyone is super tense: Alden gets lippy with Lydia — her mom did kill his girlfriend, after all — but Daryl swiftly tells him to shut it. (I'm liking Daryl's dad/big brother vibe with Lydia. They have a lot in common: outcasts, abuse survivors, no family, not afraid to roll around in the dirt.) Lydia contemplates a most horrible suicide — death by zombie bite — until Carol interrupts. Daryl also takes an earful from Zeke, who straight-up tells him life at Hilltop would be better for him and Carol if Daryl wasn't around. Bad move there, King.
The storm hits A-town first, and Negan gets furloughed so he doesn't freeze to death in jail. That show of mercy isn't enough to keep him from mouthing off, of course. (Even Gabe has to chuckle at his "Father Not The Father" line.) Good thing he's around, because when Judith runs into the storm to find Dog, he's the only one who chases after her. (I thought that limp he had, along with the zero visibility, would lead him to being mistaken for a walker. Glad that didn't happen. It would have been dumb. Perhaps I shouldn't have mentioned this at all. Let's move on.) Yeah, Negan smashed Glenn and the Sarge's heads to smithereens, but when he wraps up Judith in his coat and leads her and Dog to safety, it's hard not to like the guy he's becoming.
The blinding snow works well as we toggle from A-town to the caravan, and no one (including us) can quite tell what the hell is in front of them. After a pit stop at the Sanctuary, the Hilltoppers have no choice but to cross through Alpha's territory and pray they don't attract unwanted attention. (Unless the Whisperers have also been busy making some necro-puffers and skin-hoodies, they likely aren't sitting around in the snow, but hey, can't be too careful these days.) The ol' Hidden Walker trick catches everyone by surprise, as zombies emerge from the deep powder. But the real drama is with Lydia, who sneaks away and is oddly pursued by Carol, not Daryl. Why? To set up another attempted suicide, this time with Lydia begging her dead bf's mom to do the honors. Considering Carol once murdered her own adopted daughter and also set a bunch of people on fire, killing Lydia is not off-brand for her. The clincher is when Lydia tugs at Carol's heartstrings by saying Alpha was right in calling her own daughter weak; Carol is 0-4 in the mom game, but she isn't giving up. With tears in her eyes, Carol opts to take out a sneaky walker and take Lydia by hand.
As the storm settles down, bonds are forged and broken. Michonne visits Negan in the same room where he recovered from Rick's throat slice, and you can see her beginning to warm up to him. One thing he offers Michonne is the perspective of a leader, of which there aren't many left. "I know what it's like to lose a kingdom and see things fall apart," Negan says. "It sucks ass." When Michonne talks of how evil brings good people together, Negan throws her a curveball: "It's just that no one ever thinks that they're the evil one."
Meanwhile, the sad trombone replaces royal trumpets for Zeke, as Carol breaks the news that she's headed to A-town. Zeke doesn't seem surprised when she hands him back his ring — deep down he must have known that Carol wasn't cut out for the fairy-tale life (or for LARPing). Though this move could set up something between the two archery experts, I hope it doesn't; I'm still pulling for a Daryl/Connie coupling.
Before their long winter ends (and our summer break from zombie mayhem begins), we're left with two relatively light cliffhangers. Somewhere in the woods, far away from the cold weather, there's a skinmask installation that's sure to draw raves from the apocalyptic avant-garde art crowd. Beta removes Alpha's mask like a good boy and she says she needs to become stronger "for what comes next." Rather than trying the keto diet or finding an abandoned Peleton bike, Alpha's workout involves Beta whipping her across the forearm. She flinches with each strike but holds her head a little higher as the hits keep coming. Did she somehow know that her territory was breeched? Maybe she was planning to weaponize her zombie army no matter what her neighbors did.
The other mystery arrives courtesy of Zeke's radio transmission. He's chatting with the endlessly adorable Judith, fresh off a snowball fight that offered a brief moment of joy and definitely did not make any recappers I know get choked up a little. After they sign off, a muffled voice comes through: "Hello … is anybody out there?" Whoever's on the line had better be heavily armed and willing to help Hilltop and A-town with Alpha's what-comes-next.
So it appears season ten (that's 131 episodes so far, folks) will be the official kick-off of the Whisperers War and the introduction of some fresh meat that just might help the survivors survive. At the start of this chapter back in the fall, I was feeling a little TWD'd out; thanks to this fresh, risk-taking season, there's plenty of reason to come back for more.