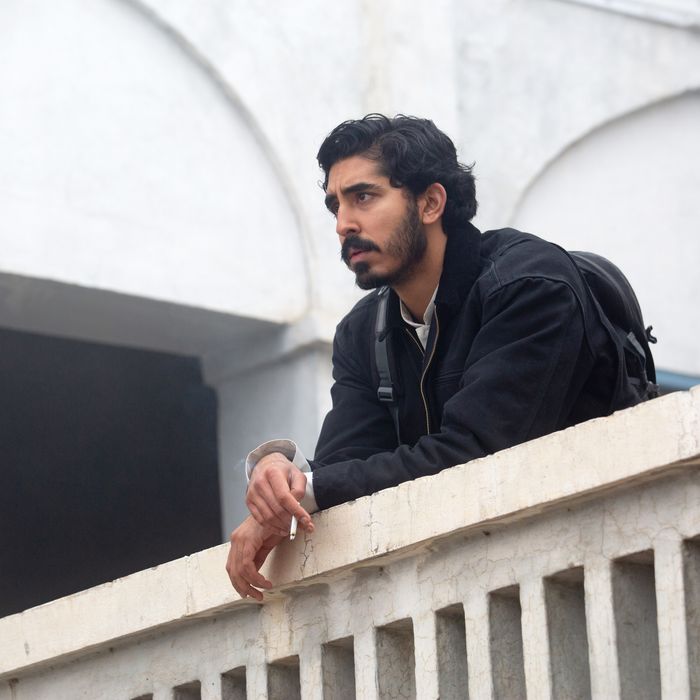 Michael Winterbottom's thriller The Wedding Guest finds Dev Patel in a broody, sexy role — a departure from his typically fresh-faced, nice-guy performances — and it's impressive how well the actor fits the part; his long face and lanky frame give him a captivatingly melancholy countenance. In the film's opening passages, as he arrives in Pakistan and moves from town to town, shifting identities and picking up tools — a car, a gun, duct tape, etc. — he makes for a dashing, mysterious presence. We don't know what he's up to, but we know it can't be good. But still, it's Dev Patel, so we know it can't be too bad either. He shows his range without entirely undermining his persona, the sign of a true movie star.
Patel's character is named Jay in the credits, though I don't think he ever gives his name in the film. Or rather, he gives multiple names. He's a professional, hiding beneath different layers of subterfuge. He's arrived at a wedding in Pakistan to seize the bride-to-be, Samira (Radhika Apte) and deliver her to her true love Deepesh (Jim Sarbh), who hired Jay back in England. It's an intriguing, modern-day spin on a common story found in many cultures: the bridal-abduction romance. Jay and Samira move from town to town, covering their tracks and making their way to Amritsar, India, where Deepesh is supposed to wait for them. But the lover isn't there; he's having second thoughts, and he's also a little freaked out that Jay killed a guard during his attempt to sneak Samira out of her home.
I won't say more about the plot, though we sort of know where it's all headed. The chemistry between Patel and Apte is exciting; they're both beautiful, but mournfully so. She's just had her life upended, and he's in the middle of a job that's falling apart. When they reach out and touch, it doesn't just feel like an inevitable narrative development; it feels like two broken souls hanging on for dear life.
Winterbottom is one of those prolific directors with a reputation as a journeyman: His work has gone from self-aware adaptations like Tristram Shandy to playful biopics like 24 Hour Party People to vérité social dramas like In This World; he's also done a variety of documentaries, though his best-known recent pictures are probably the Steve Coogan–Rob Brydon The Trip films. But before he started making a thousand movies a minute, Winterbottom's work had an ineffable romantic sweep and formal grace. (If you ever get a chance to see his adaptation of Jude the Obscure, starring Kate Winslet, don't miss it. And his masterpiece might be the snowbound period epic The Claim, which was dumped by its distributor back in 2000.)
The Wedding Guest feels at times like a throwback to those swooning, deeply emotional early titles. In the early scenes, we see Jay absorbed in his own world, a lonely figure against teeming streets and crowded parties and country roads. After Samira enters his universe, he tries to keep his distance from her. But Winterbottom starts to bring them together in the frame, isolating them together against walls, windows, and throngs of people. The film pushes them together before their emotions do. The director is also fond of location shooting, and his camera turns the various towns and cities of India and Pakistan into aesthetic elements without ever exoticizing them. They go from forbidding backdrops, underlining the characters' alienation, to expressions of romantic longing. It's all quite gorgeous, and surprisingly moving. The Wedding Guest shows just how much you can do with a wisp of a story and a whole lot of cinematic vision.