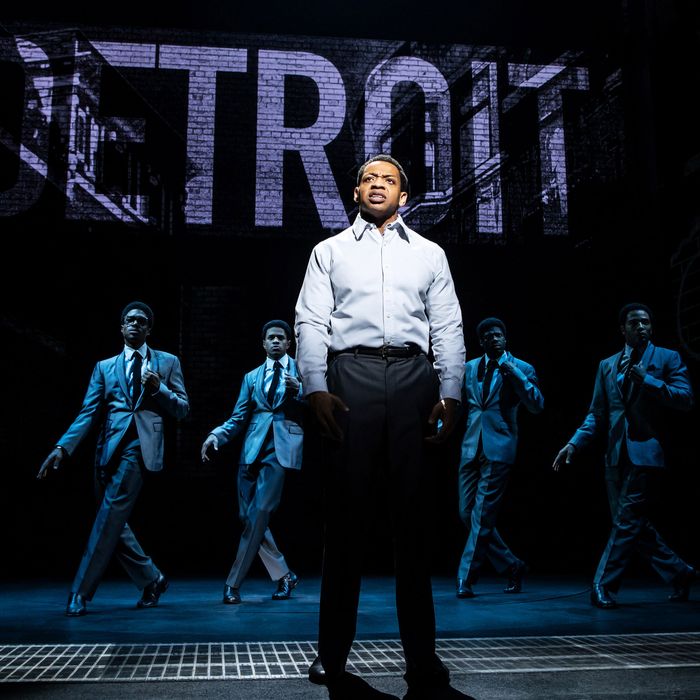 From
Ain't Too Proud,
at the Imperial.
Photo: Matthew Murphy
It's a crying shame that a musical about the Temptations should have such a stodgy sense of rhythm. But perhaps there's something about the steady, rolling tempos of the great R&B group's dozens of hits that makes it difficult to shape them into a drama, which wants peaks and valleys, accelerandos and fermatas. Mike Nichols once quipped that the secret to directing is to stage some scenes fast and some scenes slow, but with Ain't Too Proud — Broadway's newest jukebox, subtitled The Life and Times of the Temptations — Des McAnuff seems satisfied to keep things bobbing — well, more like plodding — along. While the tunes themselves are predictably wonderful and the cast's voices ravishing, Ain't Too Proud itself has no real arc or engine. As a play, it slides mechanically by like one of its own actors, who often enter and exit riding conveyor belts in the floor of Robert Brill's towering monochrome set. Based on the memoir by Otis Williams — the Temptations' founder and last surviving original member — Dominique Morisseau's book has moments of wit, but it's also got plenty of corny clunkers ("Who knew you could be on top of the world and still feel beneath it?", "Seems like the bigger we get, the more we fall apart") and ultimately feels like a scroll through the band's Wikipedia page, plus very good songs.
Understandably, if not entirely effectively, the show's primary goal is to get in as many of those songs as possible. McAnuff, Morisseau, and their team are going for quantity, and Ain't Too Proud manages to squeeze in 31 tunes, including detours into the Cadillacs ("Gloria," beautifully crooned by E. Clayton Cornelious) and the Supremes ("You Can't Hurry Love," "Baby Love," and "Come See About Me"). What's interesting, though, is that so many of these songs are presented only in part, tossed in as if to whet our appetites only before the biographical plot, such as it is, trundles along. The ushers who seat you for Ain't Too Proud encourage you to clap, sing along, and respond to the show, and looking around, I could tell that my audience was hungry to do so. This was a house of fans. They wanted a nostalgic blowout concert, and as so many songs peeped in and out without a real finish, you could feel their applause anxiety growing. You can't build a whole musical out of climaxes, but you also don't want a house full of blue balls. And when the big finishes do come around, they don't quite smash through the ceiling. They're pleasing without being rapturous.
It's not the performers' fault. The show is chock-full of charismatic triple threats, from the elastic-limbed, mega-voiced Ephraim Sykes as David Ruffin — the band's second and most famous lead singer, who defined hits like "My Girl" and the show's title song, and ultimately got the boot for his drug use and star-out-of-control behavior — to the rock-steady Jawan M. Jackson as Melvin Franklin, the Temptations' bass and, along with Otis Williams, one of the group's longest-standing original members. As Williams, who serves as Ain't Too Proud's narrator, Derrick Baskin marvels at Franklin's velvety rumble: "Got a bass that's lower than the devil." And Jackson's resonant subterranean boom causes goose bumps every time.
Jeremy Pope, whose soaring tenor recently gave such heart and soul to Choir Boy, is also superb as Eddie Kendricks, one of the "Classic Five" who made up the Temptations during the band's definitive era in the mid-'60s. Pope can hit stratospheric notes seemingly without breaking a sweat — and usually while flashing a shiny come-hither smile at the same time — and he sounds phenomenal on tunes like "Get Ready" and "Just My Imagination (Running Away With Me)." At his side, James Harkness is a solid, appealing presence as Paul Williams (no relation to Otis), another Classic Fiver and a founding member of the group, which truly became the band known as the Temptations in 1960, when Otis brought his own trio together with the Primes, a duo made up of Paul and Eddie. Harkness doesn't really get to break out until later in the play, and though the context for his solo is somewhat formulaic and maudlin — he gets to belt in suffering glory, just as we find out that Paul, sick and battling alcoholism, committed suicide at 34 — he still sounds great, vivid, and thunderously full, on "For Once in My Life."
Not everyone fares quite as well as the Classic Five, or, as the group begins to splinter over time, their various impressive replacements. Management is especially shaky, with a stiff Joshua Morgan as Shelly Berger, the manager that Motown Records exec Berry Gordy hired to "get [the band] into rooms that no one else can" — i.e., he was a white guy, responsible for turning the Temptations into a "crossover group." And as Gordy himself, Jahi Kearse tends to shout his lines at a strangely halting pace, as if he's a substitute teacher addressing a room full of kindergarteners. Gordy's main job here is, by his own commitment to commercial values, to let us know that the Temptations wanted to be a more political band, to respond with more explicit activism to the world in which they were living: The group's songwriter Norman Whitfield, played by a slick Jarvis B. Manning Jr., wrote the protest anthem "War" for them, but Gordy objected, and the song went to Edwin Starr, who topped charts with it. "Once the white audience thinks they know you, you can't go switching on them," Gordy insists to the discontented R&B superstars. "TV black. Radio black. Not the same as political black. You have to serve them music in a way that's digestible."
It's not that these moments don't have historical interest to them, but they don't have much more. Whether the band's members are struggling with politics or parenthood or love or drugs or fame, each episode feels like just another beat — and the beat goes on, without a sense of increasing stakes or dramatic shape. It's a tough problem, because jukebox musicals hung around a fictional plot often feel just as contrived, if not much more so, than basic biographies (see Escape From Margaritaville). But what Morisseau has done is a different kind of contrivance and a common one: All that ties the blow-by-blow memoir of Ain't Too Proud together is a tidy, hokey theme. "There's no progress without sacrifice," Baskin's Otis tells us as the show begins. That fortune-cookie message is the show's touchstone, and every time events conspire to make it pop up again, it feels less like narrative development than like box-checking.
Perhaps part of the difficulty is that the story's not over. After 24 different individual members, a version of the Temptations is still chugging along in 2019, with the 77-year-old Otis Williams still onstage. Which feels both kind of amazing and a little unsettling — at this point, they're as much brand as band. And that means that any Broadway celebration of them is going to have a hard time transcending that inherent commercialism. Ain't Too Proud is certainly beautiful to look at — especially Paul Tazewell's superlative period costumes, tailored and sparkling to perfection — and with Sergio Trujillo's snapping, sliding choreography and the full, brassy arrangements by music director Kenny Seymour, the show often sounds great too. But underneath its sparkle is a theatrical monotony that drags the whole thing down. Its actors sure can dance, but Ain't Too Proud never really busts a move.
Ain't Too Proud is at the Imperial Theatre.