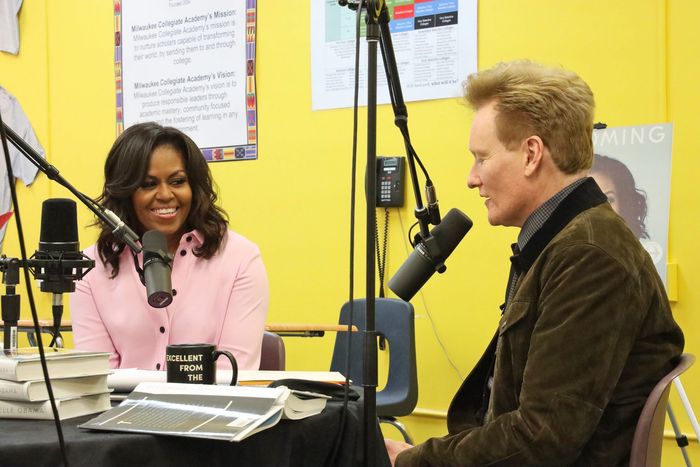 Michelle Obama and Conan O'Brien.
Photo: Conan O'Brien Twitter
The comedy podcast universe is ever-expanding, not unlike the universe universe. We're here to make it a bit smaller, a bit more manageable. There are a lot of great shows and each one has a lot of great episodes, so we want to highlight the exceptional, the noteworthy. Each week, our crack team of podcast enthusiasts and specialists and especially enthusiastic people will pick their favorites. We hope to have your ears permanently plugged with the best in aural comedy.
Conan O'Brien Needs a Friend — Michelle Obama
If you're 18 episodes into your first podcast and can land a former First Lady as your guest, you're pretty much past the early rough part of this business. Not that Conan O'Brien had it that easy — he had to fly to Milwaukee and wait until finishing a talk with high schoolers alongside Michelle Obama before he could get any one-on-one time with her. She is just as gracious and charming in this audio medium as she comes across on television, and there is a kind of ridiculously easy rapport between O'Brien and the former FLOTUS. She shares a lot about her life — how it started out so incredibly ordinary, and then got crazy, and how it is now — away from the harsh spotlight that shines down on the White House. Although she has more time for herself now, Obama sounds wistful when relating her realization that she will never be anonymous again or without an omnipresent Secret Service detail — or how her secret guilty pleasure is hiding out with some food from Chipotle every once in a while. A number of topics they talk about are touched on in Becoming, her recently released memoir, but there are also some memories that she and O'Brien shared over the years that sound like moments we wished we could have seen. Like the conversation they had when sitting together at the White House Correspondents' Dinner or, earlier, when O'Brien brought his family with him when he was going to perform at a Christmas show for the Obamas and his young son had a meltdown in the reception line waiting to meet Michelle and her husband, the president of the United States. You know, just like so many other podcast hosts have had to live through. —Marc Hershon
Listen: Spotify | Apple | Website
Sooo Many White Guys — Phoebe and Jameela Jamil Stop Being Polite
Tear off the final chain in your paper-chain countdown — Phoebe Robinson (2 Dope Queens) is back, baby! No one is surprised that she found the perfect guest to kick off season four of this celebration of badass artists and leaders who are not white dudes. After her producer-in-crime Joni Mitch, a.k.a. Joanna Solotaroff, shakes up the pod by joining Robinson in the studio, Robinson debuts her polished British accent to introduce actor and activist Jameela Jamil (The Good Place). Get ready to be seriously fired up … and also hear a "nervous poo" audition story. Take Robinson's post-interview sentiments: "She makes me mad but in a righteous way, in a good way." Jamil is transparent, open about her flaws, and would "rather go down in flames" than be silent and complicit, making for a full and inspirational conversation. Learn about her journey from having a crush on Ted Danson in Cheers to recovering from a life-changing accident to teaching life positivity and creating the wildly popular Instagram account @i_weigh. If this is how season-four starts, I can't wait to hear what else Robinson has in store … and, I guess, how often she sings "Shallow." —Anna Marr
Listen: Spotify | Apple | Website
Chapo Trap House — The Israel Nerd ft. Eli Valley
Two weeks ago, professional daughter Meghan McCain saw "the most anti-Semitic things [she'd] ever seen." It wasn't that she finally read the Wikipedia page for the Tree of Life shooting, the deadliest pogrom against American Jews in our 350-plus years in this country. Rather, it was a fairly benign cartoon from Jewish-American cartoonist Eli Valley that mocked her comparison of Representative Ilhan Omar's criticism of Israel with tiki-torch white supremacists. On this week's Chapo Trap House, the hosts invited their frequent guest and collaborator — artistic collaborator, not Ben Shapiro–type collaborator — to discuss how deeply rooted white supremacy is, especially in right-wing Jewish pundits, in our depressing state of global politics. Much of the episode focuses on those pundits like Shapiro, Eli Lake, and Bethany and Seth Mandel, who regularly attack Valley for Jewish anti-Semitism while clinging onto Trump's baggy golf khakis, like a child lost in the supermarket who's about to be told "Kid, I'm not your mom" by a middle-aged man. We live in a distorted reality where some descendants of refugees support a president who inspired the anti-refugee manifestos of the last two mass shootings against Jews and Muslims; thankfully, Valley is not afraid to take the heat when he calls them out. For a more in-depth interview on the background of one of the funniest and most vital cartoonists today, be sure to also check out this week's episode of Delete Your Account. —Pablo Goldstein
Listen: Spotify | Apple | Website
Beautiful/Anonymous — Jetmouth
Beautiful/Anonymous often draws attention for its heavier discussions, like last year's gripping call with a survivor of the Las Vegas concert shooting. This week's upbeat episode is more reflective of the show as a whole — a warm, honest chat with a stay-at-home California dad who happens to be smoking a bowl in his garage. About midway through the hour, the caller reveals that his high-school nickname was "Jetmouth" due to his tendency to ramble. Gethard relishes in laying the runway for Jetmouth with innocuous questions and letting Jetmouth take off. The two first get comfortable by sharing stories about the rare occasions they've expressed aggression to strangers, including on one family vacation that inspired Jetmouth's youngest son to brag "My dad almost beat up Santa!" at school. The conversation evolves into a critique of toxic masculinity, the ego, and how important it is to raise each of his sons as One Of the Good Ones™. For example, after growing up in a household where the adults were always right, Jetmouth makes an effort to apologize to his kids when he is wrong. What a novel idea! Here's to more adults reflecting on their parenting over nightly bowl rips in the garage. —Mark Kramer
Listen: Spotify | Apple | Website
Food 4 Thot — Bye, Bye, Binary! ft. Alok Vaid-Menon
Food 4 Thot bills itself as a podcast where "a multiracial mix of queer writers talk about sex, relationships, race, identity, what we like to read, and who we like to read." Making up the mix are hosts Tommy "Teebs" Pico, Fran Tirado, Dennis Norris II, and Joe Osmundson. The multi-talented cultural commentators ebb and flow from silly to serious as they open with the hilarious "Swipe Right Swipe Left" game ("The snow is white supremacy incarnate. Swipe left.") before covering a range of timely topics. This week, gender non-conforming performance artist, writer, and educator Alok Vaid-Menon subs in for Pico as the group tackles the gender binary. Discussing everything from their earliest gender-bending moments to how they currently navigate the gym, where the gender binary is often heavily enforced, the conversation is engaging and educational, especially when Vaid-Menon fields a question about owning your identity in the workplace. "I'm so over standardizing visibility as authenticity," they declare before going on to honor the journey of the individual, asserting that it comes down to doing what makes sense for you. Finishing with a blast from the past, Vaid-Menon cites Him from The Powerpuff Girls as their earliest visual representation of gender nonconformity, leading to a lively discussion about pop culture and power. And although the podcast title is a pun, and the hosts swear the show "is not about food," they do an expert job creating a five-star experience that makes for enviable dinner conversation. Dig in. —Becca James
Listen: Spotify | Apple | Website
Other Podcasts We're Listening To:
WTF — Aidy Bryant
Listen: Spotify | Apple | Website
Who Charted? — The Squatter's Avenger ft. Kulap Vilaysack
Listen: Spotify | Apple | Website
Dyking Out — Baby Gay With Allison Ponthier
Listen: Spotify | Apple | Website
Dumb People Town — Karen Kilgariff & Jon Hamm LIVE
Listen: Spotify | Apple | Website
Unofficial Expert — Scamming Expert With Sandy Honig
Listen: Spotify | Apple | Website
Dark Tank — Dark Tank LIVE: Dave Chappelle (Very Briefly) Tries His Best
Listen: Spotify | Apple | Website
Delete Your Account — Grotesque
Listen: Apple | Website
Got a comedy podcast recommendation? Drop us a line at comedypodcasts@vulture.com.