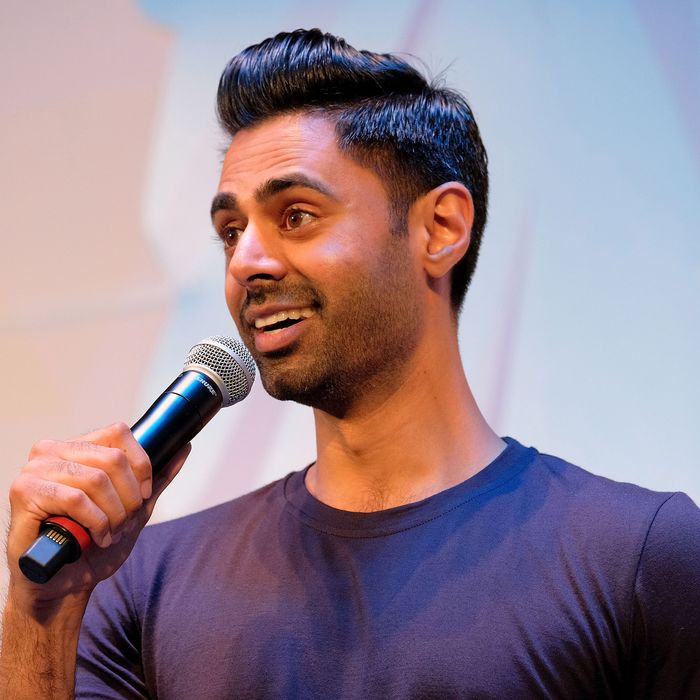 Hasan Minhaj.
Photo: Matthew Eisman/Getty Images for Ozy Media
The comedy podcast universe is ever-expanding, not unlike the universe universe. We're here to make it a bit smaller, a bit more manageable. There are a lot of great shows and each one has a lot of great episodes, so we want to highlight the exceptional, the noteworthy. Each week, our crack team of podcast enthusiasts and specialists and especially enthusiastic people will pick their favorites. We hope to have your ears permanently plugged with the best in aural comedy.
The Dave Chang Show - Hasan Minhaj on Comedy As a Conduit
Fans of the globetrotting Netflix series Ugly Delicious will remember chef Dave Chang's impressive Rolodex of funny friends — Nick Kroll, Gillian Jacobs, Aziz Ansari, and Ali Wong, to name a few. On this week's podcast, Chang explains how he landed at the intersection of food and comedy, across the table from Patriot Act's Hasan Minhaj (pronounced Ha-sun Mi-nuj, get it straight). Both of these men share a love of the NBA, comedy, and failures that result in personal growth. Chang the podcast host has become a pro at uncovering the wiring that runs through all creative endeavors. Whether it's running a restaurant empire or a political comedy show, the challenges faced when shifting from doing to managing are universal. Minhaj goes on to break down the purpose of Patriot Act: "to distill coffee into espresso" for a viewer who hardly has 20 minutes to digest a giant topic. Because social media "takes" have only fostered more divide, he strives for each show's piece to be anchored in a human story — the only effective way to create empathy. Between this talk and his electric interview with Pulitzer Prize–winning art critic (and Vulture's own) Jerry Saltz, Chang has quietly served up some of the headiest, most actionable lessons on the creative process you will ever hear. —Mark Kramer
Listen: Spotify | Apple | Website
The Last Laugh - Sarah Silverman Gets Canceled
"You have to be free and let your mouth fly." That's just one of the great lines Sarah Silverman gets off as the first guest to appear on the new The Last Laugh podcast from the Daily Beast hosted by senior writer Matt Wilstein. That particular comment comes from the part of their conversation around the idea of political correctness and if a comedian should ever have to watch their tongue and toe the line when it comes to their material. Silverman doesn't think so, nor does she pull many punches in this fast-paced and wide-ranging chat. The hour starts off with Wilstein plucking at the open wound his guest still bears from when Hulu cancelled her sort-of two seasons of I Love You, America. ("It was more like a season 1 and a season 1B," she says.) Considering the show was nominated for an Emmy, it's easy to see why the star of the show is still miffed by it not getting a fair shake by the streaming service that didn't even acknowledge the award nod. "Even Netflix sent me roses for that, and I haven't done a show for them for, like, four years!" she says. Wilstein gets Silverman to focus her topical humor lens on the widening Democratic field of candidates vying for a 2020 presidential bid. And she also delves into the fortunes of some of her longtime comedy friends that have gotten into hot water fairly recently, namely Louis C.K. and Al Franken. There's a lot to unpack in this premiere, including Silverman's comedy origins and, for those die-hard fans, flashback anecdotes from when she played Kramer's girlfriend on that episode of Seinfeld. —Marc Hershon
Listen: Spotify | Apple | Website
Cool Playlist - Coming Home After an Audition With Jamie Lee
Need help soundtracking your life? Eliza Skinner has you covered. With her podcast Cool Playlist, she has amassed approximately 50 mixtapes for specific life events, moments, or occasions including everything from a "Goth Wedding" to a "Gay Prom." In a simple and smart move, Skinner co-creates these playlists with the help of a guest, letting their conversation act as an insightful set of liner notes. It's the perfect way to bolster the relationship between those in the studio and those outside of it, creating the exact sense of familiarity and comfort podcasts are lauded for providing. This week Jamie Lee (Crashing) is a force of support and inspiration as she supplies all the tracks needed for "Coming Home After an Audition." Lee starts with Talking Heads' classic "Road to Nowhere," declaring it a proper "reset message," before delving into her love for Reality Bites (which also uses the song) and offering some absolutely horrible but giggle-inducing takes on the film. The playlist continues with a multitude of genres — even including a Christmas song — but the standout "country disco" and "new wave drama" jams peppered throughout make for an upbeat shuffle that sends listeners pulsating toward a limitless future, while the rap hits add a pinch of take-no-shit attitude. Not looking for a playlist that's this aspirational? No problem, pick another one and press play. —Becca James
Listen:  Apple | Website
Hollywood Handbook - The Masked Guest
If you've watched Fox's smash hit The Masked Singer and thought That's too easy — they should be singing with distorted voices too, then this special episode of Hollywood Handbook is for you. Four celebrities in disguise — the Wildflower Escape Darling, the Skunk, the Dragon, and the Housecat — sing their distorted hearts out for Sean and Hayes, who accurately guess most of their identities (with the help of musical podcasting expert Demi Adejuyigbe) and only lightly insult one of the celebrities in the process of guessing. You haven't heard music until you've heard a mystery singer belt "Down With the Sickness" into a vocoder at least twice. Play along and see if you can guess who's putting their own spin on George Michael's "Faith," or who's doing an impressive version of Garth Brooks's "Friends in Low Places." No spoilers here, but the secret celebrities turn out to be a very pleasant, and talented, bunch: They'll make you laugh out loud, make you think, and might even move you to tears with a surprisingly sentimental group rendition of "Closing Time." —Kate Doyle
Listen: Spotify | Apple | Website
American Arts & Culture Review - Dirt (with Brooks Wheelan, Rodney Berry)
The latest absurdist masterpiece from the Forever Dog team is American Arts & Culture Review, a kooky public radio parody with a frantic tinge. Each episode runs about as poorly as this episode, where Brooks Wheelan joins to discuss the long-promised Motley Crews [sic] documentary Dirt [also sic]. Host Whitmer Thomas messily lays out the entire movie scene by scene with a soundtrack by co-host Clay Tatum cycling through American standards on a Casio keyboard and yelling incoherently, sometimes stopping to ask Wheelan if anything was different in the book. The centerpiece, as always, is Tatum summarizing what he learned from hearing the plot read aloud to him, as he usually leaves the theater to get a mid-movie burger and misses out. But perhaps the highlight of the episode is a trip down memory lane for the former roommates when Brooks admits to going to the premiere and drunkenly showing Rooney Mara pictures of what the characters in The Lost City of Z should have looked like. Non-spoiler spoilers: They and audience member Rod all give the movie a 10/10 ("That's 40 plus 40, so 80 percent, which is a perfect score for a perfect movie"). —Noah Jacobs
Listen: Spotify | Apple | Website
Other Podcasts We're Listening To:
Unofficial Expert - "Friendship Expert" (w/ Ilana Glazer)
Listen: Spotify | Apple | Website
You're Making It Worse - Sydnee Washington
Listen: Spotify | Apple | Website
Too Sensitive for Comedy - Jessica Sele: God Bless the Outcasts
Listen: Spotify | Apple | Website
Just Between Us – Look Who's Bringing Up The Patriarchy w/Dan De Lorenzo
Listen: Apple | Website
Got a comedy podcast recommendation? Drop us a line at comedypodcasts@vulture.com.