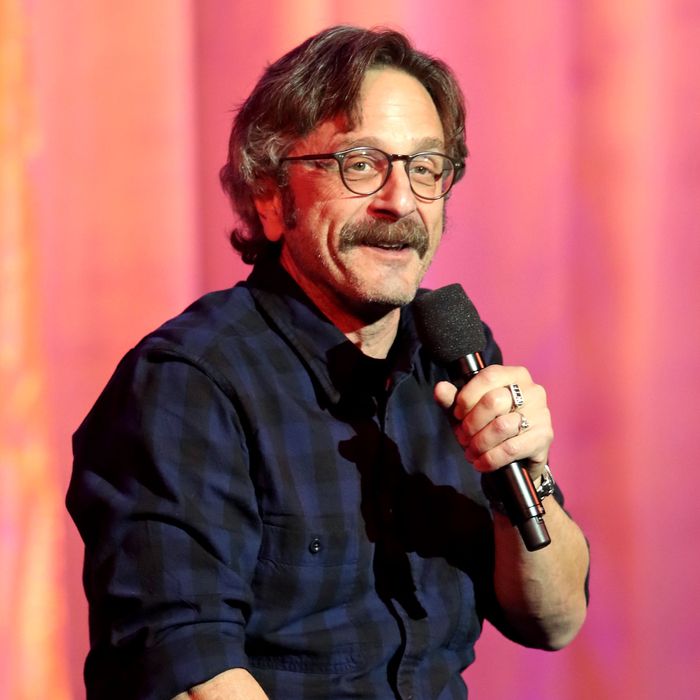 Marc Maron.
Photo: Brandon Williams/Getty Images
The comedy podcast universe is ever-expanding, not unlike the universe universe. We're here to make it a bit smaller, a bit more manageable. There are a lot of great shows and each one has a lot of great episodes, so we want to highlight the exceptional, the noteworthy. Each week, our crack team of podcast enthusiasts and specialists and especially enthusiastic people will pick their favorites. We hope to have your ears permanently plugged with the best in aural comedy.
WTF — Episode 1000
Marc Maron observes the 1,000th episode of his WTF podcast by keeping it in-house and bringing his producer Brendan McDonald out from behind the mixing board for a nearly two-hour chat. For those who have found the show during the last decade but weren't aware of how it all started and how these guys came together during the short-lived Air America left-wing radio days, this is a great trip down memory lane. The two recount some of the moments in the show's history that they regard as turning points, which is where listenership jumped upward drastically. Among those most notably were Maron's chat with Robin Williams, Bruce Springsteen, and, of course, then-sitting President Barack Obama. (The appearance of Obama in Maron's garage in Los Angeles is arguably a moment that helped to bring podcasting into the mainstream once and for all.) Maron is filled with gratitude during this look back, attributing all of the success that he has enjoyed to the show, which first dropped in 2009. The two take us behind the scenes of how the show gets made, which includes revealing just how much editing that McDonald does on Maron's conversations with guests. "I don't usually cut out that much of what is said," McDonald says. "Instead, I mostly reshape the conversation for better flow." There are some other fascinating nuts-and-bolts tidbits shared, emails for listeners answered, as well as some very sincere affection on display between the two men responsible for creating one of the shows that has helped to define the very medium of podcasting itself. —Marc Hershon
Listen: Spotify | Apple | Website
Off Book: The Improvised Musical — Sasheer Zamata in What's in Thrift Store?
If you're one of the millions of people out there saying, "Toy Story is great and all, but instead of dumb old toys coming to life, I want it to be clothing instead," then do we have the podcast for you! Featuring Sasheer Zamata (Saturday Night Live), our friends over at Off Book give Pixar a run for its money with the new musical, What's in Thrift Store? With the KonMari method at the heart of this show, you'll start to think twice about donating your Stone Cold Steve Austin T-shirt now that you know it could have a soul. With songs like "Really Need a Sweater" and "Denim Swan Song," our titular Thrift Store serves as more than just a breeding ground for Macklemore hits. With lovable characters like Royals Hat or Orioles Shirt, you'll find yourself on the edge of your seat as they fight their way off the island of misfitting clothes. Which of them will be saved? Which of them will find a new home? Will Macklemore stop by and sing us a catchy tune? The only way to find out is by tuning in! —Tom Rainey
Listen: Spotify | Apple | Website
Dr. Gameshow — Pip, Pip, Parade! (With Sandy Honig)
"We've been canceled twice — once for money, and once for taste" is the new rallying cry for fans of Jo Firestone's Dr. Gameshow, which has found its record-breaking third chance on the artist-owned, listener-supported network Maximum Fun. Jo and her co-host Manolo have not lost a step after three months off the air, though there is a clear attempt to take it easy on the inside jokes from the Earwolf era. Either that or Trevor from the message board is back in Jo's good graces for real. Sandy Honig of Three Busy Debras joins for three cozy, silly games, but she steals the show with an absurdly complicated and migraine-inducing cryptography puzzle Euphemize This! simply by referring to the letter R as a "long-legged lady." Biweekly now, Dr. Gameshow remains as ever the king of family-friendly comedy. As a final point of note: MaxFun has released the fabled Hawthorn Library live show behind its donors-only paywall. —Noah Jacobs
Mega — A Fine Mist With Thomas Middleditch
With the foibles of the Catholic Church making headlines every other day, it's a real tribute to the creators of Mega that the the improvised shenanigans from the fictitious Twin Hills megachurch can keep pushing the satire out far enough to see the difference. This week, with the help of guest Thomas Middleditch (Silicon Valley), hosts Hallie and Gray (played by show creators Holly Laurent and Greg Hess) welcome Tim Middleman to the podcast pulpit. Middleditch's ad-libbing 73-year-old legally blind pilot, who has "a passion for faith, flying, and finding God in the sky," also has a horrendous history of accidentally chopping people up with the propeller of his tiny, single-engine plane. Traveling the world as part of CAR, a cobbled-together "Christian Aerial Railroad," pilot Middleman talks about his years dropping off Christian ministers in various far-flung hellholes to spread the good word. Middleditch really shows off some awesome improv chops as his character displays increasingly alarming behavior, and the hosts hand him one tasty setup after another. After sharing the grisly details of taking out one unlucky parachutist in midair and causing the rest of the guy's skydiving formation to plummet to the ground, he goes into cheerful detail about how he spent the insurance money (that he somehow received) on remodeling his bathroom. The show is funny, dark, and yet somehow doesn't feel too far from the truth. —Marc Hershon
Listen: Spotify | Apple | Website
Raised by TV — American Breakfast (With Beth Stelling)
It's hard to imagine anyone avoiding bingeing television in our current culture of cable, satellite, and streaming platforms. But Raised by TV takes us back to the late '80s and early '90s before Netflix, Hulu, and the like, when it was a little bit harder to, as hosts Jon Gabrus and Lauren Lapkus put it, hopelessly warp your mind with television. Indulging in their shared obsession, the duo revisits the best and worst of what they remember, riffing on anything from "game shows and TGIF to Oprah and cereal commercials." This week, comedian Beth Stelling joins in to discuss the seminal sitcom Married … With Children. "That show made me feel dirty," she says before they play the earworm intro, which leads to an engaging exchange about "the heightened version of acting" that multi-cam television requires and which types of comedians excel in that environment. Quickly they shift to The Marvelous Mrs. Maisel and "the eternal debate between stand-up and improv," discussing Rachel Brosnahan's portrayal of the former and their own experiences with both. Stelling hits a hilarious and human note when she declares that audiences failing to laugh at her is tantamount to them saying, "I didn't like your soul and what you showed me of you as a human." Tune in weekly for more candid conversations and TV flashbacks. —Becca James
Listen: Spotify | Apple | Website
Scriptnotes — When It's All Said and Done (With Aline Brosh McKenna)
Aline Brosh McKenna is no stranger to Scriptnotes, having most recently guested in September 2018 to discuss the progress made in the year following the Harvey Weinstein revelations. This episode picks up right where they left off by diving into Emma Thompson's poignant letter to Skydance about the hiring of John Lasseter. The discussion quickly shifts to another postmortem, this time for McKenna and Rachel Bloom's beloved Crazy Ex-Girlfriend. John August and Craig Mazin kick off the retrospective by playing a clip from one of her earliest appearances on a panel way back in 2014, when Crazy Ex-Girlfriend was still at Showtime and the world was still intact. This week, McKenna literally watched her world fall apart, as the show wrapped and the sets hit the wood chipper. She dishes on everything she learned in four seasons showrunning, from learning to delegate, letting go of perfection, and the importance of custom T-shirts. A warning for neat freaks: You'll want to skip over the part about McKenna's process for saving important computer files. Otherwise, the entire operation sounds like the platonic ideal of a writers room. It's a must-listen episode for fans of Crazy Ex-Girlfriend or any aspiring TV writer. —Mark Kramer
Listen: Spotify | Apple | Website
Other Podcasts We're Listening To:
Podcast: The Ride — Galaxy's Edge Preview With Carlye Wisel
Listen: Spotify | Apple | Website
Everything's Coming Up Simpsons — The Springfield Connection With Jenny Jaffe
Listen: Spotify | Apple | Website
Not Skinny But Not Fat — The Gut-Wrenching Bachelor Breakup
Listen: Spotify | Apple | Website
Got a comedy podcast recommendation? Drop us a line at comedypodcasts@vulture.com.