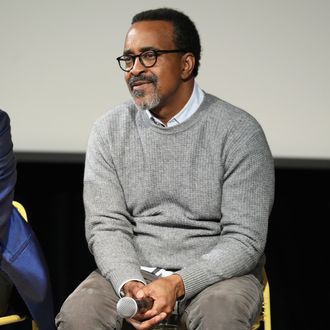 Tim Meadows.
Photo: Cindy Ord/Getty Images for SCAD aTVfest 20
Saturday Night Live alum Tim Meadows knows a thing or two about cast chemistry. During his ten seasons on SNL from 1991 to 2000, he outlasted several cast shakeups. Meadows, who is currently starring in ABC's The Goldbergs spinoff, Schooled, spoke at length about his time with the sketch-comedy institution in an interview with the Daily Beast. When asked about the unmistakable chemistry between cast members in the '90s, he noted that many of them already knew each other. Chris Rock, Adam Sandler, David Spade, Rob Schneider were friends from stand-up, and he knew Mike Myers and Chris Farley from Chicago improv. "There was a camaraderie, and then once we all got to know each other after two or three seasons, we hung out with each other all the time outside of the shows and really did become best friends — and we're still friends now," Meadows said. During the time of Norm Macdonald, [David] Spade, Molly [Shannon], Ana Gasteyer, Cheri Oteri, Will [Ferrell], it was different. He didn't know them in the beginning. He knew David Koechner, Tina Fey, Rachel Dratch, Horatio Sanz, and Adam McKay. "But then the same thing happened where once we started working together we did develop this chemistry together," says Meadows.
Now, he says, the only difference is how much current cast members have already done before they arrive at SNL. "[They're] more prepared for what SNL is and what they do there," he explained, "whereas when we came to SNL, I had never shot a video short and put it online — because there was no internet." This is especially true for SNL darling and longest-tenured cast member Kenan Thompson. "One of the reasons why he's so good is because when he was 12 or 14 he had his own sketch-comedy show," says Meadows. "He learned how to play for the camera, play for the audience, and learned what this thing was all about. When I was 12 or 14, I was in junior high watching SNL at home and had no idea what it was all about."
When asked about "black comedians getting shortchanged on SNL," Meadows was diplomatic. He said:
You know, I don't really have an answer to that. I don't think it was a thing that was on purpose, and that the producers or the network were like, "Let's not put them on the show," I just think that you had to compete with really talented writers and performers, and there's only a certain number of slots on the show every week. When I first started, I was a "featured player," so my sketch isn't gonna get on before a Dana Carvey sketch because it's his show and I'm just a new guy. But as you put more time into it, you start to get more consideration and people understand the value you have. For me, I started writing sketches for other people, because I wanted them to like me as a writer, and after that I could write sketches that had nothing to do with me being black or anything, and they took it seriously.