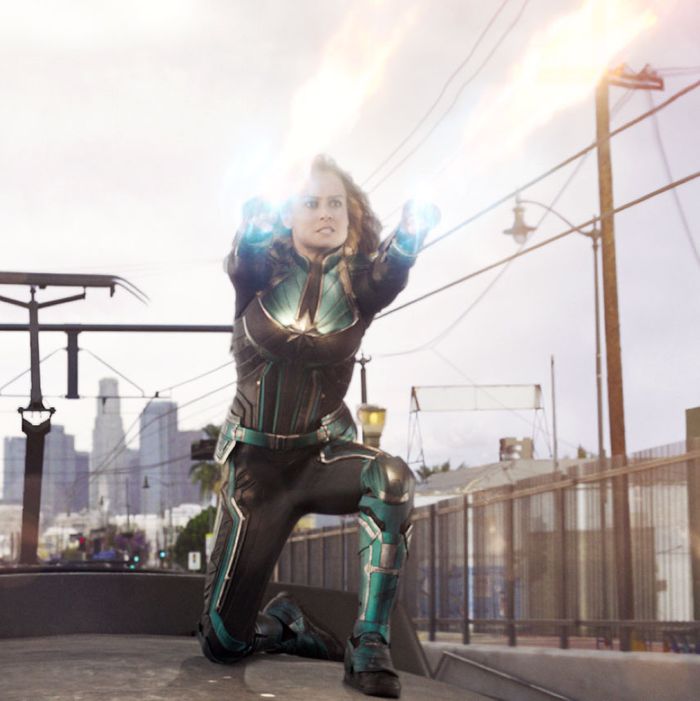 Brie Larson in
Captain Marvel
Photo: Marvel Studios
In Marvel Studios' Captain Marvel, Oscar winner Brie Larson portrays an elite extraterrestrial warrior with a cat named Goose who finds herself caught in the middle of a raging intergalactic battle. Offscreen, the comic-book movie adaptation is embroiled in its own war, clashing with internet trolls and toxic fans intent on sandbagging the action-thriller — sight unseen — with scathingly negative reviews on Rotten Tomatoes and IMDb. Ultimately, Captain Marvel looks to have won. During its opening weekend, the film grossed a robust $153 million domestically to become the Marvel Cinematic Universe's seventh-biggest opening to date.
"Any trolling had a negligible impact. It only served to heighten the conversation around the film and raise awareness," says Paul Dergarabedian, senior media analyst for Comscore.
Captain Marvel stands apart from the usual superhero fare insofar as the $152 million film represents Marvel's first stand-alone female superhero title and the MCU's first movie co-directed by a woman, Anna Boden, who shared helming duties on Captain Marvel with her longtime directing partner Ryan Fleck. (The duo are behind such Sundance breakouts as Mississippi Grind and Half Nelson but had never delivered a movie of this size, scope, and genre.) Beyond avoiding getting Ghostbuster-ed by troll opprobrium and review bombs — many of them in response to Larson's reputation as a social-justice warrior who has advocated for greater racial inclusiveness for entertainment reporters and critics of color, and memorably refused to clap for accused sexual harasser Casey Affleck at the Oscars — Captain Marvel also overcame mixed reviews from legitimate critics that ranged from positive to meh to outright boredom.
"These films are pretty much review-proof," Dergarabedian added. "Even if traditional reviewers aren't loving the film — which is legit — the Marvel brand is so powerful the films can overcome any negative reviews. Marvel is a teflon brand."
Compare Captain Marvel's opening to the first-weekend gross of the only other major Hollywood superhero film featuring a character with the XX chromosome at its center and directed by a female filmmaker: 2017's Wonder Woman, which racked up $103 million over its first three days in theaters and went on to a blockbuster worldwide gross of $821.8 million. To shatter that record, Disney strategically positioned Captain Marvel to open on National Women's Day, Thursday, when it also broke records in so-called "previews," earning $20.7 million and clocking a sky-high 96 percent on audience exit scores. The upshot? The Carol Danvers origin-story film has outearned the first installments of Marvel's Iron Man, Captain America, and Thor, taking in an additional $302 million overseas (including $89 million in China alone) for an eye-watering worldwide gross of $455 million.
That kind of audience acceptance of the character is particularly crucial given her centrality to the MCU going forward: As per a mid-credits sequence in Avengers: Infinity War, Captain Marvel is teed up to play a key role in the superhero battle royale's conclusion, Avengers: Endgame which comes out April 26
"The end of Avengers: Infinity War left off on a cliffhanger," Dergarabedian points out. "So Captain Marvel is a curtain-raiser for Avengers: Endgame. The movie's connectivity between those story lines makes it required viewing. You can't sit it out, because if you do, you'll be either lost or confused or feel like you lack continuity. It requires real commitment on the part of fans to see all the films."
Although Larson has disputed a widely cited Hollywood Reporter story that says she signed a seven-picture deal with Marvel Studios locking her into several different franchises over the coming years, the studio makes common practice of committing its stars into multi-movie agreements (Chris Evans signed a six-picture deal in his initial contract to play Captain America). And on the strength of Captain Marvel's box-office blastoff this weekend, it seems safe to assume that audiences can expect to see Larson go higher, faster, further in a sequel.