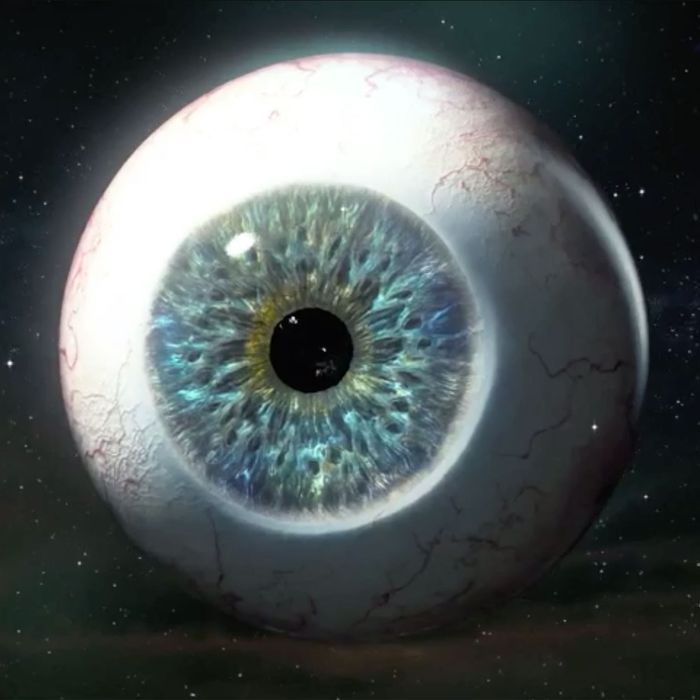 While only one episode of Jordan Peele's Twilight Zone revival dares to redo a narrative from Rod Serling's original series (albeit a much more modernized version), there was a certain strand of creative DNA nobody was going to screw around with: the opening sequence. Juxtaposing the unnerving prose of a narrator with eerie images and that unforgettable score, the show's titles are one of the most iconic in television history, perhaps only eclipsed by another creepy and kooky series that happened to air concurrently. So it should come as little surprise that when Peele and his team commenced discussions on how to reinvent the titles for 2019, everyone was in full agreement that little, if anything, should actually be altered.
"The danger of doing a new version of something classic is that you lose the classic feeling of it," executive producer Simon Kinberg told Vulture. "The theme and the title sequence is consistent with Jordan's and my approach to the whole show, which is to honor the original series — which we both love and has been so seminal in our work — but also do something that's fresh, original, and contemporary, without being too contemporary. We wanted it to feel like there were elements of the '50s and '60s, and elements of the 21st century as well."
Below, Vulture is pleased to debut The Twilight Zone's new titles ahead of its April 1 premiere on CBS All Access. Kinberg, as well as executive producer Win Rosenfeld and composers Marco Beltrami and Brandon Roberts, also reflected on the stories behind its creation, broken down here by the sequence's use of narration, imagery, and that unforgettable theme music.
Narration
Peele's slyly witty narrator is the unifying voice of each episode and the titles, weaving in and out to guide the viewer on their journey into The Twilight Zone. Initially, Peele was reluctant to take on such a role — which involves screen time as well as voice-over narration — as he didn't know if he could get past "impersonating" Serling.
"It wasn't something he wanted to do," Kinberg recalled. "The reason we wanted Jordan to do it was because, like Rod, Jordan is one of the creative engines behind the show. Having someone who is involved in writing and producing every episode is akin to what Rod did." Hiring an actor as the narrator was briefly considered and scrapped, owing to this belief that the person taking on the role should have "actual authorship" of the show. (Should the auditioning phase have taken place, though, the actor would have had to have a voice that is "authoritative and contemporary and timeless.")
"It was a sense of irony, a little taste, that Jordan wanted to bring to the persona of the narrator," Kinberg noted. "It's got some of Rod's inspiration with the show itself, and it also has something that's new and different and unique to Jordan." You'll also hear a lot of parallels — light, shadow, science, superstition — between Peele's dialogue and Serling's various iterations.
Imagery
While the revival's episodes and titles are completely shot in color, the show's creative team flirted with a black-and-white design scheme before abandoning it. "We decided we wanted to do something to honor the essence and sensibility and style of the original without going so overboard that we were doing a karaoke version of the original," Kinberg explained, with Rosenfield adding: "We realized Rod's use of black-and-white was likely more a matter of necessity than an artistic choice. He embraced innovation and frequently used every creative tool at his disposal. I'd bet that if he were making the show today, he would have had a lot of fun with colors and visual tones."
Honoring the original Twilight Zone would wind up being reflected in the title images, the majority of which are very familiar — such as an eyeball, a window, and an opening door, straight outta 1959. "We chose the ones we thought were the most iconic from the original series," Kinberg said. "They tended to be the same ones."
Theme
When Beltrami and Roberts first met to conceptualize how far would be too far to deviate from the show's original theme — composed by the maestro Bernard Herrmann — there was no disagreement about what direction to take: They wouldn't be deviating at all.
"We looked at the original sheet music, dissected it from there, and decided what we would put in," Beltrami said. "To redo it would be starting from scratch, which didn't make sense. It was always assumed that we would approach the original theme and slightly make it more modern."
The four notes that embody the theme served as the duo's "jumping-off point" for how it could segue into something a bit more modern — and soon enough, a Hammond B3 organ, harmonic guitars, baritone guitars, electric bass, drums, woodwinds, and bongos were smoothly incorporated into what the composers describe as an "eerie vocal and an electric bass pattern." Clocking in at 30 seconds, it took them around three weeks to master. As Roberts reckons: "If Bernard couldn't outdo it, there was no way we were going to outdo it."