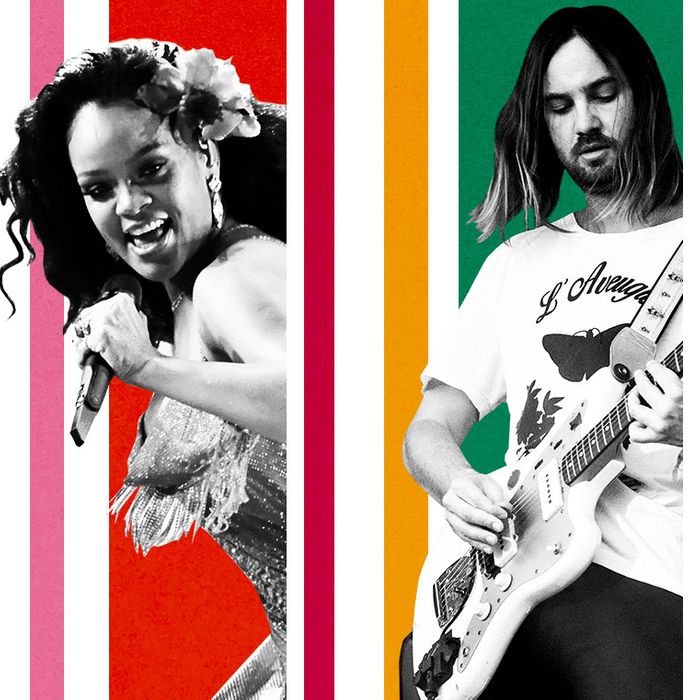 Photo-Illustration: Maya Robinson/Vulture and Photo by Getty Images
As the sun comes out of hiding in spring, so too do all the artists who've been sitting on albums for months. It's that time of year again where, in the pre-festival-season rush, New Music Friday starts to heat up with releases from big names across genres and surprise drops become unsurprisingly routine. Before we get into what expect, know that the albums below are by no means a complete list of everything coming out. This is the music industry, after all: Albums get pushed back, shelved indefinitely, or added to the calendar without notice. Will Lady Gaga birth #LG6? Is Rihanna finally, actually returning to music now that she's conquered every other industry? Are we ever gonna get a better explanation for Vampire Weekend's new album title? All will (hopefully) be revealed in due time. Until then, here are the albums we're most excited to hear and speculate wildly about over the new few months.
Ex Hex, It's Real (March 22)
D.C. singer and guitarist Mary Timony has a storied history of work as a bandleader and a collaborator of stars like Stephin Merritt of the Magnetic Fields, Carrie Brownstein of Sleater-Kinney, and Deftones frontman Chino Moreno. This spring, Ex Hex, Timony's flagship project since the dissolution of the supergroup Wild Flag, releases its sophomore album, It's Real. The new songs strike a cool balance between sunny Cali rock reverie and classic heavy metal riffage. It's a little bit "Kiss Me Deadly" and a little bit "Cherry Bomb."
Jenny Lewis, On the Line (March 22)
On the Line, former Rilo Kiley singer-songwriter Jenny Lewis's first album since 2014's The Voyager, picks right up where the last one left off. It's a collection of bright, rootsy vehicles for Lewis's searching lyrics and soaring, transcendent vocals. "Wasted Youth," "Heads Gonna Roll," and "Red Bull & Hennessy" sound like long-lost AM-radio gems, thanks to Lewis's enduring talents and a rich stable of cohorts, including rock and roll lifers like the legendary producer and session player Don Was, Tom Petty and the Heartbreakers co-founder and keyboard player Benmont Tench, and ex-Beatle Ringo Starr.
Billie Eilish, When We Fall Asleep, Where Do We Go? (March 29)
Billie Eilish never makes the same song twice; she's only 17, but her growing catalog displays a wisdom beyond her years. Art is in her lineage; her parents are the actors Maggie Baird and Patrick O'Connell, and her brother Finneas O'Connell acts and produces. Billie and Finneas co-authored the genre-defying songs comprising her debut album, When We Fall Asleep, Where Do We Go? The writing is raw, and the range is impressive. She can deliver a scathing kiss-off or a mournful ballad about missing someone in the same wounded whisper. This is one to watch.
Steve Earle and the Dukes, Guy (March 29)
A decade after celebrating his mentor, Texas troubadour Townes Van Zandt, on the covers album Townes, singer-songwriter Steve Earle readies another album-length appreciation of one of his heroes with the forthcoming Guy, a collection of covers of the late Lone Star State song scribe Guy Clark. Earle and his backing band, the Dukes, deliver reverent readings of gems from every corner of Clark's career, from the old No. 1 classics "L.A. Freeway" and "She Ain't Going Nowhere" through '90s highlights like "Dublin Blues" and late-career gold like "The Death of Sis Draper." Guy's guest list is a constellation of Americana royalty: Emmylou Harris, Rodney Crowell, Terry Allen, and others lend a hand.
Anderson .Paak, Ventura (April 12)
Soul singer, rapper, and drummer Anderson .Paak closes out his "beach series" of albums detailing his experiences growing up in SoCal surf country with April's Ventura. Expect more of the rap, soul, pop, and disco gumbo that .Paak served throughout 2016's Malibu and last year's Oxnard. The guest list for Ventura is stacked: Smokey Robinson, Brandy, André 3000, and the late, great Nate Dogg all contribute vocals.
Lizzo, Cuz I Love You (April 19)
Lizzo is the total package. She raps, sings, dances, and plays the flute. The rising Midwest star's third album and major-label debut, Cuz I Love You, showcases her chops as a performer while smartly establishing everything she can do that her peers can't. Plenty of singers can handle retro-leaning soul, but not many can make it rip-roaringly self-deprecating, as "Cuz I Love You" does. The only other artists making dance-pop as bright and good-spirited as Lizzo's "Juice" are Anderson .Paak and Bruno Mars, and they're out doing arena tours. Climb on this bandwagon while there's time.
The Cranberries, In the End (April 26)
The loss of Cranberries singer Dolores O'Riordan to accidental drowning last winter came a shock. The Irish alt-rock legend's voice provided comfort to listeners who came of age to '90s hits like "Dreams" and more. The story of In the End, the last Cranberries full-length, is eerie. The band started demoing tracks in late 2017. O'Riordan's final exchange with her bandmate Noel Hogan was an email containing new music. The songs are bittersweet. "All Over Now" and "The Pressure" are as wistful and emotional as anything the band made at its peak. One wonders what the band could've done with a little more time.
The Mountain Goats, In League With Dragons (April 26)
The Mountain Goats' John Darnielle uses music to explore the intersection between fandom and identity; his songs muse about professional wrestlers, goths, and metalheads with tenderness and patience. The new In League With Dragons gives this treatment to tabletop role-playing game culture. The album was announced in an appearance at the headquarters of the RPG and card game publisher, Wizards of the Coast. Cuts like "Cadaver Sniffing Dog" speak of fantasy, mystery, and human courage. Recommended for fans of Dungeons & Dragons, breezy folk-rock, and the occasional unexpected sax solo.
Vampire Weekend, Father of the Bride (May 3)
Album number four from the New York indie rock trio Vampire Weekend is a double; singer-songwriter Ezra Koenig told Entertainment Weekly he got inspired to expand his band's musical palette and make their next album the way pop stars do after his experiences collaborating in a writing camp on last year's Kanye West album Ye. The result, this spring's Father of the Bride, sees Koenig and company in collaboration with Jenny Lewis and members of Haim, the Internet, and the Dirty Projectors. Outside players carry the band way past its comfort zone on cuts like "Sunflower" and "Harmony Hall."
Mac DeMarco, Here Comes the Cowboy (May 10)
When Edmonton, Alberta indie rocker Mac DeMarco announced his new album, Here Comes the Cowboy, with a video in which he sings a song called "Nobody" in a lizard mask and cowboy hat, indie rock fans assumed it was a gag. (The centerpiece of Mitski's recent, triumphant Be the Cowboy is a song called "Nobody.") Whether DeMarco is trolling with his titles or not, he is serious about this being his "cowboy record." Here Comes the Cowboy leans toward country in the same way 2017's This Old Dog played around with synths; like the last album, Cowboy is proof that DeMarco's wistful melodies and slacker feels coast in any setting.
The National, I Am Easy to Find (May 17)
The seed for I Am Easy to Find, the forthcoming album and video project by Ohio indie rock vets the National, was planted not long after the release of their seventh album, Sleep Well Beast, when Thumbsucker and 20th Century Women director Mike Mills introduced himself to lead singer Matt Berninger. Their conversations quickly turned into plans for an interdisciplinary project. The new music is a dialogue between synthetic and organic sounds, and between men's and women's voices, as guests like Lisa Hannigan and Sharon Van Etten trade vocals with Berninger. I Am Easy to Find isn't a visual album in the traditional sense; Mills refers to the film and the songs as "playfully hostile siblings that love to steal from each other."
Sebadoh, Act Surprised (May 24)
Indie rock lifer Lou Barlow has been a juggler since the '80s. He divides his time between the alt-rock progenitors Dinosaur Jr., his lo-fi outfit Sebadoh, and the occasional solo album. Following the 2015 solo full-length Brace the Wave and the 2016 Dino album Give a Glimpse of What Yer Not, Lou now returns to Sebadoh. The trio's first outing since the 2013 reunion album Defend Yourself is cheekily titled Act Surprised. (Barlow's been talking it up for a year, at least.) The lead single "Celebrate the Void" has all the Sebadoh trademarks — harrowing emotional directness, dueling vocalists, jangly guitars, and airtight power-trio riffage — unblemished by the passage of time.
Lana del Rey, Norman Fucking Rockwell (TBD)
Lana del Rey does not fuck around. In 2017, she led a group of followers to put a hex on the president. Last fall, her beef with the rapper Azealia Banks peaked when Lana tweeted, "I won't not fuck you the fuck up." Anyone following her music already knew it. Over the course of five studio albums, the Cali-based singer has developed a devastating pen. Her new album, Norman Fucking Rockwell, could be her best yet. Spare, folky songs like "Venice Bitch" and "Hope Is a Dangerous Thing for a Woman to Have" recoup on Lana's appreciation for the music of the late Leonard Cohen while retaining the crass lyrics and fascination with shattered American dreams that informed her more overt pop moves.
Childish Gambino, TBD (TBD)
How do you top "This Is America," a song that stopped the culture for a minute, reeling everyone from hip-hop heads to suburban moms into its violent world? Donald Glover is taking his time. Last July, he released the breezy Summer Pack EP, then closed out the year on tour, where he played bits of more new music. Clips of a forthcoming film project, possibly titled Guava Island and starring Glover and Rihanna, were shown at the New Zealand edition of his multimedia live experience, Pharos. (Glover premiered "Awaken, My Love!" in full at a 2016 Joshua Tree event.) What are they plotting? Time will tell.
MadGibbs (Freddie Gibbs & Madlib), Bandana (TBD)
Five years after captivating the rap world with the 2014 rapper/producer summit Piñata, Indiana rhymer Freddie Gibbs and Cali sample whiz Madlib reunite as MadGibbs for the follow-up, titled Bandana. Per usual, the "Beat Konducta" serves up an unpredictable range of sounds, and Gibbs, unflappable on the mic since the release of The Miseducation of Freddie Gibbs ten years ago, crushes every last syllable.
Rihanna, TBD (TBD)
Rihanna is coming. The Barbadian singer took time off from music following 2016's Anti to broaden her horizons, having spent the last two years shoring up a fashion and beauty empire. Still, she's nowhere close to being done with music, yet: last year she told Vogue she wanted to make a reggae album, after famously clowning Diplo for producing what she called "airport reggae." One hopes that new picture of her buddy/assistant Jennifer Rosales's newborn son wearing studio monitor headphones, supposedly listening to Rihanna's new album, means the time for its release is nigh.
Slipknot, TBD (TBD)
Downtime between Slipknot albums rarely goes quietly for the Iowa metal veterans. Singer Corey Taylor splits his break time between fronting his other band Stone Sour, popping up on stage to sing at friends' shows, and ribbing rock stars he feels aren't up to snuff. Percussionist Shawn Crahan makes movies. Drummer Chris Fehn is currently suing his own band. In the midst of all this creation and destruction, a brand new Slipknot album is in the works. Last fall's crushing lead single, "All Out Life," suggests a turn away from the slick hard rock and dark ambient excursions that broke up the heaviness of 2014's .5: The Gray Chapter, a grief-stricken tribute to the band's fallen founding bassist, Paul Gray.
Tame Impala, TBD (TBD)
Since the release of 2015's pop/rock/dance game changer Currents, Tame Impala mastermind Kevin Parker has been on a tear, contributing to projects by Travis Scott, Kanye West, and Lady Gaga, who sought him out for help with production on her Joanne single "Perfect Illusion." Parker is mum about what's next, but an Instagram post — captioned, "New year. New shows. New music." — and a string of spring tour dates, including the Saturday headlining slot at Coachella, suggest something big is on the way.