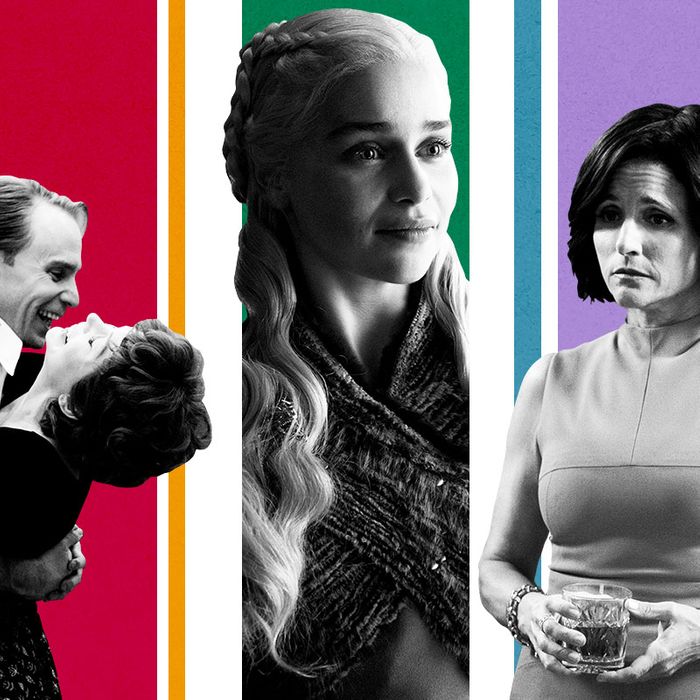 Left to right:
Fosse/Verdon
,
Game of Thrones
,
Veep
.
Photo: Maya Robinson/Vulture and Photos by FX and HBO
The clocks jumped forward, the Ides of March have passed us, and all of those winter shows are beginning to melt due to the accelerated effects of global warming. You know what that means: Spring has sprung and a new TV season is upon us! It's going to be a doozy for your DVRs unless you plan your schedule carefully, as we have a mix of returning favorites and newbies destined to have you read our recaps and/or rewatch the trailers a hundred more times. Browse below for Vulture's highlights and favorites premiering this springtime, as well as the entire lineup with premiere dates included. Happy watching!
The OA Part II (March 22, Netflix)
Brit Marling and Zal Batmanglij's The OA might not be for everybody — interpretive dance enthusiasts or otherwise — but the mystery-box extravaganza is finally back for a second season after a wildly long wait. This time around, Marling's OA (you can also call her Prairie) finds herself waking up in an alternate-universe version of San Francisco, where she gets mixed up with a private detective (Kingsley Ben-Adir) looking for a missing teen. Oh yeah, and all of her pals in the other dimension are wondering where she disappeared to, which should make for good parallel stories.
What We Do in the Shadows (March 27, FX)
Show us your fangs! Adapted from Jemaine Clement and Taika Waititi's very funny mockumentary horror film of the same name, What We Do in the Shadows follows four vampire BFFs who have been making do with living in New York City — but in unglamorous Staten Island, and not, like, in a Brooklyn Heights rowhouse. They have handlers who help lure humans to their abode for feasting purposes, as they're mostly preoccupied by obtaining "total and complete domination of the New World." Good luck with that, gang.
Veep (March 31, HBO)
After giving Julia Louis-Dreyfus some time to kick breast cancer to the curb — and prepare her next Emmys speech, presumably — Veep is returning for its seventh and final season. It's the same as it ever was for Selina Meyer, who's determined to take a dump on the glass ceiling by giving a presidential run another shot, even if her team of cohorts believe it's the worst decision she could possibly make. But who knows, she might stand a chance if she can swallow her pride and pander to America's "disgusting" dummies.
The Twilight Zone (April 1, CBS All Access)
Horror maestro Jordan Peele will be blessing us, to quote a wise narrator, with "dimension in imagination" thanks to his Twilight Zone reboot. Reimagined anthology favorites such as "Rewind" and "Nightmare at 30,000 Feet" will be paired with completely new narratives to better reflect our current times, and a carousel of actors such as Adam Scott, Seth Rogen, John Cho, Ginnifer Goodwin, and Kumail Nanjiani have signed on to journey into the Zone.
Killing Eve (April 7, BBC America/AMC)
Jodie Comer almost died filming this season of Killing Eve, so the least we can do is watch it for her, no? Picking up immediately after the events of the first season's finale, the twisted-slash-horny cat-and-mouse game shared between Eve (Sandra Oh) and Villanelle (Comer) continues as the duo scamper around each other, eagerly awaiting the other to strike. Time will tell whether the MI6 officer or trained assassin will prove to be the ultimate victor, so in the meantime, we're just excited to see the killer outfits.
Fosse/Verdon (April 9, FX)
Warm up your finest jazz hands and hit 'em with that ol' razzle-dazzle, baby! The creative and romantic partnership shared between famed choreographer-director Bob Fosse (Sam Rockwell) and Broadway icon Gwen Verdon (Michelle Williams) is the focus of this FX limited series, which traces their modest beginnings to their ascension to stage superstardom. But while they looked like a glamorous supercouple to their adoring fans, their relationship was anything but stable when the curtain dropped, which is what Fosse/Verdon plans to explore.
Game of Thrones (April 14, HBO)
You'll be hard-pressed to get any Game of Thrones actor to break their NDAs to discuss the show's final season — we do have the episode names and lengths, which is nice! — but if the trailer tells us anything, it's that we can expect some Winterfell crypts, Euron Greyjoy's magical teleporting fleet, majestic dragons, Jon and Dany leading the Unsullied in a march, and Cersei drinking a nice merlot. There's some plot continuity in there somewhere.
Catch-22 (May 17, Hulu)
How nice of George Clooney to finally reappear on television after all these years. Adapted from Joseph Heller's influential satirical novel, Catch-22 deals with the internal struggle of a bombardier (Christopher Abbott) stationed on an Italian island during World War II, who wants nothing more than to return home as soon as possible. However, questionable bureaucratic rules make it difficult for him (or anyone, really) to leave the service on their own accord, thanks to the dangerous missions they're tasked with carrying out, so either way, he'll be in violation of something if he doesn't follow orders. And just like that, a noun is born!
Fleabag (May 17, Amazon Prime Video)
It took three years, but everyone's favorite "greedy, perverted, selfish, apathetic, cynical, depraved, morally bankrupt" woman is back terrorizing the streets of London, and not a day too soon. Phoebe Waller-Bridge was nice enough to bring a few Fleabag favorites back for the show's God-curious second season — we see you, Olivia Colman playing a horrible godmother — as well as some very welcome newbies, including Andrew Scott as a sexy priest and Fiona Shaw as a therapist. We'll try not to partake in a sinful binge-watch, but no guarantees.
Good Omens (May 31, Amazon Prime Video)
Armageddon might be coming, but try not to worry about it too much. Adapted from Terry Pratchett and Neil Gaiman's fantasy novel, Good Omens revolves around a handsome demon (David Tennant) and an even foxier angel (Michael Sheen), who, despite being on the opposite sides of that whole heaven versus hell debate, have become best mates while living on Earth together over the past few centuries. When the coming of the Antichrist threatens their cushy lives of leisure, they have to band together, buddy-comedy style, to prevent the end of the world from actually happening. Ugh, just let them chill in bookshops in peace!
The full spring 2019 premiere lineup, listed in Eastern Standard Time.
Wednesday, March 20
12 a.m. The Act, Hulu
12 a.m. Step Up: High Water, YouTube
8 p.m. Pretty Little Liars: The Perfectionists, Freeform
Thursday, March 21
3 a.m. Antoine Griezmann: The Making of a Legend, Netflix
8 p.m. Waka & Tammy Tie the Knot, WE
Friday, March 22
12 a.m. Cardinal, Hulu
3 a.m. Carlo & Malik, Netflix
3 a.m. Charlie's Colorforms City, Netflix
3 a.m. Crime Diaries: The Candidate, Netflix
3 a.m. Delhi Crime, Netflix
3 a.m. Selling Sunset, Netflix
3 a.m. The OA, Netflix
Saturday, March 23
8 p.m. Nickelodeon's Kids' Choice Awards, Nickelodeon
Sunday, March 24
8 p.m. Action, Showtime
10 p.m. Into the Badlands, AMC
10 p.m. Mission Declassified, Travel
Monday, March 25
8 p.m. Love & Hip Hop, VH1
8 p.m. Jesus: His Life, History
10 p.m. Knightfall, History
Wednesday, March 27
9 p.m. Jane the Virgin, CW
9 p.m. Million Dollar Mile, CBS
9 p.m. What We Do in the Shadows, FX
10 p.m. Happy!, Syfy
Thursday, March 28
9 p.m. Flip or Flop Vegas, HGTV
9 p.m. Little Women: Atlanta, Lifetime
9:30 p.m. Abby's, NBC
10 p.m. Impractical Jokers, truTV
10:30 p.m. Tacoma FD, truTV
Friday, March 29
12 a.m. Hanna, Amazon Prime Video
12 a.m. Harlots, Hulu
3 a.m. On My Block, Netflix
3 a.m. Santa Clarita Diet, Netflix
3 a.m. Traitors, Netflix
Saturday, March 30
9 p.m. Animal ER Live, Nat Geo Wild
9 p.m. 50th NAACP Image AWards, TV One
Sunday, March 31
8 p.m. Call the Midwife, PBS
9 p.m. Keeping Up With the Kardashians, E!
9 p.m. Mrs. Wilson, PBS
10 p.m. Barry, HBO
10:30 p.m. Veep, HBO
Monday, April 1
12 a.m. The Twilight Zone, CBS All Access
3 a.m. Cannon Busters, Netflix
8 p.m. DC's Legends of Tomorrow, CW
9 p.m. Hostile Planet, National Geographic
9 p.m. Penn & Teller: Fool Us, CW
10 p.m. Escaping Polygamy, Lifetime
Tuesday, April 2
9 p.m. Little People, Big World, TLC
10 p.m. 7 Little Johnstons, TLC
10 p.m. Legendary Locations, Travel
10:30 p.m. The Last O.G., TBS
Wednesday, April 3
10 p.m. Brockmire, IFC
Thursday, April 4
8 p.m. Marvel's Cloak & Dagger, Freeform
9 p.m. Braxton Family Values, WE
9 p.m. In the Dark, CW
9 p.m. Unspeakable, Sundance
9 p.m. Wife Swap, Paramount
10 p.m. Ghost Bait, Travel
Friday, April 5
12 a.m. The Tick, Amazon Prime Video
3 a.m. Chilling Adventures of Sabrina, Netflix
3 a.m. Our Planet, Netflix
3 a.m. Quicksand, Netflix
10 p.m. Warrior, Cinemax
11 p.m. Wyatt Cenac's Problem Areas, HBO
Saturday, April 6
9 p.m. Big Texas, DIY
11 p.m. Mom & Me, HGTV
Sunday, April 7
8 p.m. 54th Academy of Country Music Awards, CBS
8 p.m. Killing Eve, BBC America
9 p.m. A Discovery of Witches, BBC America
10 p.m. The Chi, Showtime
10 p.m. Unforgotten, PBS
Tuesday, April 9
8 p.m. The Bold Type, Freeform
9 p.m. The Code, CBS
9 p.m. Deadliest Catch, Discovery
10 p.m. Fosse/Verdon, FX
10 p.m. You Me Her, DirecTV
Thursday, April 11
10:30 p.m. The Flay List, Food
11 p.m. Double Shot at Love With DJ Pauly D and Vinny, MTV
Saturday, April 13
8 p.m. Nate & Jeremiah, TLC
Sunday, April 14
9 p.m. Game of Thrones, HBO
9 p.m. Les Misérables, PBS
Monday, April 15
3 a.m. No Good Nick, Netflix
9 p.m. Arrow, CW
Tuesday, April 16
9:30 p.m. Bless This Mess, ABC
Wednesday, April 17
10 p.m. Breakthrough: The Ideas That Changed the World, PBS
Thursday, April 18
3 a.m. My First First Love, Netflix
8:30 p.m. Life in Pieces, CBS
Friday, April 19
12 a.m. Bosch, Amazon Prime Video
12 a.m. Ramy, Hulu
3 a.m. Samantha!, Netflix
3 a.m. Rilakkuma and Kaoru, Netflix
9 p.m. I Ship It, CW
9 p.m. Portals to Hell, Travel
Saturday, April 20
7 p.m. Murdoch Mysteries, Ovation
9 p.m. Restaurant: Impossible, Food
Monday, April 22
9 p.m. Live Rescue, A&E
Wednesday, April 24
12 a.m. Cobra Kai, YouTube
Thursday, April 25
9 p.m. Top Gear, BBC America
Friday, April 26
3 a.m. She-Ra and the Princesses of Power, Netflix
8 p.m. Rock and Roll Hall of Fame Induction Ceremony, HBO
9 p.m. The Son, AMC
10 p.m. Not the White House Correspondents' Dinner, TBS
Sunday, April 28
8 p.m. The Red Line, CBS
9 p.m. Deep State, Epix
Tuesday, April 30
9 p.m. The 100, CW
Wednesday, May 1
8 p.m. 2019 Billboard Music Awards, NBC
11 p.m. The Name of the Rose, Sundance
Thursday, May 2
8 p.m. iZombie, CW
9:30 p.m. Best Room Wins, Bravo
Friday, May 3
12 a.m. Into the Dark: All That We Destroy, Hulu
12 a.m. Your Pretty Face Is Going to Hell, Adult Swim
3 a.m. Tuca & Bertie, Netflix
Sunday, May 8
8 p.m. Good Witch, Hallmark
8 p.m. The Spanish Princess, Starz
Monday, May 6
8 p.m. Bachelorette Reunion: The Biggest Bachelorette Reunion in Bachelor History Ever!, ABC
9 p.m. Chernobyl, HBO
Friday, May 10
9 p.m. Wu-Tang Clan: Of Mics and Men, Showtime
Monday, May 13
8 p.m. The Bachelorette, ABC
9 p.m. L.A.'s Finest, Spectrum
Friday, May 17
12 a.m. Catch-22, Hulu
12 a.m. Fleabag, Amazon Prime Video
Sunday, May 19
9 p.m. Secrets of the Zoo, Nat Geo Wild
Wednesday, May 22
8 p.m. The Amazing Race, CBS
Friday, May 24
3 a.m. She's Gotta Have It, Netflix
Monday, May 27
9 p.m. The Hot Zone, Nat Geo
Tuesday, May 28
8 p.m. America's Got Talent, NBC
10 p.m. Songland, NBC
Wednesday, May 29
8 p.m. American Ninja Warrior, NBC
9 p.m. Property Brothers: Forever Home, HGTV
10 p.m. Light Falls, PBS
Friday, May 31
12 a.m. Good Omens, Amazon Prime Video
3 a.m. When They See Us, Netflix
Don't miss Vulture's guides to the best spring movies and best spring music.