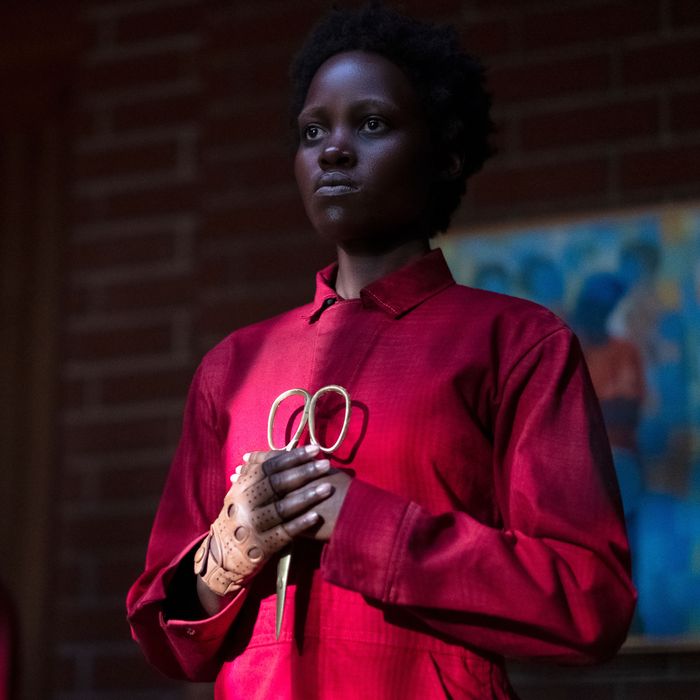 "I'd like to thank the Academy …"
Photo: Claudette Barius/© 2019 Universal Studios. All Rights Reserved.
It's only been a month since the 2019 Oscars, and now we're making you read about the 2020 Oscars? Yes, but luckily we've got a good excuse: Jordan Peele's Us, the director's critically acclaimed, massively popular follow-up to Get Out. Us is the most talked-about film of the year so far, and pundits are already wondering whether star Lupita Nyong'o has a real shot at an Academy Award nomination. With the caveat that it's way too early to say anything definitive about the Oscar race, let's examine the path that could lead Nyong'o to her second career nod.
Much as the shadows of the Tethered stretched out in that driveway, the shadow of Get Out looms large over Us. Peele's debut film was a cultural phenomenon, and it eventually managed to beat the odds and score four Oscar nominations, notching a win for Original Screenplay. Just by nature of being a second film, Us was never going to be Get Out. (And Peele has been very open about wanting to do something different this time around.) When it comes to "elevated horror," his new movie is a little less elevated and a little more horror, though the central metaphor is still ripe for juicy interpretations. I know fans hate the term "elevated horror," but I think it's a helpful way of distinguishing the types of horror movies Oscar usually goes for: either arty auteur pictures (Black Swan), or canonical achievements too good to be ignored (The Exorcist, Silence of the Lambs, The Sixth Sense). Otherwise, the Academy prefers to confine genre movies to the dingy basement of the craft categories. Get Out was exceptional enough to make the journey upstairs, but it might be a harder jump for Us.
Still, the fear of a sophomore slump may be overblown. Peele is one of more than 20 filmmakers to earn a Best Director nomination for their first movie, and the vast majority of these directors' second films scored at least one nomination, as well — a list that includes films as diverse as Orson Welles's The Magnificent Ambersons, Roland Joffé's The Mission, and John Singleton's Poetic Justice. Oscar voters have diverse tastes, but they usually like voting for people they've voted for in the past.
And when it comes to Oscar, Us has something in its corner that Peele's earlier film didn't — a powerhouse central performance. Not to take anything away from Daniel Kaluuya's work in Get Out, but that was a more subtle, reactive part than what Nyong'o is tasked with doing here. (That he managed to get a nomination without a big scenery-chewing scene is a testament to his talents.) Lupita's got a dual role as two mirrored characters: one a frantic mother determined to survive at all costs, the other a murderous doppelgänger who ranks as the most off-putting screen character of the year. Recent trophies for Gary Oldman and Rami Malek prove how much Oscar loves a physical transformation, and Us gives one in the movie itself: Adelaide, our protagonist, is skittish and alert, pricking up her ears at the slightest danger even before the killings start; Red, her double, is stiff and formal, with a walk straight out of your nightmares, and a voice that sounds like a broken vacuum cleaner. After a few scenes, it's easy to forget that both women are being played by the same actress.
In Oscar history, two actors have earned nominations for playing dual roles: Lee Marvin for the 1965 Jane Fonda Western Cat Ballou, and Nicolas Cage for Spike Jonze's 2002 Adaptation. (Both played brothers; Marvin wound up winning.) I haven't done the math on whether, proportionately, two nominations for actors who played doubles is higher than the hundreds of nominations for actors who only played one character, but at the very least, it proves that the Academy is not averse to the stunt.
Skeptics of a Lupita nomination can point to Toni Collette in Hereditary as a cautionary tale. Collette too was an Oscar-certified actress who earned some of the best reviews of her career for a horror movie released early in the year, but though she scored at some of the hipper precursors, she never cracked Best Actress in any of the major ceremonies. However, Hereditary was a small film put out by A24, a distributor that despite its pristine reputation has had a hard time getting its films to catch on with Oscar voters recently. Us was released by Universal, a big studio with an awards budget to match. (In its opening weekend, Us nearly doubled Hereditary's entire domestic haul.) If we're looking for a better comparison from last year, it might be A Quiet Place, another spring thriller that performed surprisingly well at the box office. Though it didn't end up nabbing a Best Picture nomination, John Krasinski's movie hung around the conversation all year long, and wound up with a surprise Supporting Actress win for Emily Blunt at the SAGs. That seems to me a reasonable benchmark for what a mainstream horror film that isn't Get Out can achieve in the current awards landscape.
That both Nyong'o and Peele are past winners surely helps overcome any institutional bias against horror, as well. As I mentioned, Oscar voters are creatures of habit, especially when it comes to ingenues, who after their first nod tend to get nominated again and again. (See: Jennifer Lawrence and Emma Stone.) Nyong'o is beloved in the industry, and while it's too early to determine how hard she might campaign in the fall, she's been doing an amazing job repping the film on red carpets and interviews during this current promotional cycle.
Ultimately, much of Nyong'o's Oscar chances rest on something that has nothing to do with her performance — the strength of next year's field. Kaluuya earned his nomination not just because he was the face of a major Best Picture contender, but also because one of his year's presumptive Best Actor frontrunners was in a movie that was a bit of a snooze, and another competitor disappeared from the campaign scene after sexual misconduct allegations emerged. The past three Best Actress races have been incredibly competitive, and this year looks to continue the trend, with possible contenders like Cynthia Erivo in Harriet, Saoirse Ronan in Little Women, Renée Zellweger in Judy, and Meryl Streep in The Laundromat looming large. If Red and Adelaide want to make the cut next January, they may have to hope that a few of those rivals stumble along the way. If only they had the right footwear.