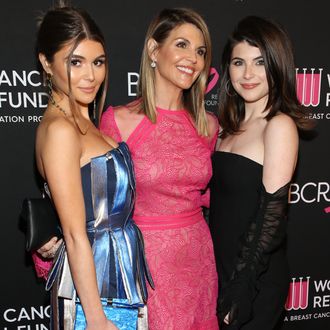 Olivia Giannulli, Lori Loughlin, and Isabella Giannulli.
Photo: Phillip Faraone/WireImage
It's been a pretty quiet week for the parents allegedly involved in the massive college admissions bribery scandal, as they all get their legalese in order and await their respective court dates. The same goes for their children, too: Olivia Jade and Isabella Giannulli, who allegedly only attended USC thanks to their parents, Lori Loughlin and fashion designer Mossimo Giannulli, paying bribes up to $500,000 in exchange for them becoming recruits on the crew team, haven't been spotted attending school since the scandal broke. However, USC is insisting the ladies are "still enrolled" as students, releasing a statement to NBC News to explain how its investigation is moving forward. "USC is conducting a case-by-case review for current students and graduates that may be connected to the scheme alleged by the government," it reads, "and will make informed decisions as those reviews are completed."
It was previously reported that Olivia Jade, a well-known influencer, had no plans to return to USC in the aftermath of the scandal. She's also lost numerous partnerships with beauty companies in the past week, which include Sephora, TRESemmé, and Estée Lauder. As for her mother, Loughlin has lost her two cushiest acting jobs because of her alleged involvement: Netflix has "no plans" to bring her back for the fifth and final season of Fuller House, while the Hallmark Channel has completely severed ties with her for their television shows, films, and holiday programming. Loughlin's next court appearance is set for March 29 in Boston.