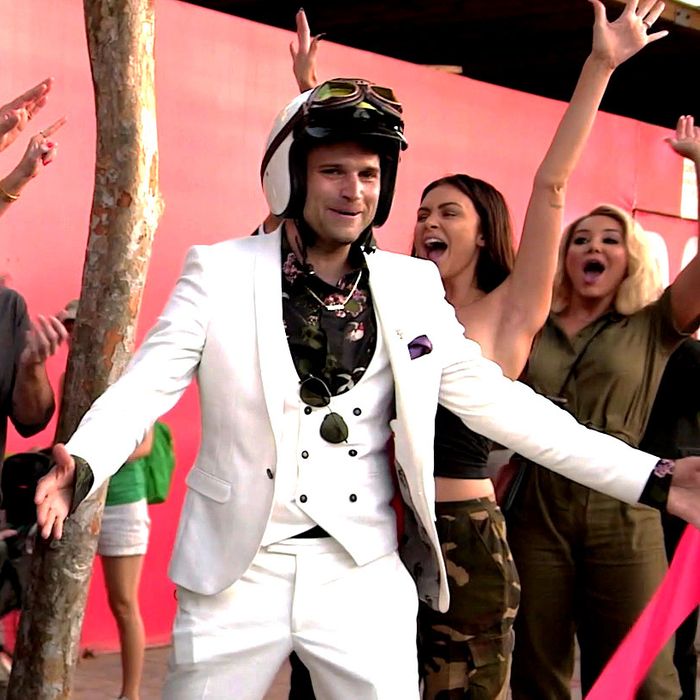 I'm so glad that this episode focuses mostly on the opening of Tom Tom and the group's trip to Mexico, two events DJ James Kennedy was banned from. That means I only have to see James's baby gerbil face on my screen for a couple of minutes this entire episode. I have conflicted feelings about James, because I know that he makes for great reality television, but he is such a Hindenburg of a person that I can't stand to look at him. James reminds me that everything everyone says about reality TV exploiting vulnerable people is true, and then I have to question all of my dearly held beliefs and eventually curl up in bed with three packages of Funny Bones just to make it through the day.
He only has one scene in this episode, where he goes to play pool with Lisa's son Max, and it totally made me hate him. While I think it's great he stayed out of the fray with Lala last episode, it's like he wants that one instance to balance the ledger on bad behavior that has been going on for years. Then he tells Lisa he had a beer with his father to "celebrate being so good." Hmmm, I wonder what the match was that set James's Hindenburg ablaze? (Here's a hint: It was his parents.)
Lisa tells him that he is an alcoholic, since his drinking led him to lose his job and all of his friends. That is pretty close to the textbook definition, but James hasn't hit his rock-bottom quite yet. The long run doesn't look too sunny for dear old James, because he is currently unwilling to make any real changes and wants an exorbitant amount of credit for the small adjustments he's willing to make.
Without him, the Tom Tom opening goes off mostly without a hitch. The Toms wear matching white suits and print shirts and it's just absolutely adorable. Sandoval spent $18K on a motorcycle with a sidecar that he had the Tom Tom logo painted all over. It's a really cute stunt, but I'm with Ariana, couldn't we have just rented one? How often does one need a motorcycle and sidecar?
I almost died of cuteness, though, when Schwartz comes out of his apartment and finds Sandoval with the motorcycle. He also unwraps his presents from Tom: "Oh, you got me gloves. I love gloves. Oh you got me a goggles, I love goggles." When the two of them pull up in front of the restaurant all decked out like this on their motorcycle, it looks like they're about to get married. This looks even more like a gay wedding than when I saw two muscle-bears with identical tribal tattoos wearing matching Speedos and leis getting wed on the beaches of Fire Island. It's like Tom Tom of Finland up in that piece.
Everyone came out for the big opening, including Lisa's archnemesis Kristen, and they all sit at one big table. Well, Scheana and Adam are relegated off to a table on the side, which really spells out Scheana's position for this entire season. At the big table they have the same waiter I had when I visited Tom Tom. I forget his name, but he's a Mariah Carey superfan who spent about 20 minutes talking to us about Mimi before telling us that he is straight. It was the craziest thing I ever heard in my life, but he was also an excellent server, so good job The Toms (or more likely Pandora).
Of course, nothing about the Tom Tom opening is good for Katie. Without DJ James Kennedy around, we need a soul-sucking vortex of need and this episode, that role will be played, just like it was in olden times, by Katie Maloney-Schwartz. Katie's upset because Schwartz isn't giving her enough attention during the opening. I'm sorry, Katie, but this is not your night. Your name is neither Tom nor Tom. You do not work in this part of Lisa Vanderpump's Epcot for Housewives fans in WeHo. Go back to your own part of the amusement park if you want everyone to fawn over you.
It's sort of like when your partner has a 30th or 40th birthday party. Maybe he wins an award at work. Maybe he is in the finals of whatever bullshit after-work sporting league he's in. Those are occasions when everyone wants to talk to him, and you just need to take a back seat, get all of the good gossip from everyone else, and tell him that in the cab ride home. What's even worse is that every single one of Katie's friends is there, and she still feels like she isn't being given enough attention because everyone is fêting Tom for a change.
What makes it even worse is that her man gets upgraded to first class for the flight to Mexico and she doesn't. When she walks on the plane, she literally says, "Will you switch with me?" and he says, "No. Sorry." That was the dumbest thing I have ever seen a human being do in my life. That was even dumber than when Carter tried to take on Stassi and Katie and blame them for the failure in his relationship. It was even dumber than Raquel doing whippets while tailgating to see an unranked state school play football, which is ironic because Raquel is literally a balloon of whippets you do while tailgating to see an unranked state school play football.
If I was with my partner and I got upgraded to first and he had to sit in coach would I switch? No. But he also flies me coach while he's at the front of the plane in business and karma is a bitch. Secondly, my partner is not Katie. He is a nice, handsome, reasonable human being who would be jealous but happy that I got to spend a short two-and-a-half hour flight in unexpected luxury.
Katie, on the other hand, is a bottle full of rage with no cap. I also suspect that in this instance she has been drinking, because once she's slighted she spends the rest of the flight rage-texting Schwartz. It's unclear if he had WiFi up there in first and was getting these texts, or if he just got off the plane and his pocket started vibrating like a land mine exploding with Katie's electronic venom. I imagine the latter, which makes me wonder how all of that hatred didn't blow off Tom's leg.
This is one of the few times we haven't seen Tom crumple under the weight of that rage and just say, "Sorry bubba," to whatever Katie is dishing out. As we see from a montage, Katie gets drunk and pulls this shit on every vacation they go on. She's just as bad as Kristen. She's also exactly the same kind of drunk as James, but is at least smart enough to not get that drunk at work.
When they get to their hotel room, which looks like somewhere Grimace would go on a coke — sorry, "pasta" — bender and get a porn model pregnant, Katie and Tom are still fighting. Even worse, they fight out on their balcony, which is connected to all of their friends' balconies, so everyone can listen to them fight.
Katie tells Schwartz that he should be nicer to her because he's never around because he's been working so much. This might be a legitimate gripe, but it's so smarmy that she waits to bring it up until when she's mad about him not upgrading her to first. She's using an actual problem to justify the fight, because she knows if she just says, "I wanted the warm cookies in first class," she'd look like an asshole. Well, she looks like an asshole anyway, and Tom tells her as much right to her face.
Tom is also either half drunk or totally sick of Katie exploding on him when he says, "I just don't like the sound of your voice," which is the meanest thing he could ever say to Katie, and she is going to remind him of this one moment in Mexico at least once a month for the next ten years.
As Schwartz slammed the door on Katie rocking in her hammock, he walked down by the resort's pool, where Sandoval was sitting in a lounge chair wearing only a pair of trunks and one of his misinformed fedoras. "Hey," Schwartz said, sitting down next to him, balancing his elbows on his knees, and running his hands through his floppy hair in aggravation.
"Yeah, man," Sandoval said. "And this was supposed to be our honeymoon."
"Maybe it can be still," Schwartz said. He got up and walked toward the men's changing room, looking over his shoulder to make sure Sandoval got the message. Once inside, they started making out furiously. "I'm going to do awful things to you," Sandoval said in between kisses. Schwartz, even more turned on, pinned his friend against the wall and kissed him even harder. "I love the sound of your voice," he said to Sandoval. "Call me by your name."
"Tom," Sandoval said.
"Tom," Schwartz said back. "Tom," he repeated as he turned to face the wall. "Tom … Tom … Tom … Tom …"