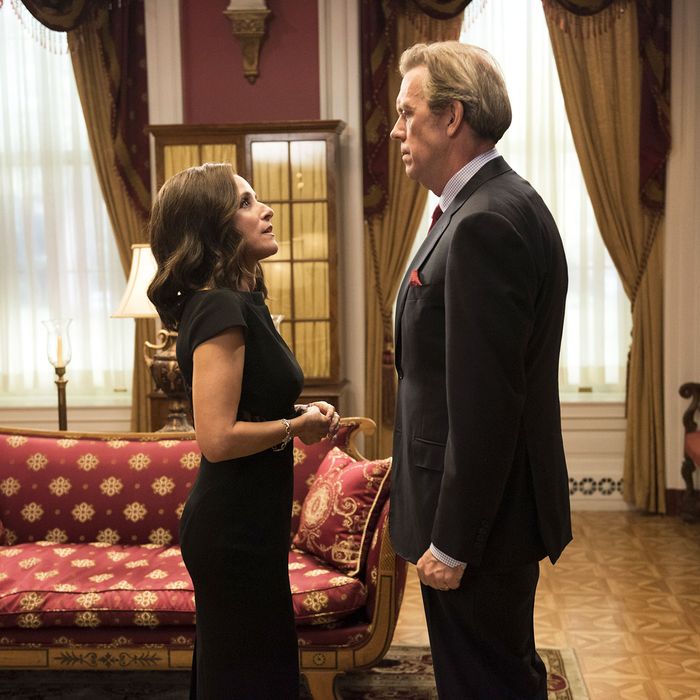 Julia Louis-Dreyfus's Selina Meyer may be a venal person with poor judgment, but the former president is a woman who knows what she wants in bed and often gets it, for better and for worse.
Over the course of Veep's six seasons, Selina in some ways trades up as she goes through boyfriends, moving beyond men who can merely satisfy her sexually (her scuzzy first husband, her dim personal trainer) and onto men with money and power, which Selina finds tantalizing. But with more influential men come bigger disappointments and embarrassments.
At the end of season six, Selina opted to dump her handsome, doting, influential, and wealthy Middle Eastern partner in favor of her presidential aspirations. This type of decision-making, to throw away real love for an electorate who at best feel lukewarm about her, does not bode well for her romantic prospects in the upcoming seventh and final season. Perhaps by series' end, she'll wake up and realize that her devoted assistant Gary Walsh has been standing in front of her this entire time.
With Veep headed into its endgame, the time feels right to reflect on the romantic relationships that have always played second fiddle to Selina's political ambitions. So here, ranked in order from worst to best, are the men Selina Meyer hooks up with during the first six seasons of Veep.
6. Andrew Meyer (David Pasquesi)
Selina's ex-husband is an oily entrepreneur who is totally transparent to most people in Selina's coterie. However, Andrew possesses a magnetism that is irresistible to Selina and the many women he cheats on her with — he even flirts with the OB nurse while Selina gives birth to their daughter Catherine. He has no shame about both coming on to Selena and then canceling his come-on at her mother's funeral, when he learns that his ex-wife will receive little in the will. Their relationship is fueled by Selina's perpetual disappointment in Andrew for his indiscretions and his scams, like in season six when Selina needs to hire back the portrait painter Andrew slept with in order to avoid a sexual-harassment suit because he never paid her. Andrew has an inexplicable hold on Selina, eliciting a dumb flirty laugh and responses like "You're bad!" (which gets a major eye-roll from loyal bagman Gary, played by Tony Hale). Selina is willing to overlook Andy's indiscretions, however, and even use them to her benefit, like when she strong-arms one of Andrew's paramours into donating to her congressional campaign. It's clear that Selina and Andrew, who often finds a way to set back Selina's career, will be like this for life.
5. Ted Cullen (Andy Buckley)
Selina's first-season boyfriend satiates her desire for dirty talk at (and about) work, but has arguably unreasonable expectations of privacy regarding sleeping with the Vice-President of the United States. This sensitivity becomes a sticking point when Selina gets pregnant, informs Cullen that they are retroactively engaged, then loses the baby — and word gets out. It's the kind of healthy relationship where, post-miscarriage, Selina has Gary break up with Ted for her and also pins the pregnancy on Amy. Ted responds by destroying Gary's nice brick patio.
4. Ray Whelans (Christopher Meloni)
When Vice-President Meyer takes her first run for president, her conniving campaign manager, Dan Egan (Reid Scott), hires hunky personal trainer Ray to distract her from Andrew's schemes — and it works. They begin a sexual affair on a trip to London, which works well at keeping Selina happy and toned at the same time. Ray is met with mixed reactions by the Veep's entourage; while he gives really good neck rubs, he also possesses a breathtaking blend of confidence and stupidity: "I love words very ardently," he tells a rep from the World Bank at a cocktail party. Ray becomes a sort of everyman consultant to Selina, dumbing down her speeches ("Here's to the good guys," Selina ends up saying at a British World War I memorial service) and convincing her to trade a chic fascinator Gary picked out for an absurd hat straight out of My Fair Lady's racetrack scene. Selina finally cuts Ray loose when problematic old blog posts of his surface and she realizes he's too much of a liability. Ray is so confidently dumb that he fails to understand when Kent Davidson (Gary Cole) fires him, and even tries to hitch a post-breakup ride on Air Force Two back to the States.
3. Charlie Baird (John Slattery)
Banker Charlie Baird possess a lot of Selina's favorite traits in a man: he's good-looking, wealthy, powerful, and ready for a quick White House romp. Perhaps Charlie's strongest trait, however, is that he is the only man in Selina's circle who wants to make sure Gary likes him. Unfortunately, Selina has to effectively terminate the relationship when she decides to provide a government bailout to one of Charlie's rival banks, but not his. Charlie reacts badly. "Politico was right about you," he says as he leaves, adding, "And I know you had an eye-job." It's a harsh departure that's harder on Gary than it is on Selina.
2. Mohammed bin Nasser bin Khalifa Al Jaffar (Usman Ally)
Selina and the Qatari ambassador start a relationship in earnest after she's lost the presidential election and after his conservative father dies, leaving a "more chill" imam who will let him date a white woman. Jaffar lets her live her secret Jackie O fantasies, enjoying the attention as she slips into his sports cars. Not only is he younger, good-looking, and fabulously rich, with an always-fueled private jet at her disposal, he also uses his connections to help burnish Selina's post-White House legacy of foreign relations. Sealing a diplomatic deal with the Chinese president on Jaffar's yacht wearing an amazing caftan, smoking a cigarette, and drinking champagne is Selina living her best life. However, dating a Muslim as an ex-President is one thing. At the end of season six, when she decides to run for president again, Selina jettisons him, and for the first time in the series, sheds tears over a man. Or is it for his Martha's Vineyard property?
1. Tom James (Hugh Laurie)
The only thing that turns Selina on more than a rich man is a rich man who's as duplicitous as she wishes she could be. In season four, Selina hires Tom James, a genial Joe Biden type of Senator, to be her Vice President as she runs to become president on her own accord. It's also revealed that Tom's been meeting secretly with lobbyists and conspiring to undermine Selina's election. When Selina realizes that Tom backstabbed her, she is furious, and also turned on. "Keep dancing, Tom. Don't look around. Nobody's going to help you," she says through gritted teeth while they dance at a Congressional Ball.
More than any other pair on the show, Selina and Tom James deserve each other. They're hot for each other, for sure, but they're also both sneaky assholes who are vain, power-starved and desperate for personal connection. This dynamic is what drives them to have hate-sex after the Congressional ball and almost do it again before her portrait unveiling, even after he tries to steal the presidency from her. Tom enjoys outwitting and humiliating Selina, but the few times he reveals how much he actually loves her shows that he's almost as hapless as she is — almost. However, she'll always have one thing over Tom. After he reveals their affair on morning TV and shows up to her portrait unveiling with his pregnant young trophy wife, Selina leaves him with this reminder: "I got to be president, and you never will."