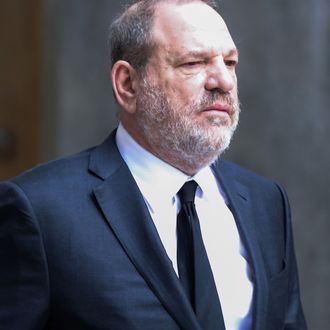 Harvey Weinstein.
Photo: Anadolu Agency/Getty Images
A lawyer for Harvey Weinstein was in court Wednesday to fight one of the many lawsuits against him, arguing that alleged casting-couch behavior wasn't an "exchange of value" that rose to the level of sex trafficking.
Elior Shiloh, one of Weinstein's attorneys, made this argument to undermine one of the claims in the complaint filed by actress Louisette Geiss — in which her lawyers claim that luring women into sexual acts by promising them acting roles was a form of trafficking sex.
Geiss has alleged that Weinstein promised her a three-movie deal at the 2008 Sundance Film Festival.
Geiss has claimed that "Weinstein invited her to meet with him in the office adjacent to his hotel room at the film festival to discuss her music company, the script she was pitching at the festival, and her career."
"Weinstein knew that the promise to listen to her pitch a script and a three-picture deal or the use of his influence on her behalf would entice Geiss into his hotel room, and knew that once she was there, he was in a position to force the sexual activity he desired," the lawsuit further alleges. "Weinstein used physical force to restrain Geiss to perform the sexual act. Weinstein physically grabbed her arm and held it, preventing her escape while he masturbated."
Shiloh argued that sex would have to be swapped for something of value in a sex-trafficking case, but that a promise of work didn't fit the bill under the law.
"There is no exchange of value," Shiloh said in Manhattan Federal Court.
In an effort to prove his point, Shiloh gave Judge Alvin Hellerstein a hypothetical involving a law student who meets a top lawyer at a networking event.
In this hypothetical, the high-profile lawyer invites the law student back to his office to discuss a job, but actually "has other intentions."
If the lawyer engages in sexual behavior the law student doesn't want,  that would be an "assault," not trafficking.
When Vulture later asked Shiloh to explain his argument a bit more, he said  sex trafficking would involve things like prostitution, kidnapping, and holding someone against their will.
"The promise of a job isn't sex trafficking under the statute," Shiloh said to Vulture.
In court, Hellerstein didn't seem to agree.
"It's not money, it's not a typical prostitution deal, but there is something of value and it seems to fit the statute," Hellerstein said.
"You're opening the door that anybody who's rich or famous has a meeting where a sex act takes place, we're labeling that sex trafficking," Shiloh argued.
There are now multiple women suing through this case, but only three of them are making this specific sex-trafficking allegation.
In addition to multiple civil lawsuits, Weinstein is charged in Manhattan Supreme Court for alleged nonconsensual sex acts involving two women.