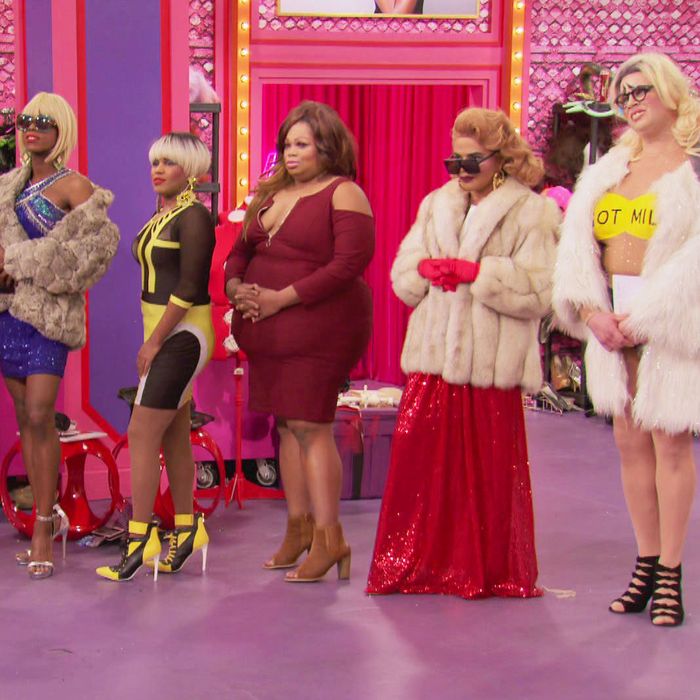 Ooooh, girl, the latest episode of RuPaul's Drag Race has us feeling emotions, deeper than we've ever dreamed of! The events of this week's "Diva Worship" challenge were straight-up disrespectful to Miss Mariah Carey, and What the Tuck co-host — and Vulture Drag Race recapper — Matt Rogers is not happy with Team Mimi. Matt and his co-host Mano Agapion (also of Horny 4 Horror) are joined by Matt's Las Culturistas co-host Bowen Yang to survey the wreckage and support each other through the revelation that a bunch of drag queens did not know Glitter (but at least they know that Mariah has a middle part).
The Mariah debacle naturally gets the guys talking about which divas they would have chosen themselves, and where this maxi challenge falls in the pantheon of bad Drag Race acting maxi challenges. (At least it's no "Shakesqueer.") The fringy runway also inspires some divided opinions, but everyone agrees that the six-way lip sync is a highly calculated gag that leads to a hilarious, Super Smash Bros.–evoking mess. But mostly everyone's still gooped about that whole "Sparkle" thing. So Dreamlover, come hit play, and let's get into it, Honey.
What the Tuck is produced by Vulture and HeadGum. Make sure you subscribe on Apple Podcasts, Spotify, or wherever you listen for new episodes dropping every week following each new episode of RuPaul's Drag Race season 11. Follow What the Tuck on Instagram (@whatthetuck_podcast) and follow co-hosts Matt (@MattRogersTho) and Mano (@ManoAgapion) on Twitter and Instagram — and remember: No tagging!