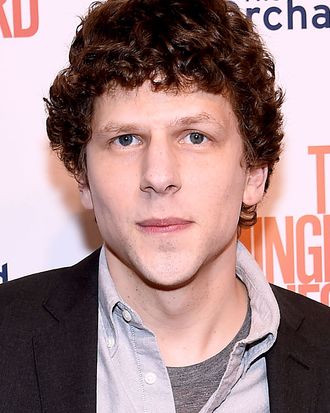 Jesse Eisenberg.
Photo: Jamie McCarthy/Getty Images
Rule No. 7 to surviving the zombie apocalypse is to "travel light." That's according to Zombieland, at least, the cult comedy-horror flick whose highly anticipated sequel is mere weeks away from wrapping. "And I don't mean just luggage," our smugly antisocial hero, Columbus (Jesse Eisenberg), explains in the 2009 film's voice-over.
To this day, it's Eisenberg's favorite rule of zombie survival, for much less apocalyptic reasons. "Because I've been traveling every day of the last four days: travel lightly. That's a good rule," he joked with Vulture just 24 hours before returning to Atlanta to finish shooting Zombieland: Double Tap.
Walking the red carpet for a special New York screening of Kim Nguyen's The Hummingbird Project, Eisenberg teased what's to come for the decade-in-the-making sequel from director Ruben Fleischer. Confirming that the film picks up ten years later with Columbus, Tallahassee (Woody Harrelson), Wichita (Emma Stone), and Little Rock (Abigail Breslin) making a home in the apocalyptically abandoned White House, Eisenberg promised a film that will satiate fans of the first.
"It took ten years to make because we were just insistent that the script be great — which sounds like it should be obvious, but that's not always the case," he said, otherwise remaining tight-lipped on additional "plot things."
"Because the movie is not only popular but also beloved, people feel like it has some personal resonance for them, so we wanted to make sure that it's as good or better than the first," he added. "And it feels that way! We have two weeks left and it feels really great. Everything we've done feels very funny."
Zombieland: Double Tap will also feature franchise newcomers Rosario Dawson, Zoey Deutch, Luke Wilson, Thomas Middleditch, and Avan Jogia. Bill Murray and Ghostbusters co-star Dan Aykroyd are also rumored to make a cameo, a reprise of Murray's fan-favorite drop-in (and death) from Zombieland.
As far as Zombieland's 33-and-counting rules of survival? Eisenberg said that there are still more to come.
"We try to think of them every day on set because, you know, we can add them now," he said. "When we did the first movie, we didn't know if it was going to wind up actually in the movie, and now we're, like, all desperate to create new rules because we think it'd be fun."
So expect to add more to your zombie apocalypse handbook when Double Tap hits theaters October 11.