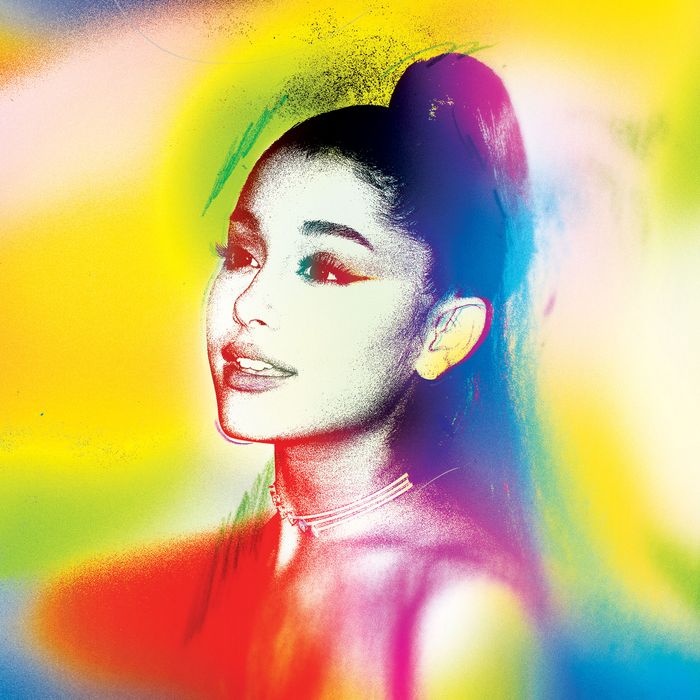 Ariana Grande.
Illustration: Bráulio Amado/Jim Spellman/WireImage/Getty Images
Born the 26th of June in 1993 in Boca Raton, Florida, Ariana Grande grew up within what she refers to as a "stereotypical poker-playing, loud, friendly, food-shoving, loving Italian family." She is the only daughter of Joan Grande, CEO of a "company that manufactures communications equipment for the Marines and the Navy," and Edward Butera, a graphic designer from whom she became estranged after her parents divorced in the late '90s. She has one half-brother, Frankie, who appeared as Boots the Monkey in a national tour of Dora the Explorer Live!
Though she was not personally in the Mafia as a child, she "feel[s] like we knew some of the Mafia but were not involved, for sure. I do know somewhere down the line there were some friendships … it wasn't something I bragged about."
One year, for Halloween, her mother smeared blood all over the walls in the family's new house and said "O.J. did it."
Her fourth birthday party was Jaws-themed. All of her friends left, crying. "There was a stage, when I was 3 or 4," she said, "where my mom thought I might grow up to be a serial killer."
In 1998, she was hit by two errant hockey pucks at two separate Florida Panthers games. "What are the odds of this happening?" wondered her father, who the Sun-Sentinel described as "visibly shaken."
$200: The amount of money Ariana's mother spent at an auction to purchase a Zamboni ride atop the Florida Panthers' rink for Ariana after she was hit by the hockey pucks.
As a child, she consumed "zeppole and spiedini and everything Italian." In her teens, she would change her diet completely, eating only "salmon, vegetables, and fruits — super healthy." She once called national chain Stir Crazy the "best restaurant ever."
Later, she would change her diet again, this time becoming a vegan due to the fact that she "love[s] animals more than I love most people, not kidding." A rhetorical question she has since posed: "Ultimately, no one wants cow tit pus in their food, do they?"
$2,000: The amount of money a Poshmark user charged for a McDonald's milkshake allegedly sipped by Ariana.
88: The number of minutes it took Ariana to announce "i can promise u i've never touched that milkshake" on Twitter.
By the time she was 6 years old, she had already "manifested" that she would become a famous pop star.
Her debut role was in the Fort Lauderdale Children's Theater's production of Annie, as Annie. After one performance, she autographed a peer's arms.
Gloria Estefan saw her performing "My Heart Will Go On" at a cruise-ship karaoke lounge at the age of 8 and told her mother that "this is what she needs to be doing." Recently, Gloria suggested that Ariana play Gloria in a biopic.
From the ages of 16 to 20, she dyed her hair red once per week to play Cat Valentine on Nickelodeon's Victorious. The resulting damage to her hair caused it to become "so broken that it looks absolutely ratchet and absurd when I let it down." As a result, she wore it in a high ponytail with "more fake hair than every drag queen on earth combined" for years, a style that has now become her signature. She can no longer feel the nerves in her head.
6,080,000: The number of Google search results for "Ariana Grande's Ponytail."
She is five feet tall. She wears heels so often that she believes "something is wrong with her." She once wore six-inch heels to Disneyland. She has described her personal style as "Audrey Hepburn and Chanel," but explained that "on the inside I'm only fascinated with dark, macabre, and weird things. Like the 'Thriller' video." She has terrible vision but rarely wears glasses. "Is that a bird or a man?" she once asked.
Monte Lipman signed Ariana in 2011 after he watched YouTube clips of her covering Mariah Carey, Whitney Houston, India.Arie, and Adele. She recorded her first single, "Put Your Hearts Up," in 2011. Later, she described the experience of filming the video — in which she wears "a bad spray tan and a princess dress" while "frolicking in the street" — as "the worst moment of my life" and "straight out of hell."
Despite having no formal vocal training, she is a lyric soprano with a four-octave vocal range, including her rare whistle register.
Her voice has been described as "totally annihilating," "undeniable," "outsize," "a joy," "beyond her years," "gymnastic," "Mariah Carey–level," "vibrant," "huge," "unrivalled," "Dramamine," "limitless," "athletically absurd," a "featherlight marvel," a "big pillow," "a weapon," and something that "transmutes the very idea of stardom into sound."
In 2013, she starred in a spinoff of Victorious called Sam & Cat. Though the show won "Favorite TV Show" at Nickelodeon's Kids' Choice Awards, rumors of a feud between Ariana and her co-star, Jennette McCurdy, overshadowed the show's success and reached a fever pitch when Jeanette penned a TwitLonger obliquely directed at Ariana that read, "You suck the life right out of me." Ariana replied just as obliquely via her own tweet: "One of those days where u need that venti knowwhummsayn."
Sam & Cat was canceled after one season. She has since told Rolling Stone, "I hate acting."
On an episode of Ryan Murphy's Scream Queens, she is stabbed to death in a silk crop top by a serial killer wearing a Satan costume.
12: The number of months out of the year that Ariana celebrates Halloween.
She once had what she describes as a "ghost/demon experience" while in Kansas City. After visiting a cemetery known as "one of the seven gates to hell," she "felt this sick, overwhelming feeling of negativity over the whole car and we smelled sulfur, which is the sign of a demon, and there was a fly in the car randomly, which is another sign of a demon." Though she apologized to the demon for trespassing, she was soon visited by "disturbing images with red shapes" in bed, and after she "scooched over" to get away from it, she encountered "massive black matter." Though her friend advised her to "tell [the demon] to eff off," she felt it would feed on her fear, and instead fell asleep, then later deleted her photo folder called "demons" just "to be safe."
11: The age at which Ariana converted from Catholicism to Kabbalah.
Her first album, 2013's Yours Truly, debuted at No. 1 on the Billboard Albums Chart and inspired President Barack Obama to invite her to sing at the White House's Easter Egg Roll.
On the cover of her third album, Dangerous Woman, she wears a latex, black face mask with rabbit ears.
In the music video for "Side to Side," she rides a spin bike while singing about how it hurts to walk after one has too much sex.
She has at least 37 tattoos, including a crescent moon on her neck, the word babydoll on her right-hand ring finger, the word hi on her second toe, the acronym H2GKMO (standing for "honest to God knock me out") on her right hand, and the Kanji characters 七 輪 on her left palm. She thought the characters translated to "seven rings," the name of her hit single, but in reality, they translate to "small barbecue grill." After consulting her Japanese tutor, she added an additional character to correct the phrase, which now reads "Japanese barbecue finger."
She was once caught on tape leaning over a Los Angeles doughnut shop's countertop to lick a doughnut she had not purchased. She turned to her then-boyfriend, backup dancer Ricky Alvarez, and informed him, "I hate Americans. I hate America." After national blowback, including a canceled White House performance, she apologized, explaining that she was concerned about America's obesity epidemic but also "disgusted with [her behavior]."
"It is not clear at this time if the affected doughnuts were disposed of or sold to another patron," read the police statement.
In her single, "Wit It This Christmas," she asks if her love interest is "down for some of these milk and cookies?"
She is hypoglycemic.
For a time, her biggest fear was "swallowing pills."
Two hours: The amount of time Ariana recently spent having a "productive conversation" with previous sworn enemy Piers Morgan while both were drunk at a Los Angeles restaurant.
She is the second-most-followed person on Instagram, just underneath Cristiano Ronaldo, with 149 million followers. She once posted a selfie on Instagram that became a viral sensation after fans spotted what they believed to be a "black dildo" in the left-hand corner. In a follow-up video, she explained it was a "power strip." "Y'all need Jesus," she said.
10: The number of inches Ariana attributed to Pete Davidson's penis on Twitter.
0: The number of days Ariana allowed that tweet to stay up.
She has seven dogs, one of which is named Toulouse and starred (alone) in a Coach campaign.
150: The maximum number of pounds likely to be reached by Ariana's pet pig, Piggy Smalls.
She can do flawless impressions of Jennifer Lawrence, Judy Garland, Britney Spears, Christina Aguilera, Mariah Carey, Amy Lee from Evanescence, Jennifer Coolidge, Céline Dion, Shakira, Rihanna, and her 93-year-old grandmother.
During a day off on tour in Australia, she rented a tour bus, took the mic, and according to one of her collaborators, "became our Broadway-musical-style tour guide and delivered sidesplitting commentary."
She prefers to be photographed on the left side of her face.
60: The number of times Ariana says "baby" in the song "Baby I."
In her hit single "Break Free," she sings, "I only want to die alive / Never by the hands of a broken heart / I don't wanna hear you lie tonight / Now that I've become who I really are." She has said she fought Swedish super-producer Max Martin on the lyrics "the entire time": "I am not going to sing a grammatically incorrect lyric, help me, God!"
She has enjoyed public relationships with Nathan Sykes, Graham Phillips, Big Sean, Mac Miller, Alvarez, Jai Brooks, and Pete Davidson, whom she nearly married after one month of dating. Four of these men are mentioned by name in her single "Thank U, Next"; in the video, she proclaimed that Sean could "still get it."
"True love doesn't exist," she recently tweeted. Hours later, she tweeted, "True love might exist, I was just hungry."
7: The number of aliens Ariana murders in her "Break Free" video.
She is obsessed with the Harry Potter franchise and has the word lumos tattooed on her hand. She announced her relationship with now-ex-fiancé Davidson by posting a photo at the Wizarding World of Harry Potter with the caption, "the chamber of secrets has been opened." She identifies as a Slytherin.
One of the scariest dreams she has ever had centered on being trapped in a room with Kevin Jonas and an alien.
6: The number of beanbag chairs in Ariana Grande's $16 million Manhattan apartment.
4: The number of Saw films Ariana has described as "brilliant."
She has released five albums in as many years, and two within the span of six months, both of which reached No. 1 instantaneously. Her most recent, Thank U, Next, has smashed chart records previously set by the Beatles, Michael Jackson, Rihanna, and Ariana herself.
She wrote Thank U, Next in one week and recorded it in two, engineering and comping her own vocals.
The album was inspired, in part, by her ex-boyfriend Miller's death, as well as her breakup with Davidson. She described the process as "feminine energy and champagne and music and laughter and crying."
93: The amount of times Ariana says "yuh" on Thank U, Next.
Frequent collaborator Savan Kotecha described her as a "vocal savant." "She knows every detail about her voice: 'That note over there, that's a little bit flat.' We'll be like, 'What? No it's not.' She's like, 'Yes it is, that little syllable there.' I've been around some of the greatest singers of all time. I've never seen anything like this."
"You know how people say we're 60 percent water?" she said. "I'm 60 percent pink Veuve Clicquot."
She hates Monopoly and believes it "only brings violence and misery." She once ended a friendship over the board game. Her newest single is titled "Monopoly."
"I'm actually going to be Edie Beale from Grey Gardens when I'm an old lady," she tweeted. Approximately one year later, she tweeted, "I am going to be the Edie Beale of dogs."
*A version of this article appears in the April 15, 2019, issue of New York Magazine. Subscribe Now!