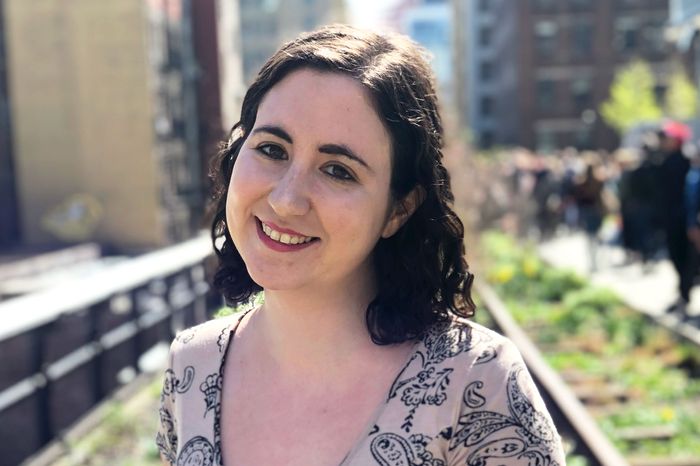 Abby Barr.
Photo: Jed Feiman
Abby Barr (@1abbyroad) is a New York City–based comedian whose writing has appeared on Funny or Die and other cool websites. You can watch her sketches on her YouTube channel, Abby Road Productions, and you can learn more about her on her website, abigailbarr.co.
This week, Abby and I chatted about producing podcasts, ASCII art memes, and Cher's Snapchat.
Twitter is a place that is anti-sincerity, so it makes me laugh to couch a statement that could be considered genuine in a joke-tweet format like "in this essay, I will." In 2018 I found it amazing that Twitter, typically a divisive and vitriolic place, was somehow united over an unabashed passion for Mamma Mia! My first love is musical theater, so seeing everyone come together for a movie like that was the best.
How did you get into comedy?
I got into comedy in a sort of roundabout way. I was a theater major at Oberlin, and when I returned home from school I interned a bunch, trying to figure out where I'd like to land. That summer I saw Amy Poehler improvise at UCB, and I realized after that show that I enjoy making people laugh more than anything else. And that I wanted to try doing it through my own voice, so I enrolled in sketch at UCB almost immediately after.
In addition to being a comedy writer, you're also a video and podcast producer. Does your comedy influence your other jobs?
Even if what I'm producing may not be humor-focused, I try to bring what I've learned doing comedy to the table. The last podcast I wrote and produced, for the show Twenty Thousand Hertz, was all about movie trailers, and I tried to find examples from movies that felt funny, or shocking, and heighten that feeling — not just to keep the audience entertained but also to entertain myself as I was writing it. In comedy and in other jobs, I try to create work that I would like to enjoy as an audience member.
I enjoy joking about anxiety as a way of telling people they're not alone. I enjoy the concept of thinking my mental health — something that occasionally can make me feel powerless — is controlled by a network showrunner who decides my moods and my future in between rounds of script edits.
You're very open with your feelings on your Twitter account, even difficult ones. Does that openness incorporate your other creative outlets?
I try to keep the social in social media. I think of the like button, in many cases, as a "you are not alone" button. Some of my favorite people on Twitter, like Nicole Cliffe, use the platform to ask people questions. She created a thread about the changes her body went through after having kids, and a bunch of people joined in and felt better about themselves after they connected with each other. In between my occasional stan tweets and my ASCII art memes, I also express myself on Twitter — not only because I've been on it for ten years so that's just how my brain functions but also to connect with people.
Has Twitter ever scored you a gig (for any of your many trades)? Do you think that Twitter can be effective for both business and fun?
Not yet! But I still love the idea that social media, when used well, can bring people closer together. Nothing makes me feel more like that Us Weekly column "Stars — They're Just Like Us!" than watching Cher use Snapchat filters with her mom, or watching Lady Gaga tweet about how much she loves the video game Bayonetta. I think we're all very cautious about what our "brand" is as people, especially because tweets are now considered journalism in a sense, and can be used against us. I think no matter if you're a giant corporation or one person, what you tweet does say something about you. Even if it's like, "My $15 salad was unflavored and I don't feel full after eating it." Which is something I complain about a lot!
I love watching award shows, and I especially get a kick out of being among the first to respond with a joke. I was watching the Globes when I saw this completely awkward moment: Rami Malek tries to get Nicole Kidman's attention, and she seemingly rebuffs him. I fired off this tweet, and it ended up being written up everywhere, from the Cut to Fox News. Rami was even asked about the interaction on Kimmel! As someone who aspires to eventually work in late night, I felt like I helped get a bit on air. Plus, it was exciting to see that so many people related to his socially awkward struggles and, by extension, mine.
How are you dealing with your newfound fame after your Rami Malek tweet? Has he reached out yet?
Rami Malek has not reached out to me … yet. He barely tweets. But he's still the patron saint of the socially awkward, so I thank him for his service.