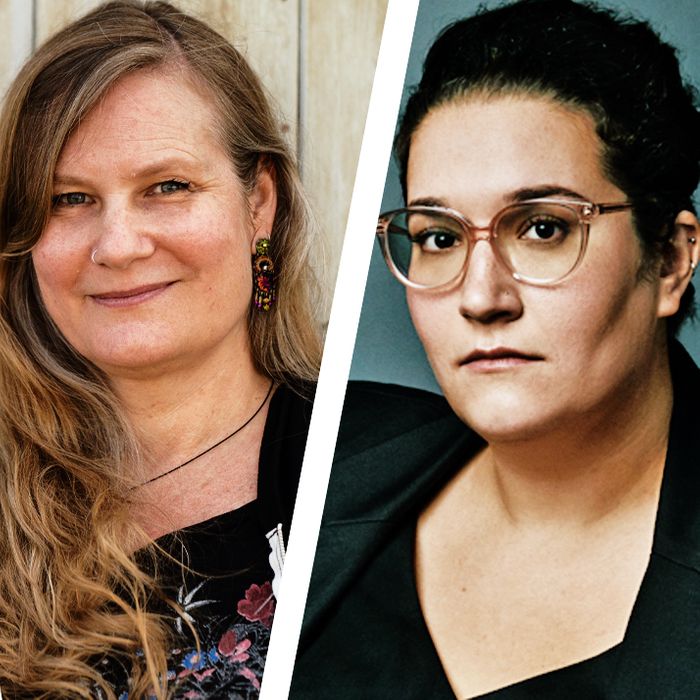 Alexander Chee, Lidia Yuknavitch, and Carmen Maria Machado.
Photo: M. Sharkey, Getty Images and Art Streiber/August
There were more than 500 panel discussions over three days at last week's annual conference of the Association of Writers & Writing Programs, which means that rating them would require some form of artificial intelligence. But it doesn't seem possible that anything could have surpassed Friday's "The Sexuality of Textuality." (That title alone!)
The four writers on the dais, sitting before a packed ballroom-auditorium, were all queer and all accomplished writers of literary sex scenes. The panel, insouciantly moderated by Lidia Yuknavitch (as all panels should be), revolved around a central but glorious problem in literature: How best to write a sex scene? The author Alexander Chee — cooling himself with a folding fan — said that in grad school, the conventional wisdom was: Just don't. "You were supposed to cut away from the sex, especially if it was nontraditional in some way, because it was considered vulgar or graphic," he said. So he made it his mission to include the sex that he knew his characters were having. He even wrote erotica, and wound up with a hand job named after him in a sex guide. "I'm not going to say I invented it," he demurred.
Feminist fabulist Carmen Maria Machado, in a black blazer and "Take Up Space" tee, said she also wrote erotica for a time — though unlike Chee she used a pseudonym: Olivia Glass. Machado lamented that what sex does occur in fiction we deem literary is too often straight, male-oriented, perfunctory, and miserable. "It's important for me to write queer sex scenes that present it as the work of art that it is," she said. Machado decided early on to use the words cock and (more controversially) cunt in her work — cunt because, for her, "it encompasses the experience of having one." She wrote her short story "Inventory," built around a list of sexual encounters, after a bro in a workshop responded to criticism by telling her, "Maybe you just don't like sex."
Yuknavitch said that when she was shopping her memoir The Chronology of Water, the big publishers advised her to expunge all instances of transgressiveness, profanity, incest, abuse, and woman-to-woman sexual encounters. "That's gonna be a 19-page pamphlet," she said. "You can put them in pews." Yuknavitch "told them to fuck off and found a smaller press [Hawthorne] that remembered what art was."
Garth Greenwell credited his poetic training for emboldening him to depict queer sex in his debut novel, What Belongs to You. He didn't realize how "brave" he'd been until the reviews came out. "Don't let [publishers or agents] lie to you," Greenwell said. "These books sell."
Greenwell decided to read an essay as part of the panel — normally a tough thing to pull off, but the audience was floored. He started by quoting a diatribe on the behavior of "militant homosexuals" by the anti-LGBTQ congressman William Dannemeyer. (Dannemeyer was later busted for cruising a public restroom.) Then he plumbed his own childhood, Jordy Rosenberg's "virtuosic" Confessions of the Fox, and the history of queer persecution and transformation, eventually bringing the crowd to tears. "I imagine queer kids learning to think of their desires with Machado's, Chee's, and Yuknavitch's words in their mouths" — words he'd never had access to as a queer kid in Kentucky. Yuknavitch got down on one knee. "You just got to go to secular church for free," she told the crowd. "Well, free-ish."
The final audience question was perfect, allowing the panelists to excoriate the Guardian for its annual Bad Sex Awards, which single out steamy passages for scorn. "I would like to win the Bad Sex Award," Greenwell said, "because I will go to accept it, and I will give them an acceptance speech like none of them has ever heard." He concluded, fittingly, with a profanity: "Fuck them."