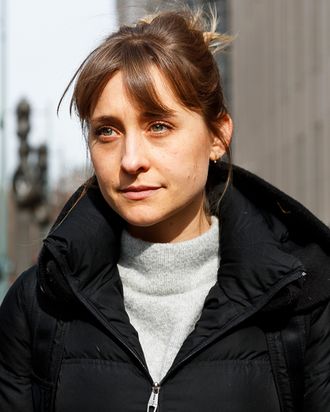 Allison Mack
Photo: JUSTIN LANE/EPA-EFE/REX/Shutterstock
When Smallville actress Allison Mack arrived to court Thursday in the NXIVM sex-cult case, she and Seagram's liquor heiress Clare Bronfman acted more like recently reunited friends from an upstate summer camp than alleged cultists.
Bronfman — who nearly collapsed in court last week after it was revealed that disgraced celebrity lawyer Michael Avenatti had worked on her case — and Mack enthusiastically embraced in the hall outside of Judge Nicholas G. Garaufis's courtroom just before 11 a.m.
Mack and Bronfman exchanged ebullient cheek kisses and lingering hugs. Both were dressed casually. Mack sported leopard-print sneakers and secured her hair with a red pencil in a messy bun. Her dark pants resembled pajamas.
Bronfman had on a thin, off-white sweater with a back that was bejeweled with a pattern like some sort of New Agey flower, the kind one might spot on costly yoga garb.
After entering the courtroom, Mack and several of the many lawyers present joked with one another while waiting for the conference to start. At times, it seemed like Mack was trying to hide her laughter by tucking her mouth into a scarf.
Mack's initial mood seemed strange, considering all the allegations — and the looming scheduled April 29 trial date.
In a surprise move, Garaufis decided during the proceeding that the jury would remain anonymous even after the trial ended. He also decided that they would be "partially sequestered," meaning they will be taken to and from the courthouse by U.S. Marshals and required to stay inside during trial days. It's rare for this to happen, considering these kinds of measures are typically used for defendants like Mexican drug lord Joaquín "El Chapo" Guzmán.
Garaufis admitted that "there is no actual danger to the jury," but he didn't like the "possibility" that a journalist or member of the public could approach a juror posttrial.
Alleged NXIVM ringleader Keith Raniere, who's been accused of sex trafficking and possessing child pornography, was also present, sporting a khaki jail outfit and man bun.
Prosecutors allege that Raniere created a secretive sect in the purported self-help organization called DOS in 2015 that "operated with levels of women 'slaves' headed by 'masters.'" Mack and other "masters" recruited DOS "slaves" and "directly or implicitly required her slaves … to engage in sexual activity with Raniere." Mack allegedly got "financial and other benefits from Raniere" in return.
It was mentioned in court again that Mack was in apparent plea negotiations, with her lawyer saying he and prosecutors were having "what continue to be fruitful discussions of a possible resolution."
After the proceeding wrapped, a markedly more serious-looking Mack left alongside her lawyer, who declined to comment. Mack didn't comment on the case.